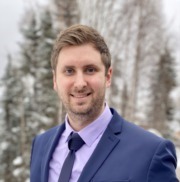 Hello, my name is Heath Reynolds. I'm a licensed Real Estate professional with the passion, drive and commitment in fulfilling all of your real estate needs. My strong work ethic, attention to detail and willingness to always be there for you are things I take pride in. 
I have over 10 years of public service experience. I am a U.S. Army veteran who served as a paratrooper and was stationed right here at Fort Richardson in the 509th. I'm here with my wife and son. My wife is just starting her career as an Advanced Nurse Practitioner working for the state of Alaska and she has over 15 years of public service experience. 
Alaska is an amazing state with many opportunities. One of the greatest joys about Alaska is the culture and great people that are here. I take tremendous satisfaction in not only getting you the wonderful home you want, but also being able to share this experience with you while building strong relationships.