5 Reasons To Buy Your Next Home In Anchorage, Alaska
Posted by Ryan Tollefsen on Thursday, November 13, 2014 at 1:51 PM
By Ryan Tollefsen / November 13, 2014
Comment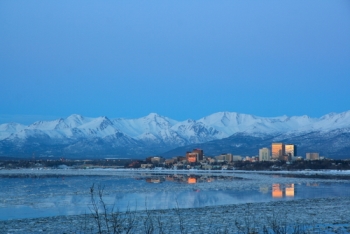 To truly understand what it's like to live in Anchorage, Alaska, you have to experience it. But there are many reasons to choose to settle down Anchorage, and we have laid out 5 top reasons to buy your next home in this gorgeous city.
1. Beautiful Landscapes.
Nature in Anchorage is like nothing you've seen before. With endless tree lines, mountain peaks that peak over 8,000 feet high, and bald eagles that are as common as a crow, you might think that you are in a national geographic documentary. If you are not spending your free time hiking and mountain biking through Kenai Fjords, the 3rd largest national park in the U.S, or taking a "flightseeing" trip over Alaska, you might want to just sit back and relax to watch the northern lights in your very own backyard. No matter what the time of year, there is always plenty to see and do in Anchorage.
2. Adventure, Adventure & more Adventure!
Some people might prefer to visit a wildlife preserve and view animals in their natural habitat, while others may choose to hop in their car and drive through endless scenery with no destination in mind. If that doesn't sound like something you want to do, you can always catch the water taxi and spend a few days hiking on the glaciers of Alaska. When spring and summer roll around, Anchorage boasts some of the nicest golf courses in Alaska. Whether it's hiking on glaciers or playing sports, Anchorage is sure to keep your adventurous side satisfied.
3. Affordable Living.
Anchorage real estate is in great shape these days. Most big cities have a high cost of living with the demand of people trying to find a home, but in Anchorage, you can find great family homes starting in the $200K - $300K range. With the cost of living being very affordable these days, Anchorage is one of the most desired places in Alaska to raise a family.
4. Family Oriented City.
With an average age of the population around 30, it's easy to see why Anchorage is attracting so many industrial investments. Anchorage is full of prosperity and stability, making it an easy choice to raise a family in this beautiful city. In addition, there are numerous family-friendly things to do in Anchorage. Visit the shopping malls, explore environmental trails or maybe take in a hockey game. If you're feeling particularly adventurous, you could take the family to see the Iditarod, an annual long-distance dog sled race that races from Anchorage to Nome. Anchorage, Alaska offers many amenities and events all year round that will entertain the entire family!
5. Growing Economy.
Anchorage young and growing, offering a home for all ages where you can live close to work, make a competitive salary, and have a wide variety of entertainment options. With an unemployment rate of only 5.3% in 2014, Anchorage is a land of employment opportunity. Jobs continue to be created each year in the retail and service industries, and the trend for economic growth is expected to maintain momentum. The time to invest in Anchorage is now!