Where Are the Best Farmers Markets in Alaska?
Posted by Ryan Tollefsen on Friday, May 15, 2020 at 11:55 AM
By Ryan Tollefsen / May 15, 2020
Comment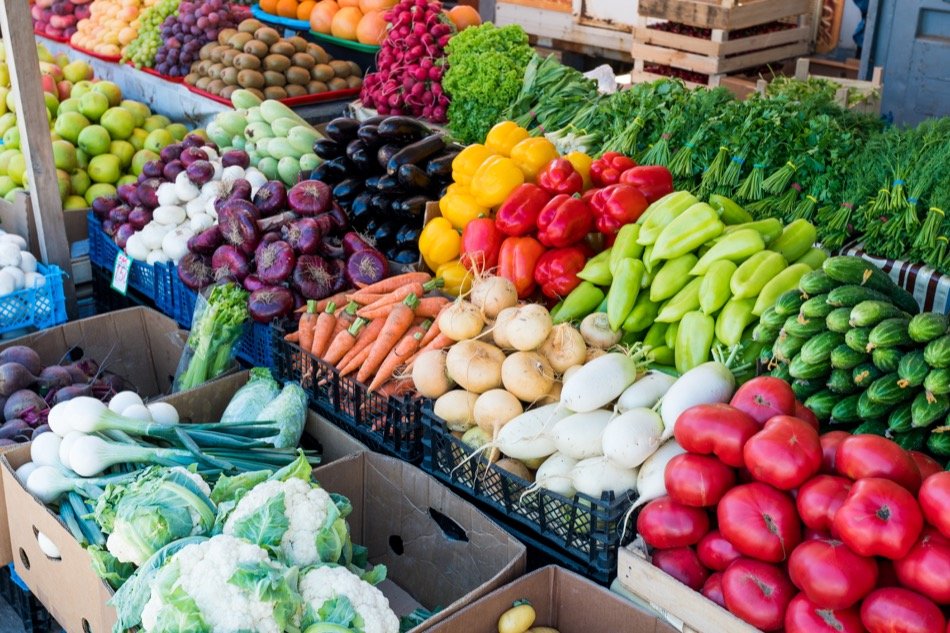 For much of the year, it's difficult for local farmers to grow produce in many parts Alaska, but that just means we take advantage of the warmer months to set up farmers markets and support local agriculture. Here's where to find some of the best farmers markets in Alaska.
Muldoon Farmers Market
Address: Chanshtnu Muldoon Park, 1301 Muldoon Rd, Anchorage, AK 99504
Being the largest city in Alaska, Anchorage has a few farmers markets, but "the market by the mountains" has a special place here. Muldoon Farmers Market had a modest start in the parking lot of Begich Middle School back in 2015. The early notices advertised face painting, local music, and asking people to come out and support local growers, products, service organizations, and businesses. Muldoon still carries out that vision as a volunteer-run, non-profit, community-based event that takes place every Saturday from June to September. Don't miss out on the opportunity to join the community in celebrating wild caught local seafood, freshly baked goods, locally grown produce, and even arts and crafts.
One of the best things is the market is different each week. Generally, you can expect more crafts towards the beginning of the event (June and July) and more produce later on due to the agricultural calendar. Vendors can stay the whole season or just come one weekend, so it will never be the same twice.
Salt and Soil Marketplace
Address: Salt and Soil Marketplace, 1107 W 8th St, STE 4 Juneau, AK 99801
The Salt and Soil Marketplace in Juneau is different from most farmers markets you may have seen before. This market merges the past and the future with a mix of online and real-life shopping that connects local producers to the community and ensures less waste. Salt and Soil Marketplace doesn't have the most traditional setup, but they have the same goal as other farmers markets: support the local economy and business owners, keep money circulating locally, and help Southeast Alaska become more self-sustaining.
Here's how it works: local fishers, producers, and farmers upload their weekly catch and crops to the online marketplace. Customers sign up as members and can browse this marketplace to order exactly what they want for the week. On marketplace day, all the producers deliver their produce and products to the marketplace, and all the customers come to pick it up.
Tanana Valley Farmers Market
Address: Tanana Valley Farmers Market, 2600 College Road, Fairbanks, Alaska 99708
Every year in Fairbanks, the Tanana Valley Farmers Market runs from May to September to connect local businesses with the locals who support them. Tanana Valley's mission is to "develop and promote Alaska's agricultural, horticultural and cottage industries, providing quality produce and products to the public," and they have been doing so every year since 1986. Featuring products and produce from the long-growing season of Interior Alaska, whether you're looking for potatoes or poinsettias, you will feel right at home here.
Anchorage Farmers Market
Address: Anchorage Farmers Market, 1420 Cordova St, Anchorage, AK 99501
One of the state's biggest and longest-running fresh food havens is the Anchorage Farmers Market. Scheduled for operation each Saturday between May 5 and October 12, 2020, there's more than meets the eye at this marketplace. Of course, seasonal fruits and vegetables take center stage, but the vendors here also offer specialties, including homemade breads, fresh flowers and locally grown mushrooms. Don't forget to stock up on locally sourced honey to sweeten up your meals and hot beverages.
Spenard Farmers Market
Address: Spenard Farmers Market, 2555 Spenard Rd, Anchorage, AK 99503
The whole family will enjoy spending the day at Spenard Farmers Market. Much more than your average food market, Spenard routinely hosts weekend events such as street artists, local bands and musicians and craft and jewelry shows. There are also several contests and raffles for special prizes, and attendees won't want to pass by the Kombucha vendors for a pick-me-up healthy beverage to recharge after a day shopping the various vendor booths.
Soldotna Saturday Farmer's Market
Address: Soldotna Saturday Farmer's Market, 193 E. Corral Ave, Soldotna, Alaska 99672
Opened in 1995, Soldotna Saturday Farmer's Market is a main hub for fresh vegetables, fruits, herbs, honey and eggs for the entire community. Local growers are literally friends and neighbors who work as a collective to ensure optimal quality goods get into the hands and mouths of locals. While exact opening dates for the 2020 season have yet to be listed, the market in Soldotna is generally open May through September on Saturdays from 10 a.m to 2 p.m.
Mat-Su Farm Market
Address: Mat-Su Farm Market, 610 S Valley Way, Palmer, AK 99645
Mat-Su Farm Market and Co-Op is one of the best places to load up on fresh locally grown meats, produce, and dairy products like milk and cheeses alongside other goodies. One can buy prepacked and custom butcher and dairy boxes directly from farmers and pick them up at the co-op. Seafood, steaks and homemade treats keep Palmer locals and nearby communities well-fed year-round.
Most people aren't aware of the great local produce that Alaska has to offer, but it can be found in farmer's markets statewide. They share the common goal of connecting producers and customers together, which supports local businesses and promotes a healthy economy. So don't be afraid to get out there!