Anchorage Hotel & Resort Guide: Where to Stay in Anchorage, AK
Posted by Ryan Tollefsen on Thursday, May 27, 2021 at 7:29 AM
By Ryan Tollefsen / May 27, 2021
Comment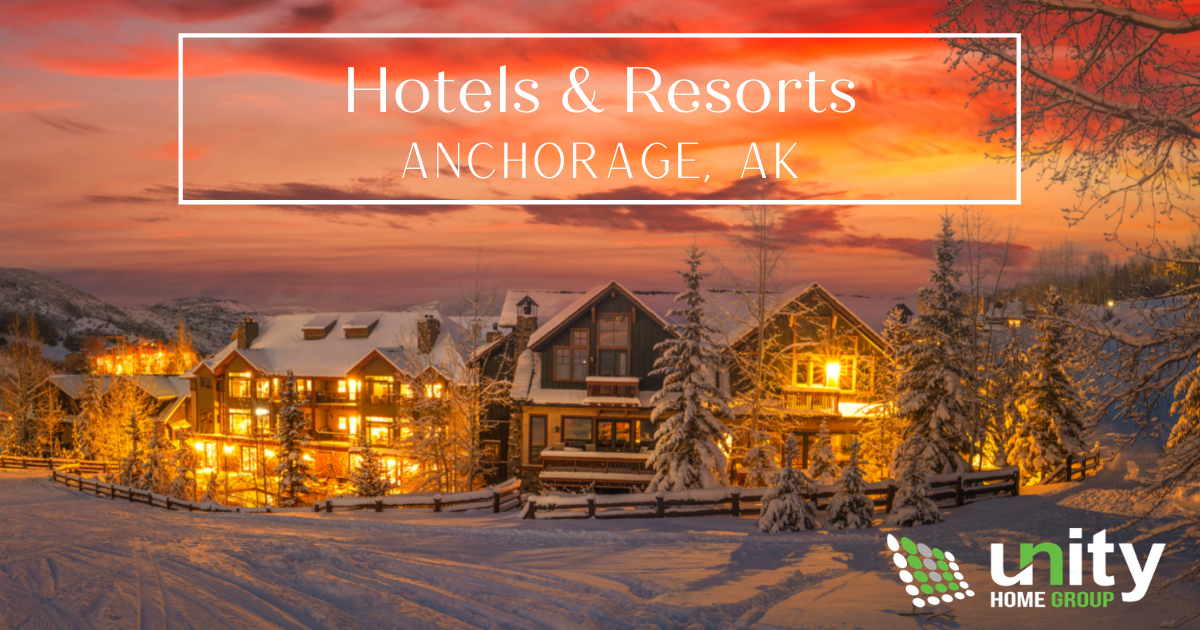 Anchorage is full of wonderful experiences for locals and travelers alike. Whether one is looking to enjoy a vacation or staycation, one can't beat the hotels, resorts, and lodging in Anchorage. The accommodations in Anchorage are dedicated to making sure guests can easily enjoy both city and outdoor experiences. Visitors can easily find shuttles to the airport, restaurant recommendations, resorts with sports, and much more at the Anchorage hotels, resorts, and B&Bs listed below.
Hotels
Numerous hotels are available throughout Anchorage for an overnight stay or a long-term vacation. Whether one is looking for national chains or local gems, they are sure to find a hotel that fits their needs and budget.
The Lakefront Anchorage
The Lakefront Anchorage Amenities
Ask Alfred children's program
Free Wi-Fi
On-site parking
Free 24-hour airport shuttle
Private float plane dock
Meetings and events facilities
The Lakefront Anchorage is the only hotel in all of Anchorage that sits on a lake, making for beautiful sunsets, sunrises, and summer days. In addition to enjoying the luxuries found by the nearby waterfront homes, The Lakefront Anchorage is just four miles away from Ted Stevens Anchorage International Airport. Guests on any of the 250 planes landing each day won't have a long trip before they can get settled in and start enjoying their surroundings.
The hotel is close to many Anchorage attractions, including Earthquake Park, Tony Knowles Coastal Trail, Kincaid Park, and the Aviation Museum. Guests can enjoy on-site dining during their stay. The hotel's deluxe rooms average $167 per night, and suites run about $344.
Embassy Suites Anchorage
Embassy Suites Anchorage Amenities
Free breakfast
Free Wi-Fi
Complimentary evening reception
On-site restaurant
Fitness & business centers
Digital keys available
Embassy Suites Anchorage is only six miles from downtown Anchorage and the airport, making it easy to relax after a long day. Guests can expect to find all of the normal amenities provided at Embassy Suites. Additionally, visitors gain access to an airport shuttle, made-to-order breakfast, and evening reception free of charge.
While there is no valet parking available, guests can self-park their vehicle for just $6 per day. Suites are available with one king or two queen beds and average $300+ per night. Many suites come with fantastic mountain views.
Dimond Center Hotel
Dimond Center Hotel Amenities
Complimentary breakfast
24-hour airport shuttle service
Free parking
Fitness area
Access to hundreds of shopping stores
Dimond Center Hotel is owned and operated by the Seldovia Native Association, Inc., allowing guests to experience unique artwork and cultural details throughout the property. A short 10-minute drive is all it takes to arrive at the hotel from the airport. Guests visiting Anchorage for the sights, sounds, and experiences will love being just a few miles from the best the area offers.
Each room provides guests with modern, comfortable accommodations. In fact, every room features the Ultimate Dream Bed, created specifically for the Dimond Center Hotel. Deep soaking tubs and 42" flat-screen TVs are also available for ultimate comfort. Standard rooms start at $200, and rooms with jetted tubs begin at $300 per night.
Resorts
Those who prefer a one-stop destination for the vacation of a lifetime have plenty of excellent choices in Anchorages. All resorts in the area are ready to cater to guests' needs. Resorts are prepared to provide memorable winter and summer experiences for locals and travelers alike.
Alyeska Resort
Alyeska Resort Amenities
60-passenger aerial scenic tram
Saltwater pool, whirlpool & fitness center
The Spa at Alyeska
Unique, world-class dining & shops
Easy access to nature trails & walking paths
High-speed internet in rooms
Alyeska Resort has served guests since 1994. Over the years, the resort has fine-tuned its offerings to become the premier year-round destination to the Last Frontier. From the chateau-style exterior to the rich interior design, visitors appreciate Alaska's natural beauty. Hiking, skiing, and swimming are just some of the many offerings available.
Alyeska Resort offers various room options to fit many travelers' needs. Rooms with double beds begin at $227, while a single king starts at $275 per night. Those who desire a suite for larger groups will see prices start at $315 per night. These rates include resort fees.
Sheraton Anchorage Hotel & Spa
Sheraton Anchorage Hotel & Spa Amenities
Full-service spa
Fitness center
Pet-friendly
Meeting event space
On-site laundry
Sheraton Anchorage Hotel & Spa combines the familiar comfort of a Sheraton hotel with the rich amenities of a resort. Mountain views are available in nearly all of the recently remodeled rooms. Nestled into the heart of downtown Anchorage, guests can easily walk wherever their heart desires in the city. For those with a more adventurous spirit, hiking, biking, skiing, and other activities are available in just a short drive.
Rooms at Sheraton Anchorage average $150 per night. Peak season may cause the rates to increase. The most popular amenity in the hotel is the full-service spa. It's the perfect end to a day of walking around town or engaging in high-energy activities.
Hotel Captain Cook
Hotel Captain Cook Amenities
Blackout drapes in every room
Access to a private art gallery
On-site restaurants
14 meeting rooms
In-room safe
Athletic club
Hotel Captain Cook is a perfect combination of luxurious housing and history. No detail has been overlooked at Hotel Captain Cook. With over 500 rooms, guests will enjoy the over-the-top service and 4-star dining. Rooms range from $150 to $200 per night on average. The hotel is usually running at least one promotion with value-added benefits.
This hotel is one of only 275 hotels and resorts across the United States to be inducted into the Historic Hotels of America. While the hotel offers many modern conveniences, the history of Captain Cook and the shoreline in the area is evident around every corner.
Inns and Bed & Breakfasts
Sometimes, staying off the beaten path at a bed-and-breakfast can create the warmest lifelong memories. Hosts of these inns in Anchorage are often longtime locals who can offer insider information about where to go and what to see nearby.
Parkside Guest House
Parkside Guest House Amenities
Continental breakfast
Breakfast provided on guests' schedule
Free Wi-Fi
Laundry facilities
Luggage storage
Parkside Guest House operates from June through mid-September each year. Perfectly positioned for summer travels, this quaint bed-and-breakfast is ready to welcome guests to their stay in Anchorage. Whether visitors want to get started with the sun or sleep in, their made-to-order breakfast will be ready when they are.
Rooms are based on double occupancy and start at $265 per night. Unique to this inn, guests must pay for their room by personal check 60 days before their arrival. Each room offers a private bathroom. Guests are always welcome in the second-story living room to take in panoramic views of Anchorage.
Hidden Creek B&B
Hidden Creek B&B Amenities
Wi-Fi
Cable TV & DVD player
Room-darkening shades
Hot tub
Laundry facilities
Common area with wet bar and fireplace
Hidden Creek B&B is also a seasonal inn, open for guests from May 20th to August 31st. Located 40 miles south of Anchorage, guests begin their adventure in the area by driving through Turnagain Arm. Pristine forests, mountain views, babbling creeks, and fresh air welcome the guests when they park their vehicles.
Rooms stay at $235 and are based on double occupancy. This bed-and-breakfast does require a two-night minimum stay. However, guests are welcome to stay longer if they have many hikes and scenic views they wish to take in before departing. Of course, breakfast is available to guests. The most common breakfast items include eggs, toast, and coffee.
Maria's Creekside B&B
Maria's Creekside B&B Amenities
Plush carpet
Flat-screen TV with cable
Office desk
Free Wi-Fi
Made-to-order breakfast
Maria's Creekside B&B was started as a family project in 2013 and is now a year-round bed-and-breakfast in Campbell Park. The hosts raised their four children in Anchorage, so they are more than happy to provide recreational recommendations for guests of all ages. Each room includes spectacular views of the mountains and a private bathroom. Rates begin at $129 per night.
Maria's Creekside B&B is the closest bed-and-breakfast to Providence Hospital. Guests visiting Anchorage for the hospital are welcome to stay at Maria's for a comfortable stay and true Alaskan hospitality. Breakfast is provided in the morning, and fires are lit in the lounge in the evening.
Highland Glen Lodge
Highland Glen Lodge Amenities
Full English country breakfast
Fine afternoon tea
Free on-site parking
24-hour room service
Business & conference facilities
Bespoke toiletries
Highland Glen Lodge provides guests with English elegance while staying on a hillside estate. Every room comes with its own private bath. Guests who opt for the Honeymoon Suite will enjoy a double jacuzzi in their room. While the inn is situated in the shadows of the Chugach Mountains, views of the city lights and snowcaps are easy to enjoy throughout the property.
Guests will find the breakfast provided perfectly blends English and Alaskan flavors. This is one of the most distinctive inns visitors can enjoy while in Anchorage. Rooms typically range from $179 to $199 per night. However, rates may increase during peak season.
Jewel Lake Bed & Breakfast
Jewel Lake Bed & Breakfast Amenities
Renowned waffle breakfasts
Complimentary coffee and tea
Cable TV with TIVO
Extra blankets and pillows
Hair-dryer in rooms & on-site laundry
Jewel Lake Bed & Breakfast allows guests to kick back and relax on the deck while moose wander onto the property. Visitors not from Alaska may enjoy the novelty of their up-close experience. The inn reminds guests that humans should not feed wild animals to ensure safety. Guests can, however, feed Rocky and Alan, the B&B's resident squirrels.
While staying at Jewel Lake, guests will enjoy private rooms and baths for only $175 a night. The bed-and-breakfast is known for its breakfast waffles. Visitors also have access to a separate guest kitchen for their use throughout the day. While the B&B can't transport guests, it is the closest B&B to the airport.
Come Enjoy Anchorage
Anyone who wants to enjoy mountains, moose, and exceptional hospitality will love Anchorage. Whether one is coming for their first visit, trying to scout out their new home, or simply taking a much-needed staycation, Anchorage is a wonderful destination for all. The best hotels, resorts, and lodging in the area are ready to provide experiences guests will not forget any time soon. Anchorage quickly becomes a favorite destination for many, and it isn't surprising to see its growing population.
If you've fallen in love with Anchorage and want to stay even longer, contact Unity Home Group with AK Home Show at (907) 531-2540 to get in touch with local real estate agents who can help you find your Anchorage dream home.