Fun Facts About Anchorage: Anchorage, AK Facts and Trivia
Posted by Ryan Tollefsen on Tuesday, March 23, 2021 at 8:32 AM
By Ryan Tollefsen / March 23, 2021
Comment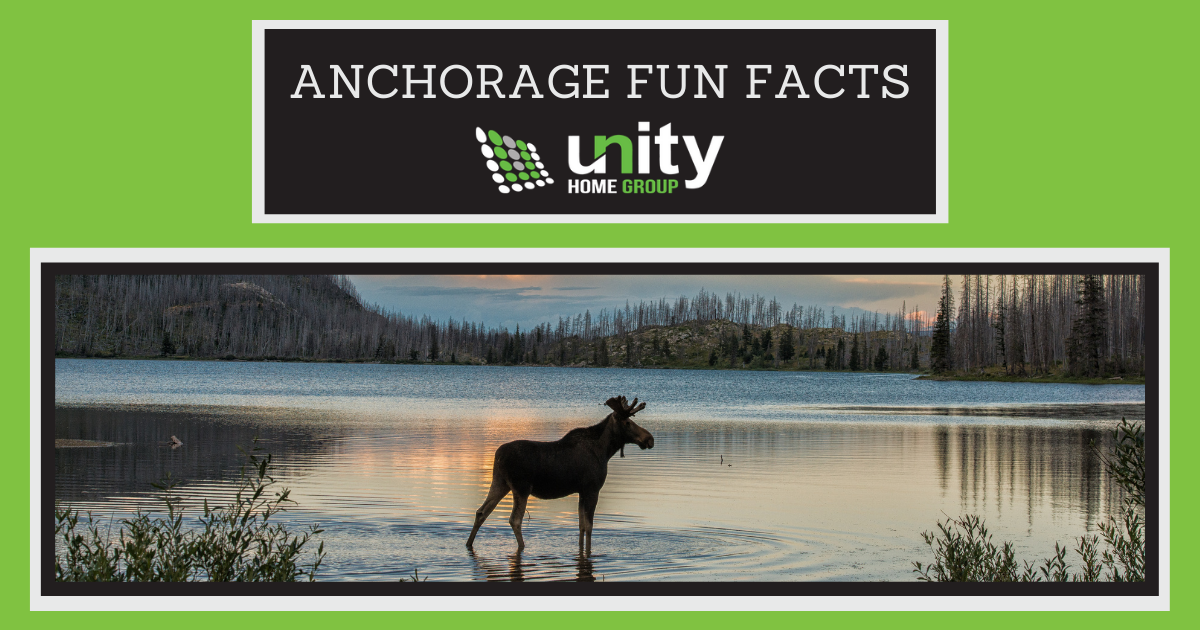 Alaska is world-renowned for its natural beauty and vast, rugged wilderness. While Anchorage is spectacularly beautiful and somewhat sparsely populated, it's also the state's largest city. Therefore, residents and visitors have easy access to an abundance of big-city amenities — yet some of the world's most remote wilderness is also in Anchorage's backyard. Here, wildlife such as bears and moose walk the downtown streets, there are many world-class zoos and museums, and outdoor recreation is more of a way of life than a hobby. To put it mildly, Anchorage is full of numerous fun facts and surprises. Here are a few of our favorite fun facts about Anchorage.
Approximately 1,500 Moose Live in Anchorage
In Anchorage, moose sightings are common enough that the majestic creatures are widely considered city residents — giant, four-legged residents, that is. People spot moose frequently because of Anchorage's unique geography. Of course, moose make their home in Alaska in general, but Anchorage, in particular, has numerous open green spaces such as parks and greenbelts, allowing the animals plenty of room to roam and graze.
Kincaid Park: This huge Anchorage park sits on the tip of the Cook Inlet and features sandy beaches, fishing in Little Campbell Lake, a disc golf course, and multi-use trails ideal for walking, hiking, and biking. Simply driving into the park actually affords the best opportunities for moose sightings. They, along with black bears, often linger along Raspberry Road.
Chugach Mountains: The Chugachs, which sit in the Chugach National Forest and atop Chugach State Park, are excellent for moose spotting. Aside from those bragging rights, this area is an outdoor lovers' paradise, with hiking, kayaking, fishing, camping, climbing, and much more.
Potter Marsh: Located within the Anchorage Coastal Wildlife Refuge about 15 minutes from downtown, Potter Marsh is best known as a bird-watching area, but moose sightings are also common.
Several of these areas in and around Anchorage have a well-earned reputation for being prime moose-viewing spots, so visitors should explore the above sites for a glimpse of these majestic animals.
More Than 100 Languages Are Spoken in Anchorage
There's a saying that "Anchorage is in the middle of everywhere." This is largely true, as Anchorage has been shaped and influenced by people from every corner of the world. The city has historical significance based on the Klondike Gold Rush, the railroad industry, oil extraction, and the military, among many other factors. Along those same lines, many indigenous peoples have historically called Anchorage home.
All those distinct influences have led to a stunning number of languages being spoken in Anchorage. According to the Alaska Journal, at least 100 languages are spoken in this city. However, this number is likely much higher.
The Wendy Williamson Auditorium Is Said to Be Haunted
The Wendy Williamson Auditorium, on the University of Alaska Anchorage (UAA) campus, is one of the biggest auditoriums in the entire state. As such, it's a popular venue for conferences, weddings, corporate retreats, and other special events.
Construction started on the Wendy Williamson Auditorium in 1973, but complications made themselves known from the very beginning. Sufficient funding wasn't available to complete the construction until about 18 months in, meaning the unfinished building shell sat vacant during that time. When the auditorium was finally completed, several unexplainable engineering and building anomalies cropped up, and the building quickly earned a reputation as being haunted. Twin brothers Shane and Wayne Mitchell were students at the university in the 1980s and work in the Wendy Williamson to this day. They shared some of their paranormal experiences with The Northern Light, the UAA student newspaper.
Shane told stories of how props would fly around backstage as if "someone flew them off with their arms." He also said a child on a field trip who had watched a theater production in the auditorium raised his hand and asked how the crew made the "lady in the white dress" fly. There was no lady in a white dress.
Wayne tells a story of his own, in which he and his brother tried to hang a photo of the auditorium's namesake, John Wendell Williamson. The photo would fall off the wall after hanging it, damaging the carpet and floor beneath it — repeatedly. The photo itself, in a glass frame, was never once damaged.
44 Percent of Alaskan Residents Live in Anchorage
According to the US Census Bureau, 731,545 people live in Alaska as of 2019. Nearly 300,000 — or well over 40 percent — call Anchorage home. In a state larger than Texas, California, and Montana combined, it's almost hard to believe that almost half its residents live in just one city.
When one considers Alaska's geography overall, this actually makes perfect sense. Some sources say that less than one percent of land in Alaska is developed and/or inhabited. Even if that figure is a gross underestimate, the fact remains that the vast majority of Alaska is untouched. Most people choose to live in the state's developed cities, and Anchorage is part of the "rail belt," where the railroad runs directly through. There is also substantially more access to everything, from jobs and infrastructure to transportation and shopping.
Anchorage Has Seven Sister Cities
Sister Cities International defines sister cities as "broad-based, long-term partnership between two communities in two countries." The program was formed under President Dwight D. Eisenhower in the 1950s.
Anchorage's Sister Cities Commission was formed in 1970 and focuses primarily on "cultural sport and educational exchange programs between Anchorage and other foreign cities as a means to foster mutual respect and goodwill." The city has seven sister cities in total:
Chitose, Japan
Darwin, Australia
Harbin, China
Incheon, Korea
Magadan, Russia
Tromso, Norway
Whitby, England
Discover More About Anchorage Today
As fascinating as these fun facts about Anchorage are, they're just the tip of the iceberg. Anchorage has something for everyone, from the outdoors enthusiast and history buff to the nature lover and social butterfly. To learn more about what this spectacular coastal city has to offer, including properties such as new construction and log homes, contact Unity Home Group with AK Home Show at (907) 885-3300.