Anchorage Neighborhoods: Anchorage, AK Neighborhoods & Districts Guide
Posted by Ryan Tollefsen on Friday, May 21, 2021 at 9:05 AM
By Ryan Tollefsen / May 21, 2021
Comment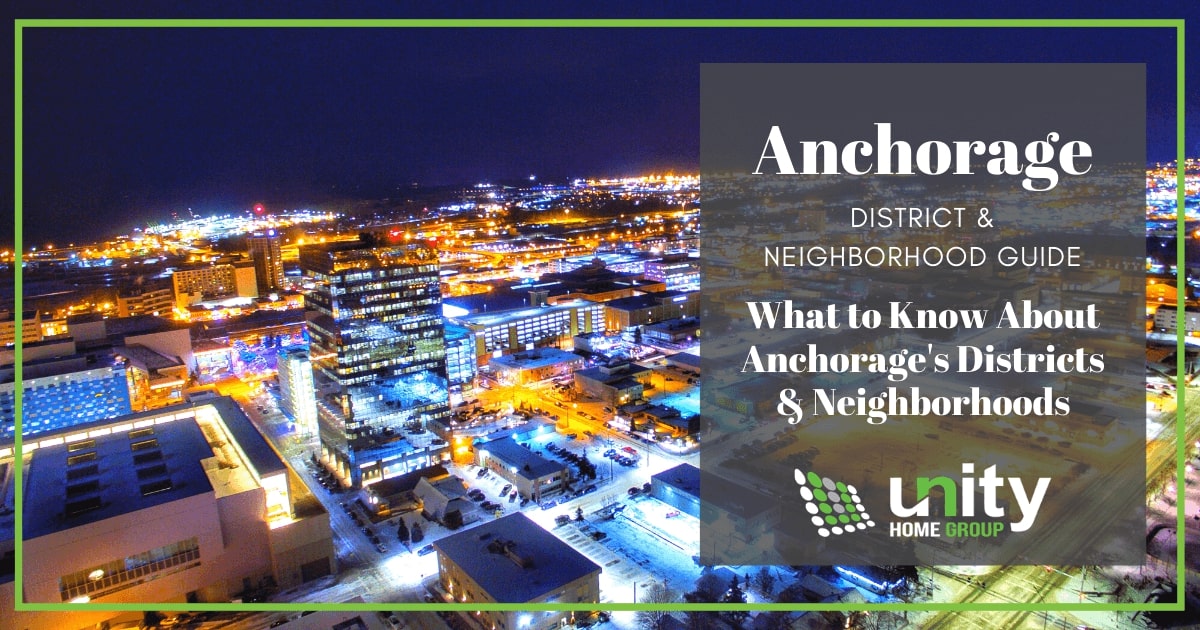 Navigating Anchorage, Alaska, doesn't have to be challenging once you get a basic feel for how the city is laid out and divided and begin traveling from area to area. Whether you're visiting or planning to move to Anchorage, it's important to get to know the "Anchorage Bowl" and what neighborhoods in Anchorage offer the amenities that best fit your personal lifestyle. Here's your guide to Anchorage's districts and neighborhoods and a brief overview of some of the amenities found in each.
Table of Contents
Sections of Anchorage, AK
Known for its unique cultural attractions, Anchorage, the largest settlement in Alaska, is located on the Cook Inlet in its south-central region. One of the most popular places to visit is the Alaska Native Heritage Center, which showcases authentic handicrafts, hosts native dance performances, and exhibits reproductions of the area's indigenous peoples' homes, tools, and culture. In addition to being the hub of Alaska, Anchorage also offers easy access to the Kenai, Chugach, and Talkeetna mountain ranges and nearby natural wilderness areas.
Alaska is divided into 20 boroughs, 19 organized and one unorganized. Anchorage, a borough within these 20 subdivisions, is itself divided into neighborhoods. These areas offer many property types to choose from, including downtown condos, mountain view and waterfront homes, and luxury properties. With 40 neighborhoods to choose from, naturally, you want to know which has the best amenities, the most convenient locations, and the features you need to support your desired lifestyle.
Anchorage Bowl
Anchorage Bowl Zip Codes
99501
99502
99503
99504
99505
99507
99508
99515
99517
99518
The "Anchorage Bowl" is the region that most people think about when Anchorage comes to mind. It's a span of marine lowland that stretches up the eastern sides of the Chugach Mountains. The Turnagain Arm is a fjord to the south, with some of the highest tides globally. Another tidal inlet lies to the west and north, called the Knik Arm.
Other sections of the city are found north and south of the Seward and Glenn highways. Despite being part of the Anchorage municipal government, these communities are distinct towns, some of which are up to 40 miles away from the center of the Anchorage Bowl. Except for Campbell Creek during youth fishing events, Eagle River, Ship Creek, and a few other spots, the fresh waters of the Bowl are closed to king salmon fishing.
Anchorage Bowl Neighborhoods
The Anchorage Bowl is home to 30 neighborhoods. Several are located near the Far North Bicentennial Park and the Alaska Zoo, including Abbott Loop, Lake Otis, Campbell Park, Little Fairbanks, Stuckagain Heights, Hillside, and Bayshore.
Near the University of Alaska Anchorage sits North Star, Russian Jack, Nunaka Valley, Airport Heights, Fairview, Boniface, Rogers Park, and Midtown. Neighborhoods close to the Ted Stevens Anchorage International Airport include Turnagain, Sand Lake, Spenard, Dimond, and South Addition.
The Providence Alaska Medical Center and the Alaska Native Medical Center are within the University-Medical District neighborhood, near the Bragaw, Green Acres, and Tudor neighborhoods.
Downtown Anchorage sits at the northernmost part of the city, just under the Government Hill neighborhood, along with the neighborhoods of Mountain View and Muldoon. In the southernmost part of the Anchorage Bowl sit the Oceanview and O' Malley neighborhoods.
List of Anchorage Bowl Neighborhoods
Abbott Loop
Lake Otis
Little Fairbanks
Stuckagain Heights
Hillside
North Star
Russian Jack
Airport Heights
Boniface
Midtown
Turnagain
Sand Lake
Spenard
Dimond
University-Medical District
Bragaw
Green Acres
Tudor
Government Hill
Mountain View
Muldoon
Oceanview
O' Malley
North of Central Anchorage
North of Central Anchorage Zip Codes
North of Anchorage proper is home to a few smaller communities tucked neatly between two sides of the Alaskan wilderness: Chugach State Park to the east and Knik Arm to the west. The area includes the Joint Base Elmendorf-Richardson Hospital, the Moose Run Country Club, Sixmile Lake, and Arctic Valley.
Skiing is popular at Arctic Valley during the winter, while hiking is a favorite pastime for area residents in the summer. Summer also allows for golfing at the impeccably landscaped Moose Run Country Club or a visit to the Far North Bicentennial Park. The park alone offers over 4,000 acres of parkland, along with more than 100 miles of trails, a gorgeous botanical garden, and a wide variety of outdoor activities. Pay special attention to signage that indicates bear activity in the area, especially during salmon season.
The Alaska Zoo is also just to the south, making an excellent day trip. Nature lovers might enjoy living in the North of Central Anchorage area, where they can be close enough to the city for convenience but far enough away that home is still a quiet, secluded escape.
North of Central Anchorage Neighborhoods
Neighborhoods in North of Central Anchorage include Eagle River to the south and Birchwood, Chugiak, Eklutna, and Peters Creek to the north.
Popular restaurants in Eagle River are classic chain-style restaurants like Domino's Pizza, McDonald's, Taco Bell, Pizza Hut, and local eclectic dining spots like Chepo's Mexican Restaurant, Jimmy's Sushi Kim's Cuisine Asian Fusion Bistro, and Tinker's Rainforest Deli.
Area shopping includes The Eagle Plaza Mall, antique stores like The Possibilities Shop, Revive Home Market gift shop, Picture This, and grocery and drugstores like Walgreens and Fred Meyer.
To the north are stores like Born Wild Outdoors and the Wonderland Emporium, and eateries like Bear Mountain Espresso, Bella Vista Pizzeria, Fried Rice Express, Polar Bear Expresso, and Luci Mae's Bakery and Espresso.
List of North of Central Anchorage Neighborhoods
Eagle River
Birchwood
Chugiak
Eklutna
South of Central Anchorage
South of Central Anchorage Zip Codes
Several more neighborhoods sit to the south of Anchorage proper, conveniently near the city for work, shopping, and dining, but far enough away from the bustle to feel secluded. Nature lovers enjoy easy access to Chugach State Park, while commuters need only hop on Highway 1 to get to downtown Anchorage or nearly anywhere else in the Anchorage Bowl.
Beluga whale watching is popular in this part of Anchorage, with McHugh Creek Day Use Area and Beluga Point Site providing excellent vantage points to view Beluga whales that come through the Turnagain Arm.
South of Central Anchorage Neighborhoods
There are five neighborhoods within South of Central Anchorage, with Rabbit Creek being the area's cornerstone. Rabbit Creek is just south of the Alaska Zoo and has many parks of its own, including Griffin Park, Old Rabbit Creek Park, Rabbit Creek Shooting Park, Potter Creek Ravine Park, and more. Rabbit Creek is one of the many rivers that pass through Anchorage. From the Chugach Mountains to Turnagain Arm, it stretches for 15 miles.
Other neighborhoods in South of Central Anchorage are Bird, Girdwood, Indian, and Rainbow. Rainbow sits close to the southern edge of the Anchorage Bowl, while Indian is further south, tucked between Chugach State Park and Turnagain Arm.
Bird is just 3.5 miles south of Indian on Highway 1 and is home to the visitor and resident favorite Bird Creek Campground. Girdwood is just 12 miles further south of Bird and is the last stop in the Anchorage area. It's home to the Alyeska Resort & Hotel Alyeska, a luxury ski resort just two miles from Girdwood Forest Fair Park set in a sleek, chateau-style estate surrounded by the stunning, peaceful Alaskan wilderness.
List of South of Central Anchorage Neighborhoods
Rabbit Creek
Bird
Girdwood
Indian
Rainbow
Find Your Home in Anchorage
Anchorage is one of the most popular places to live and visit in Alaska, with enough urban conveniences and natural beauty to satisfy anyone. Visitors should plan to have enough time to explore everything the Anchorage Bowl and the North and South of Anchorage neighborhoods offer. Prospective residents should consider booking a stay to get a feel for the neighborhood and decide if Anchorage has the amenities, job access, and affordability to meet their needs.
If you're wondering which Anchorage neighborhood might be the best fit for you, contact Unity Home Group with AK Home Show at (907) 531-2540 to get in touch with local real estate agents who can help you find the Anchorage neighborhood that's your perfect fit.