Best Anchorage Neighborhoods to Live Near Ted Stevens Anchorage International Airport
Posted by Ryan Tollefsen on Wednesday, June 23, 2021 at 11:25 AM
By Ryan Tollefsen / June 23, 2021
Comment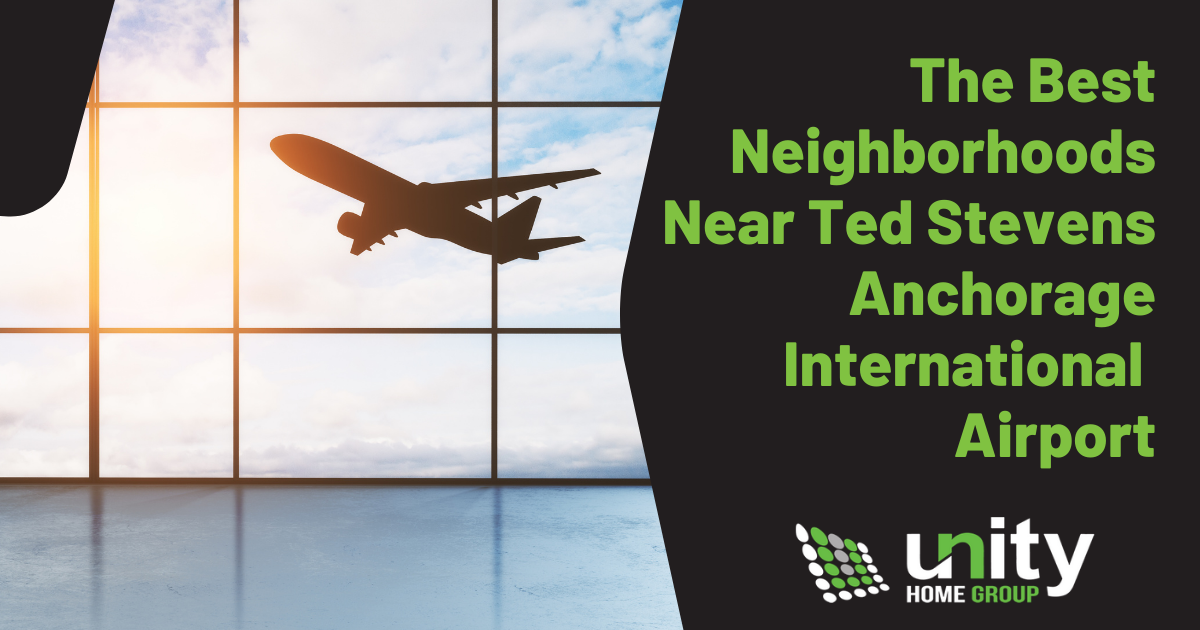 Anchorage, Alaska, is an exciting city to live in. Founded in 1914, it's a vibrant, culturally rich city with a wide variety of things to do. Yet, it's also near some of the most beautiful nature in the world.
The international airport in Anchorage is equidistant between New York and Tokyo, which puts it less than 10 hours from almost all industrialized nations. As a result, Anchorage residents who live in neighborhoods near the airport can have the best the Anchorage community offers while also being close to the whole world. Those planning to rack up frequent flyer miles should read on to discover the Anchorage neighborhoods closest to Ted Stevens Anchorage International Airport.
Turnagain
Turnagain Amenities
Lake Hood, a floatplane base
Access to the Tony Knowles Coastal Trail and 10 parks
Annual Halloween event on Fish Creek Trail
Two art galleries
Access to Cook Inlet and Fish Creek
Turnagain is located between Cook Inlet to the north and west, Lake Hood and Fish Creek to the south, and Minnesota Drive to the east. It's primarily a residential area, with some commercial and retail. The population is around 14,300, and the home values range from the $300s to the $400s.
While residents can walk to restaurants and bike on trails, most daily errands require a car. Local hotspots include the Rustic Goat, one of the most popular restaurants in Anchorage; a performing arts studio, Frozen Music Productions, which also offers lessons for all ages; and the Anchorage Community House and Tool Library, which allows members to check out items ranging from hammers and canning pots and circular saws and vehicle ramps.
Turnagain is 1.4 miles from Ted Stevens Anchorage International Airport.
Sand Lake
Sand Lake Amenities
Access to several trails and parks, including waterfront Kincaid and Jewel Lake parks
Popular fishing spot at Sand Lake
Shopping, including several grocery stores
An array of restaurants
Sand Lake, also known as Jewel Lake, is in Southwest Anchorage and is the neighborhood that surrounds Sand Lake. Its boundaries are International Airport Road to the north, Campbell Lake to the south, Cook Inlet to the west, and Walter J. Hickel Parkway to the east.
Its population is around 25,200, and the typical home value is in the mid-$300s. It's known for plentiful green space and an abundance of restaurants. Most errands require a car. While the commute to downtown requires about 20 minutes on good roads, Sand Lake provides easy access to parks and other Anchorage lakes.
The neighborhood has several local eateries, including Kincaid Grill, Siam Cuisine, and Shanghai Tea Garden and bars such as the Hideaway Club and Humpy's Ale House. Residents can grab a morning pick-me-up at A Whole Latte' Love, Java the Hut, Boba Tree Cafe, and Kaladi Brothers Coffee. The neighborhood also includes Connors Lake Park, one of Anchorage's most popular dog parks.
The Sand Lake neighborhood is 4 miles from Ted Stevens Anchorage International Airport.
Spenard
Spenard Amenities
Adjacent to Lake Spenard and Lake Hood
Northern Lights Shopping Mall and unique local shops
Annual Spenardi Gras festival
The Alaska Aviation Museum is located here on the world's largest seaplane base
Spenard was once a separate city from Anchorage and still maintains a distinctive flavor. It's known for poetry jams and bicycle parties and is often viewed as a hub for artists and musicians. Spenard is located between Northern Lights Boulevard to the north, International Airport Road to the south, Fish Creek to the west, and Arctic Boulevard to the east.
Residents have several potential gathering places. One is the Bear Tooth Theater Pub, which features food, craft beers, movies, and live events. Another is the windmill, which houses a seasonal farmers market and other events. Popular local restaurants include the Spenard Roadhouse and Gwennie's Old Alaska Restaurant. An independent bookstore, the Writer's Block Bookstore and Café feeds appetites for knowledge.
Spenard has a population of almost 13,000, and home values are typically in the mid-$200s. Residents can accomplish some of their daily errands on foot but will still need a car for some activities.
Spenard is 1.9 miles from Ted Stevens Anchorage International Airport.
Bayshore/Klatt
Bayshore/Klatt Amenities
Bayshore Clubhouse, which features tennis courts, event space, a swimming pool, sauna, and whirlpool
Excellent retailers and cafés
Access to natural beauty through Anchorage parks, trails, and lakes
The Bayshore/Klatt neighborhood is one of the oldest in Anchorage. Its boundaries are Campbell Lake to the north, Johns Park and East Klatt Road to the south, Cook Inlet to the west, and the New Seward Highway to the east. Real estate consists primarily of single-family homes in various styles, with a few of Anchorage's townhouses.
The average home price ranges from the mid-$300s to the $400s, and the population is around 14,800. Most activities require a car. The commute to downtown is also convenient.
The neighborhood offers access to natural beauty, including the coastline. Popular parks include Chugach State Park and Carr-Gottstein Park. Local bars and cafés include the Blue Line Pub and Café, Firetap Ale House, Bradley House Food and Spirits, and Rugged Brews. The O'Malley Sports Complex provides a track, ice skating rink, open gym, and hockey.
Bayshore/Klatt is 5 miles from Ted Stevens Anchorage International Airport.
Taku/Campbell
Taku/Campbell Amenities
Indoor and outdoor recreational opportunities
Active performing arts community with several theaters, including Wild Berry Theater and Anchorage Community Theater
Bustling retail, including both national chains and local shops
A plethora of nightlife options, including various bars and a casino
A wide variety of restaurants
Taku/Campbell is bordered by International Airport Road to the north and 92nd Avenue to the south. Its western boundary is the Walter J. Hickel Parkway, and the eastern is the New Seward Highway. It has about 16,000 residents and is the home of the Dimond Mall Shopping District and other shops and entertainment. The Dimond Center, within that district, is the state's largest enclosed shopping mall and features a movie theater, bowling alley, food court, arcades, and ice skating rinks.
The neighborhood also has several recreational opportunities. For example, the Dome Arena provides space for several sports and exercise options, such as a pickleball court, track, batting cages, free weights, and more, and Putter's Wild features indoor blacklight mini-golf and virtual reality booths.
Another gathering spot is the Anchorage Market on the weekends in May through September. The neighborhood also has plenty of trails and green space; in fact, the Campbell Creek Green Belt runs through its center.
Home values in Taku/Campbell generally hover in the mid-$200s. Residents can walk to many shops and restaurants, although they'll still need a car.
Taku/Campbell is 4.5 miles from Ted Stevens Anchorage International Airport.
North Star
North Star Amenities
Access to trails and parks, including the Westchester Lagoon Park area and the Valley of the Moon Park
Convenient retail zones within the neighborhood and access to nearby Sears Mall and Downtown 5th Avenue Mall
Lots of cafés and restaurants, many within walking distance for most residents
The neighborhood of North Star is bounded by Minnesota Drive on the west, New Seward Highway to the east, Chester Creek Greenbelt to the north, and Fireweed Lane to the south. The Chester Creek Greenbelt links into the city's trail system so that residents can access several trails and parks. The neighborhood also is convenient to nearby retail.
A hotspot for nightlife is Reilly's Irish Pub. Locals also gather at the Quantum Laundry Lounge, which is a coin laundromat with an espresso bar.
The neighborhood has a population of around 3,500, and home prices are generally around the high $200s and low $300s. While ample opportunities exist for walking on the trails and dining at nearby restaurants, residents will need a car to complete most errands.
North Star is 3.8 miles from Ted Stevens Anchorage International Airport.
Midtown
Midtown Amenities
The Campbell Creek Greenbelt, which runs through a corner of Midtown
Parks, including Cuddy Family Midtown Park and Arctic Benson Park, which has a no-leash dog park area
A variety of restaurants and nightlife options
Midtown is located south of Fireweed Lane and north of International Airport Road. It's bounded on the west by Arctic Boulevard and New Seward Highway to the east. The area has a significant amount of retail within it, as well as several parks.
The Center Market, the state's only year-round market, is located in Midtown. It's popular on Wednesdays and Saturdays for fresh produce and vegetables. Midtown also has several dance schools and venues, such as the Alaska Dance Theater and the Anchorage Classical Ballet Academy.
The population is about 4,150, and the median home price is typically in the lower $200s. The neighborhood features various home types, including townhomes, Anchorage condos, single-family homes, and lots.
Midtown is 3.7 miles from Ted Stevens Anchorage International Airport.
Abbott Loop
Abbott Loop Amenities
Parks, including Abbott Loop Community Park
Easy access to shopping, restaurants, and cafés
Large selection of grocery stores and markets
Easy commute to downtown jobs
Abbott Loop is in south Anchorage and is bounded by New Seward Highway to the west, Elmore Road to the east, Dowling Road to the north, and Abbott Road to the south. Several small parks are within its borders, and residents also have easy access to larger parks. The neighborhood features a variety of housing types, including single-family homes, townhomes, and condos.
Abbott Loop has a population of almost 38,000, and the homes are typically priced in the low $300s. Commuting downtown is short and easy.
The neighborhood also has several restaurants. A popular one is Seward's Folly Bar and Grill, which advertises the best burgers in Alaska. Also popular is Cups & Pups, which offers beverages, food, dog gear, and nearby pet boarding and daycare.
Residents need a car for most errands, although cafés and restaurants will often be within walking distance.
Abbott Loop is 6.7 miles from Ted Stevens Anchorage International Airport.
Discover Home in Anchorage
The neighborhoods close to Ted Stevens Anchorage Airport offer a range of architectural styles, housing options, and community ambiances. Residents can choose to live in smaller communities, such as Turnagain or North Star, or larger ones, such as Abbott Loop. While all the neighborhoods include some retail, nightlife, restaurants, and natural beauty, each neighborhood is unique in how it blends these. Residents seeking to relocate to these neighborhoods have many options.
If Anchorage is calling to you, contact Unity Home Group of eXp Realty with AK Home Show at (907) 531-2540 to get in touch with an Anchorage real estate agent and find your Alaskan dream home today.