Public Transportation in Anchorage: Anchorage, AK Public Transit Guide
Posted by Ryan Tollefsen on Friday, April 16, 2021 at 7:25 AM
By Ryan Tollefsen / April 16, 2021
Comment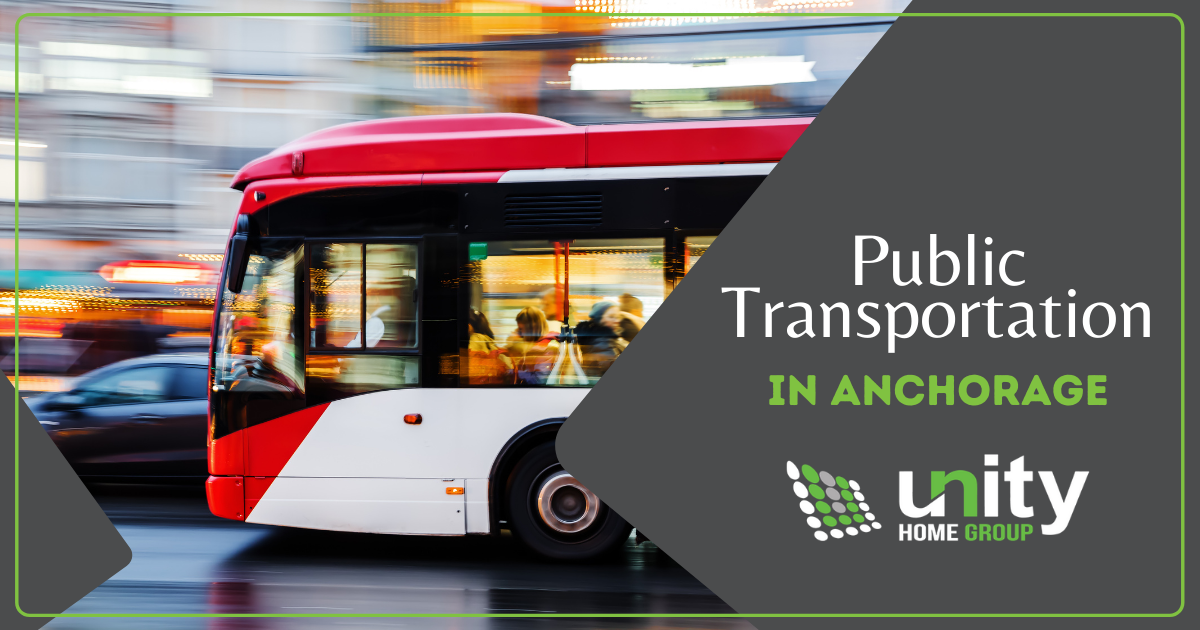 With nearly 40 percent of Alaska's entire population, Anchorage is the state's most populous city, with 288,000 people making their homes there. Located in southcentral Alaska along the Cook Inlet, the city is known for its majestic mountain backdrop and scenic water views.
With its varied topography and abundant bodies of water, outdoor recreation options abound. But Anchorage is also a large urban center known for its thriving cultural arts community, entertainment opportunities, and retail and dining establishments. Residents have many options available to them for getting around the metro area aside from personal vehicle use. While some options require eligibility, most are available to the public. Read on to discover public transportation options in Anchorage, Alaska.
People Mover
People Mover is Anchorage's city bus service, a division of the Municipality of Anchorage's Public Transportation Department. It is Alaska's largest public transit provider, with about 11,600 trips each week.
The People Mover system is open to the public and includes four frequent routes, which offer service every 15 minutes during peak hours; four standard routes; four neighborhood routes; and two commuter routes, for a total of 14 lines. The routes stretch south to Dimond Boulevard, west to the airport, north to the Joint Base Elmendorf-Richardson, and east to Muldoon Road.
Routes run from approximately 6 a.m. to midnight during the week and from about 8 a.m. to 8 p.m. on weekends. Smart cards are available for $5 at the Downtown Transit Center and may be loaded with a one-week or 30-day pass. Replacement cards are available if they are lost or stolen.
Adult fares apply to those ages 19 to 59. Half-fare rates are available for those who qualify. Proof of eligibility is required upon boarding.
People Mover Full Fares
Cash fare: $2
Day pass: $5
Week pass: $26
30-day pass: $60
Annual pass: $660
People Mover Half Fares
Cash fare: $1
Day pass: $2.50
Week pass: $13
30-day pass: $30
Annual pass: $330
AnchorRIDES
AnchorRIDES is a public shared-ride service. Its services are limited to providing transportation in compliance with several funding sources. Eligible riders include those with disabilities that prevent them from using other public transit with fixed routes, senior citizens and their spouses, and certain other coordinated trips for those in need. Each eligibility class has specific qualifying criteria and application processes.
Eligible seniors and their spouses must complete an AnchorRIDES application. Those approved receive a letter of eligibility and a rider guide.
Those who are recipients of the Medicaid Home and Community Based Waiver Program may also choose AnchorRIDES as their transportation provider. To begin service, program participants need only contact their care coordinator, who can arrange an enrollment plan and an authorized plan of care necessary before services start.
AnchorRIDES services are available to applicants on a temporary or conditional basis, and fares vary with the area served. The core area is roughly within 0.75 miles of a People Mover route.
Anchorage subsidizes the cost for core area transit. Premium areas are transit requests further than 0.75 miles of a People Mover route.
AnchorRIDES Ticket Costs
Core area: $3.50
Premium area: $5.50
Senior Transportation/Grant Program: donation
First Guest: same fare as rider
Additional guests: $15
Rideshare Options
In addition to the People Mover public transit service, those in Anchorage can take advantage of ridesharing options. These companies became authorized through enabling legislation that was signed into law in 2017. While rideshare did not begin immediately afterward, Anchorage today can offer several rideshare services.
Uber
In addition to rides throughout the city, Uber offers pickup service at the Ted Stevens Anchorage International Airport.
Riders reserve their trip through Uber's app. Uber offers multiple vehicle sizes in Anchorage, with the fare varying accordingly. As in other cities, Uber's fare is affected by three major factors. It starts with a base rate, which Uber calculates based on a trip's time and distance. In addition to the base rate, Uber sometimes adds a booking fee, depending on the city's operating costs.
In addition to rideshare services, Uber operates Uber Eats in the Anchorage area, enabling customers to use an app to order foods from restaurants for pickup and delivery.
The other factor in determining Uber rates is that busier times and areas command higher prices in some instances.
Base Uber Fees
UberX vehicle: $8 for minimum fare, $2.55 for base fare, and $0.35 per kilometer
UberXL vehicle: $8 for minimum fare, $2.55 for base fare, and $1.75 per kilometer
UberSUV vehicle: $25 for minimum fare, $14 for base fare, and $4.50 per kilometer
Lyft
Lyft is a rideshare program offering passengers personal transportation across the greater Anchorage metro area. Lyft's capacity is for up to four passengers maximum for its standard Lyft sedan or up to six with the Lyft XL vehicle option.
In addition to rides around the city, Lyft offers an airport transport service. Fares will vary depending on the size of the vehicle requested. Passengers can reserve their Lyft ride through the use of the Lyft app.
Lyft Base Fares
Lyft standard: $2.33 for base fare, $0.26 per minute of wait time, $1.55 per mile, $2.75 service fee, and $5 cancellation fee
Lyft XL: $3.75 for base fare, $0.38 per minute of wait time, $2.63 per mile, $2.75 service fee, and $5 cancellation fee
RideShare
Anchorage's RideShare program helps commuters save money by utilizing vanpooling, a transport program that allows groups of five or more with similar timetables and destinations to ride together. The city's Public Transportation Department oversees vanpooling in the Anchorage commuter areas and provides vanpool group subsidies.
Vanpools are organized when four to 15 commuters who live near each other agree on a central pickup point. Through a partnership with Enterprise Car Rental, commuters receive a recent model SUV, crossover, or van for their use.
Costs vary depending on the length of the commute and the number of passengers who are sharing the expense. Each passenger agrees to take their turn at driving, as well as to split all costs.
Taxis
Alaska Yellow Dispatch operates a public taxi cab service in the greater Anchorage metro area, with service stretching nearly 40 miles south of Anchorage to Girdwood to 27 miles north of the city to Eklutna. Customers can interact via a mobile app to reserve their ride and receive fare estimates. Taxi services are available 24 hours a day, seven days a week.
In addition to ride services, Yellow Dispatch offers other automotive services, including battery jump service and assistance with lockouts. The jump service cost is $25 within Anchorage City limits, regardless of whether the car starts. Lockouts within Anchorage are $35, with higher prices for communities outside the city limits.
The taxi company also offers specialized services upon request and availability. Some examples include child car seats, wheelchair-accessible vehicles, five- or six-passenger vehicles, 4x4 vehicles, and deliveries.
Yellow Dispatch Taxi Cab Base Fares
$2.75 at flag drop
$2.50 per mile
$38 per hour of wait time
Explore Anchorage
Anchorage is a sprawling, modern metropolis, complete with all the amenities. A thriving downtown, busy business district, outdoor ventures, and cultural arts scenes are hallmarks. In addition to Anchorage's residents, over two million tourists visit each year, adding to public transport demand. Citizens and visitors can find public transport options, including a city bus service, commuter vanpooling, and several rideshare services.
If Anchorage sounds like the right fit for you, contact Unity Home Group with AK Home Show at (907) 885-3300 to get in contact with a local real estate agent who can help you find an ideal Anchorage home.