Things to Do in Anchorage: Anchorage, AK Places to Go and Things to Do
Posted by Ryan Tollefsen on Wednesday, November 18, 2020 at 5:23 AM
By Ryan Tollefsen / November 18, 2020
Comment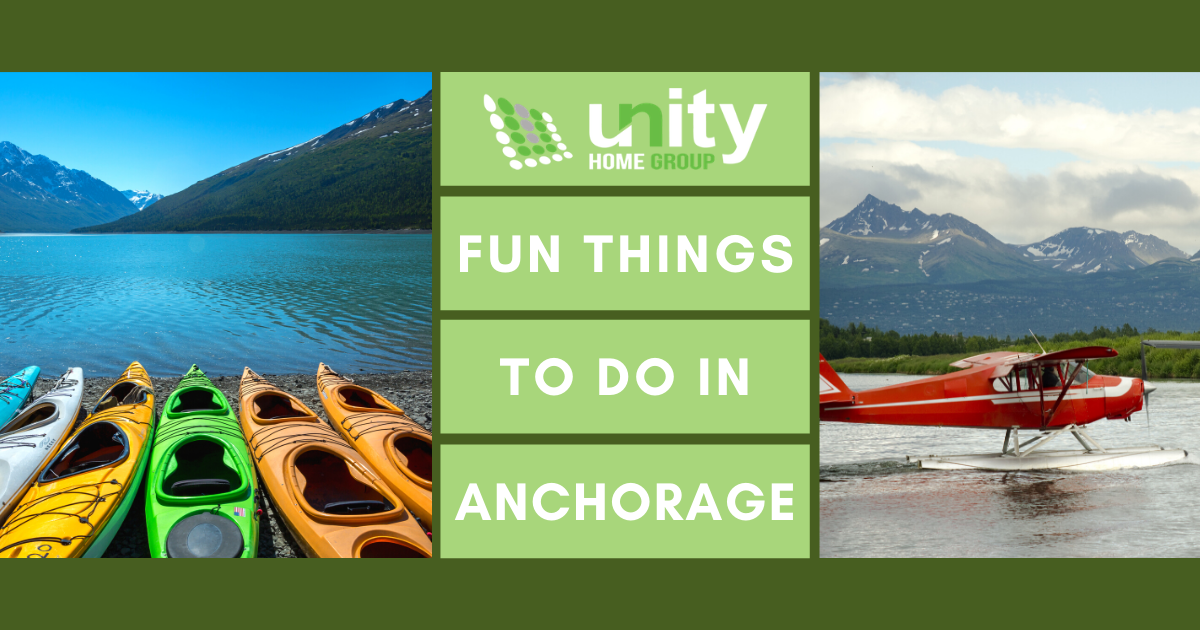 Nearly 40% of the population of Alaska lives in the coastal city of Anchorage. In the metropolitan area, there are about 400,000 people living within a land area of 1,706 square miles. While most people think of snow and cold weather when they think of Anchorage, there are a variety of things to do in this city, From taking in the beautiful scenery from a mountain view home to watching a ballet, Anchorage has something for everyone to enjoy. Here are some excellent things to do in Anchorage, Alaska.
Anchorage Outdoor Adventures
Outdoor Activities in Anchorage
Hiking & mountain biking
Kayaking, rafting, & fishing
Camping
Skiing and snowboarding
There are a wide variety of outdoor activities in which to partake in a city the size and scope of Anchorage. As a visitor or resident, take advantage of everything from hiking, biking, and running on paved city trails to learning about glaciers or seeing the vast landscape and abundant wildlife from above while flightseeing.
Parks
Within the city, visit Kincaid Park at the southwest corner of the Anchorage Bowl located at the west terminus of Raspberry Road. There are over 80 miles of trails at this park, but be prepared for steep hills and single-track width trails. Different in nearly every respect except beauty is a closer option within the city called the Chester Creek Trail. This paved path is 4 miles long and passes through several parks like Tikishla Park with playgrounds, baseball fields, and picnic areas with portable restroom facilities available seasonally. This trail is maintained on a year-round basis, so there is cross-country skiing on this trail in the winter.
The closest wilderness area to Anchorage is the Chugach Range, which includes Chugach National Forest and Chugach State Park. About 20 minutes from downtown, there are a variety of outdoor activities like hiking, rafting, biking, kayaking, fishing, or riding an ATV. The Chugach State Park is one of the largest in the entire United States, and the Chugach National Forest is the second-largest in the nation. There are 60 accessible glaciers and multiple access points in this wilderness area, including access to the iconic day hike to Flattop Mountain, with stunning views of the skyline and Denali that reward the hike's challenging 1,350-foot vertical climb.
Water Recreation
Because of its location along the coastline, water recreation opportunities abound in Anchorage. Fishing is a popular pastime, and whether you are an expert angler or a novice fly fisherman, there are plenty of spots near Anchorage to catch trout, salmon, arctic char and other species. Make sure you get a permit before you fish anywhere like Campbell Creek or Ship Creek in the city or somewhere nearby like the hike-in destination of Rabbit Lake, which is stocked with rainbow trout. Permits can be purchased online or from several local retailers.
Some of the most unbelievable views of Anchorage can be seen from a kayak. You can get up close and personal with the incomparable bright green water of the glaciers on Eklutna Lake or ocean kayak about 1.5 hours away near Whittier and possibly catch sights of whales. Try iceberg kayaking with a tour from Ascending Path Guides, a half-day experience after which you can say that you touched an iceberg.
Anchorage is not all about glaciers and arctic water, however. You can swim during the summer in Jewel Lake or Goose Lake where people flock on hot summer days to take advantage of the designated swimming areas.
Hiking & Biking Trails
There are 135 miles of bike paths throughout the city. The Tony Knowles Coastal Trail is one of four greenbelt trails in Anchorage spanning from Kincaid Park to the location where 2nd Avenue ends at Cook Inlet. The trail is 11 miles in length each way and can be accessed from several locations within the city. Bicycles are permitted on these fairly flat trails, and Downtown Bicycle Rental and Pablo's Bike Rentals are located nearby if you do not own a bicycle or need to rent one. Cycling is probably the fastest way to take in all the amazing views from the trail of downtown, the Chugach Mountains, Denali, Mount Susitna, and Fire Island.
Take caution along the trail because some of the 1,200 moose that live in Anchorage frequent the area, especially near the airport. Additionally, there are mudflats located along the sides of the trail in certain areas. These form when silt and mud combine and create a quicksand-like substance that changes as the tide rolls in and out.
One highlight along the trail is Earthquake Park, the site of a 9.2-earthquake that moved an entire neighborhood into the ocean in 1964.
It is hard to come to Anchorage without taking part in some of the many outdoor activities the city has to offer. Pack some water, dress in layers, and take advantage of all this city has to offer.
Anchorage Shopping
Shopping Centers in Anchorage
The Northway Mall
Anchorage 5th Avenue Mall
Great Alaska Mall
Midtown Mall
Tikahtnu Commons
There is no state-collected sales tax in Alaska, and Anchorage does not impose a local sales tax. If you are visiting, many of the local shops will ship purchases to your home. For traditional mall shopping, head to Anchorage 5th Avenue Mall, a five-level shopping mall with over 110 stores. If artisan goods are of interest to you, check out the Oomingmak Musk Ox Producers' Co-operative, a source of hand-knitted and unique gift items made by approximately 250 Native Alaskan women from coastal villages.
Anchorage Restaurants
Other Great Restaurants in Anchorage
Moose's Tooth Pub & Pizzeria
Ginger
Simon & Seafort's Saloon & Grill
Turkish Delight
Crow's Nest
In a city the size of Anchorage, it should be no surprise that there is something around nearly every corner to eat. Try the reindeer sausage at the International House of Hot Dogs, a moderately spicy treat. For a gourmet pizza, try the Moose's Tooth, serving since 1996.
If cooking food sourced by local farmers is on your list of things to do, the long days and rich soil allow farmers in the area to produce delectable produce, all available at local farmers markets. There are also countless restaurants offering up some of the freshest seafood in the country. For regional cuisine, try Kincaid Grill for dishes like Alaskan Halibut, Kodiak Scallops, and small-batch coffee.
Arts & Culture in Anchorage
Fine Arts in Anchorage
Alaska Native Heritage Center
Alaska Air Museum
Alaska Center for the Performing Arts
Alaska Dance Theatre
Alaska Community Theatre
It's easy to get distracted by the unbeatable views of the glaciers, mountains, and water near Anchorage, but the city is also home to many family-friendly museums and exhibits and is a hub of cultural activity and nightly entertainment.
Museums
There are several museums in Anchorage that provide insight into the history of the area. In order to understand and appreciate Alaskan culture, head to the Alaska Native Heritage Center, where you'll learn about the indigenous people of Alaska and how customs are being preserved in today's world. This living museum has many representatives from native communities who are eager to share their heritage with visitors.
With more licensed pilots than any other state, it is not surprising that Anchorage is the home of the Alaska Aviation Museum. Located on the largest float plane base in the world, step inside to get a glimpse of how important air travel is in the state of Alaska. Maybe you will even be inspired to take flying lessons.
Dance & Theater
The Alaska Center for the Performing Arts (PAC) was founded in 1998 to bring shows to the area. The PAC offers performance opportunities for students of the Alaska Dance Theatre.
Another place to take in a play is at the Anchorage Community Theatre (ACT). This local theater has been honing local talent on the stage since 1953 and is the longest-running arts organization in Alaska.
Anchorage Nightlife
Clubs, Bars, and Music in Anchorage
Chilkoot Charlie's
LED Ultra Lounge & Grill
Van's Dive Bar
Williwaw Social
After-hours entertainment has no shortage in Anchorage. There are over 50 breweries to visit, including 49th State Brewing and Midnight Sun. No trip to Anchorage is complete without a trip to Koot's, billed as the most historic bar in Alaska celebrating 50 years as a local favorite.
Find Something to Do in Anchorage Today
There is more to Anchorage than the great outdoors. World-class entertainment with as much variety as the topography of the surrounding area flourishes here. Learn about the history of the region, take in a play, or go on a brewery tour in this amazing city.
Anchorage is full of opportunities for both indoor and outdoor adventure. With more sunlight during the summer months to take advantage of, you can pack even more things into your daily schedule. Take a midnight hike or bike ride, relax at your waterfront home, or have a full-on adventure and enjoy all this thriving city has to offer set amongst the rugged wilderness. If you're dreaming of living in this fantastic city, contact Unity Home Group with AK Home Show at (907) 885-3300 to get in touch with a local agent who can help you find your new home in Anchorage.