Anchorage Vacation Guide: What to Do When Vacationing in Anchorage, AK
Posted by Ryan Tollefsen on Friday, April 2, 2021 at 7:54 AM
By Ryan Tollefsen / April 2, 2021
Comment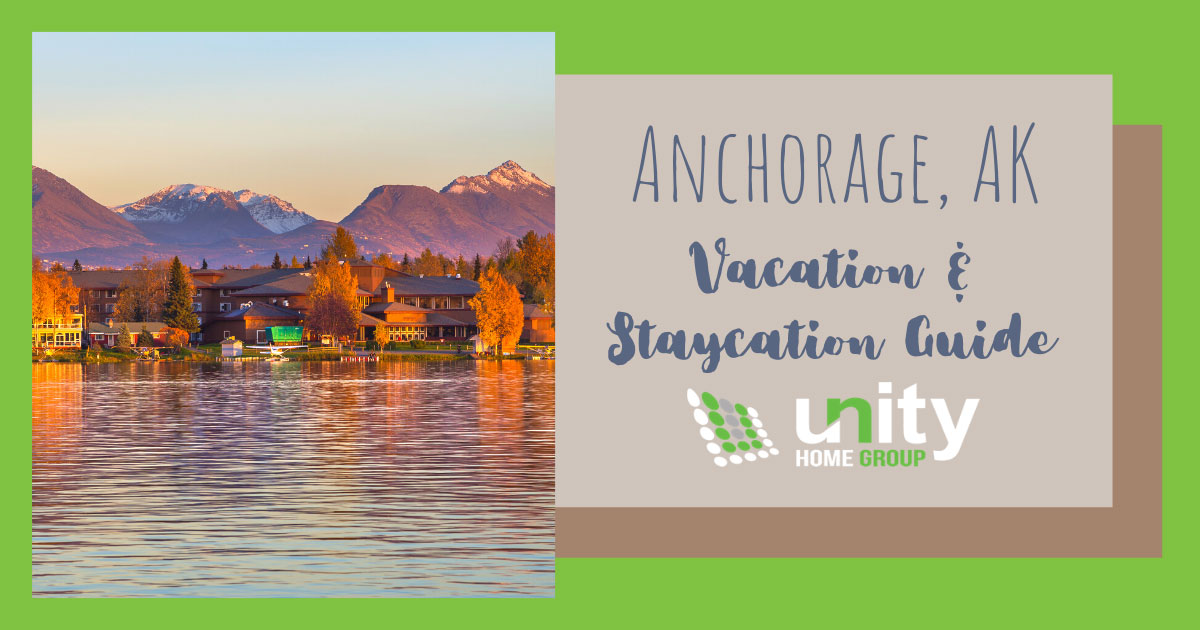 Anchorage is Alaska's largest city, home to nearly 40 percent of Alaska's population, with 288,000 people residing there. It is in the southcentral part of the state, along the Cook Inlet. Anchorage is known for its scenic beauty and its cultural arts, retail, and entertainment opportunities.
More than two million visitors come to Alaska every year, over half of them via cruise ship. Travelers to Anchorage spend a combined amount of approximately $300 million, and one out of every nine jobs in Anchorage is in tourism. Anchorage emphasizes history and cultural arts, which shows in some of its most popular visitor destinations. With no sales tax and several malls, the city is also a popular spot for shoppers.
Those planning a vacation—or even a staycation—to Anchorage should consider the following opportunities during their time in the city.
Lodging in Anchorage
Anchorage offers visitors plenty of options for where they will lay their heads after a busy day of visiting popular attractions and activities in the city. From boutique hotels and bed and breakfasts to waterfront properties and sprawling lodges, those who prefer a greater slate of amenities will also find several full-scale hotels to choose from.
The Lakefront Anchorage
Address: The Lakefront Anchorage, 4800 Spenard Rd, Anchorage, AK 99517
Set on Lake Spenard's shores, The Lakefront Anchorage has the unique distinction of being the only Anchorage hotel on a lake. The hotel's proximity to Lake Spenard and Lake Hood makes it the perfect venue for flightseeing and fishing excursion pickups, available from its dock.
The Lakefront Anchorage offers unencumbered views of floatplanes landing against a backdrop of the Chugach Mountains. Conveniently located near the Ted Stevens Anchorage International Airport and just four miles from downtown, the hotel features three onsite restaurants and a lounge, all offering lake views.
The hotel's location is also near several smaller inland lakes and parks, including Earthquake Park and Kincaid Park. Other nearby attractions include the Tony Knowles Coastal Trail, the William Henry Seward Statue, and the Aviation Museum.
Copper Whale Inn
Address: Copper Whale Inn, 440 L St, Anchorage, AK 99501
Nestled in downtown Anchorage and offering magnificent views across the Cook Inlet, Copper Whale Inn is a popular stay for those wishing to experience the city's thriving urban scene. The inn's downtown location puts guests within convenient walking distance of many of the city's museums, convention venues, and an array of restaurants, from tiny bistros to fine dining. Several other attractions are also nearby, including the Tony Knowles Coastal Trail, offering 11 miles of paved surface popular for hiking, biking, and cross-country skiing.
The inn was built in 1939 by a local doctor. Its past is marked by its historic main house, one of only a few structures remaining following the 1964 earthquake. The building has the distinction of being the first architecturally designed home in Anchorage. Before its conversion to a bed and breakfast in the 1980s, the main building went through several uses, including a private residence. The inn features 15 guest rooms, as well as a gathering place for breakfast and relaxation.
Jewel Lake Bed & Breakfast
Address: Jewel Lake Bed & Breakfast, 8125 Jewel Lake Rd, Anchorage, AK 99502
Jewel Lake Bed & Breakfast offers lodging and breakfast for guests at its location inland from the Turnagain Arm. It is less than seven miles to downtown Anchorage and is known for its large, wraparound deck, where guests can enjoy wildlife viewing and Anchorage's midnight sun. In addition to nearby Jewel Lake and Jewel Lake Park, the inn is near Sundi Lake, Birch Lake, and the larger Sand Lake.
Jewel Lake Bed & Breakfast strongly focuses on environmental practices and strives to be a green business with a water and energy conservation program. Additionally, the establishment uses only cleaning products free of fragrance and toxins.
Guests have access to a living room with a vaulted ceiling and large windows as a common area for relaxing. There are two fully equipped kitchens, with one devoted entirely to breakfast and the other open for guest use at any time. A nearby grocery store offers a convenient way for people to stock up on what they need for preparing meals.
Food and Dining in Anchorage
Local chefs in Anchorage are known for their unique creations reflective of the city's heritage and diversity. Many establishments feature time-honored recipes passed down for generations and specialties found only in Alaska. From king crab to halibut to wild salmon, fresh seafood is a favorite among visitors and residents.
Snow City Café
Address: Snow City Café, 1034 W 4th Ave, Anchorage, AK 99501
Established in 1998, Snow City Café is a favorite downtown eatery for breakfast, brunch, and lunch, seven days a week. This café specializes in fresh, made-to-order dishes, with a strong emphasis on sourcing their ingredients locally. Snow City is open from 7 a.m. to 3 p.m. daily.
The café is famous for its eggs benedict on its breakfast menu, while hot sandwiches, homemade soups, and locally brewed draft beers are popular choices for lunch.
In addition to its focus on locally sourced and grown food, Snow City Café emphasizes community engagement, supporting various local charities such as Bean's Café, Covenant House, and Children's Lunchbox. The café also supports several local sports teams, schools, and community organizations.
Guests can remember their visit with Snow City Café merchandise, including branded apparel, gifts, Kaladi Brothers Snow City coffee bean blend, and the café's homemade granola mix.
Spenard Roadhouse
Address: Spenard Roadhouse, 1049 W Northern Lights Blvd, Anchorage, AK 99503
Spenard Roadhouse is in the Spenard neighborhood, about two miles south of the city's core, just off the Walter J. Hickel Parkway.
The Spenard neighborhood, previously a separate community from Anchorage, is known locally for its poetry jams, bicycle parties, unique events, and a concentrated number of pubs and eateries.
Spenard Roadhouse focuses its menu on comfort food entrées. The establishment includes a full bar specializing in house-infused vodkas, small-batch bourbons, and creative cocktails. Additionally, the bar features eight locally brewed beers on tap, with an even greater selection of bottled beers and wines.
This restaurant provides support to many community charities, including Covenant House, Children's Lunchbox, and Bean's Café, in addition to local schools and sports teams.
Fire Island Rustic Bakeshop
At three locations in Anchorage, Fire Island Rustic Bakeshop began in 2009 as a small, locally owned artisan bakery. Its original location is just south of downtown Anchorage, in the center of the city's South Addition, one of Anchorage's oldest neighborhoods.
The bakery opened its second location in the Airport Heights neighborhood in 2015, followed by a third location on the south side of King Street and 91st Avenue in 2018.
Fire Island Rustic Bakeshop is family-owned and operated. All of its baked goods are handmade, and the bakeshop uses only organic flour, selected and milled for artisan baking. Their baked goods line includes crusty, traditional bread, sweet and savory scones and croissants, fresh-baked cookies, hearty muffins, and cakes. The shop also offers multi-grain granola, various daily sandwiches, and specialty products during the holidays. Their coffee and tea are organic, fairly traded brews only.
Attractions in Anchorage
The Anchorage metro area offers a host of local attractions set against the beauty of its natural surroundings. Anchorage offers visitors many things to do and see, from local farm-to-table opportunities to exhibits of the region's native heritage.
Alaska Native Heritage Center
Address: Alaska Native Heritage Center, 8800 Heritage Center Dr, Anchorage, AK 99504
Located amidst Alaska's stunning wilderness, the Alaska Native Heritage Center is situated less than seven miles northeast of downtown Anchorage. Its purpose is to preserve and promote Alaska native traditions and culture.
The center's location allows guests to experience the breathtaking wilderness. Through exhibits, demonstrations, and films, the center provides education about native culture through permanent collections and programs. Additionally, the facility includes a woodland area displaying traditional native dwellings.
The Iditarod
Address: The Iditarod, 2100 S Knik-Goose Bay Rd, Wasilla, AK 99654
The Iditarod Trail Sled Dog Race is one of Alaska's premier winter events. Dating back to 1973, the event happens every March. The race was organized to preserve and publicize Alaska's sled dog culture and the huskies and preserve the historic Iditarod Trail.
Traditionally, the ceremonial start to the annual 1,000-mile Iditarod takes place on Fourth Avenue at D Street in downtown Anchorage. Crowds gather at the starting line and along the 11-mile route, which cuts through Anchorage before leaving the city for the remaining journey to Nome.
There are several opportunities for visitors and residents to enjoy the race up close. In weeks leading up to the Iditarod, the kennels are open for tours. There are sightseeing tours by snowmobile and flight, offering a glimpse of the race along the way.
Anchorage Market
Address: Anchorage Market, 88th Ave, Anchorage, AK 99515
Alaska's largest open-air market occurs every May to September, just outside the Dimond Center Mall on 88th Avenue in Anchorage. The market is open from 10 a.m. to 6 p.m. on Fridays and Saturdays and 10 a.m. to 5 p.m. on Sundays.
The Anchorage Market got its start in 1992. It has grown from about two dozen vendors to over 300, with wares ranging from fresh produce to Alaskan souvenirs.
The market gives Anchorage residents the chance to eat locally and support local growers and producers. Visitors to the market can expect to find a broad array of produce, beef, pork, seafood, poultry, elk, and bison. There are also vendors selling freshly made fudge, donuts, cookies, cakes, rolls, and other baked goods.
Besides locally produced food and baked goods, the market is a showcase for handcrafted items, including clothing, wood carvings, jewelry and accessories, artwork, and more. The market also includes entertainment and children's activities.
Adventures in Anchorage
Alaska is known for its outdoor recreational opportunities, and its largest city is no exception. The natural landscape of mountains and water provides a year-round playground for outdoor enthusiasts. Winter activities include snowmobiling, cross-country skiing, snowboarding, dog sledding, and more. Summer outdoor pursuits such as kayaking and hiking are popular.
Chugach State Park
Named for the Upper Cook Inlet region's indigenous people, Chugach State Park is in southcentral Alaska, almost entirely within Anchorage's city limits. The park consists of about 495,000 acres of land, making it among the country's top four largest state parks.
Chugach State Park's natural surroundings include rugged and diverse topography, bordered by the Alaska Range, the Prince William Sound, and the Chugach and Wrangell Mountains. The immense park also contains an extensive ocean shoreline and is dotted with numerous lakes, massive glaciers, and ice fields.
Chugach State Park offers many recreational options, including biking, hiking, boating, and horseback riding in warm weather. In winter, visitors can choose snowmobiling, snowshoeing, dogsledding, and ice climbing. Additionally, the park offers opportunities for different types of skiing, from cross-country to downhill to back-country. Some developed areas of Chugach State Park require a fee.
Flattop Mountain
A popular natural attraction, Flattop Mountain is the most visited peak in all of Alaska. Flattop is about 16 miles southeast of downtown Anchorage.
Adventurers will need to climb the 1.5-mile, 1,350-foot vertical trail to reach the expansive summit. After about an hour of ascending, climbers can observe panoramic views from Denali to the Aleutian Islands.
The Flattop Mountain area offers even more adventures with options to fit a range of skill levels. There is a short path leading directly from the parking area to an overlook for those seeking a view without the climb, with spectacular views of the Cook Inlet, the Alaska Range, and Anchorage.
Those looking for a challenging hike can take the 10-mile-roundtrip trek from the parking area to scenic Williwaw Lakes. Or, they can choose to climb about 5.5 miles to Wolverine Peak.
Eagle River Nature Center
Located 26 miles east of downtown Anchorage, the Eagle River Nature Center provides visitors with natural history education at Chugach State Park.
The center was established and is maintained by the Friends of Eagle River Nature Center, Inc. The Friends nonprofit was created in 1995 to ease the state park's operating budget. Before the nonprofit took over the center, it remained closed in the winter for two years, with only limited summer operation.
The organization has revitalized natural history education at the park. The center features newly created trails and public-use facilities. Today, visitors from around the world come to the center.
The center offers a public-use, rustic cabin, and three traditional yurt structures for those wishing to stay overnight. The overnight facilities are accessible only via a 1.5- to 2-mile hike.
When to Visit Anchorage
Anchorage is a destination for all seasons. Choosing when to visit comes down to matching a season's weather conditions to the sought-after adventure.
Spring in Alaska is heralded not by robins but by grey whales. Visitors choosing to come to Anchorage in spring can enjoy whale watching day cruises as early as April 1. Bird watching is popular, as large flocks of birds come north for summer nesting grounds. Summer activities, like flightseeing and hiking, get underway during the warmer months.
Newborn moose make their appearance in May, signaling the start of summer. Beluga whales come closer to shore along the Turnagain Arm, while salmon make great wildlife viewing and fishing. Summer is also the perfect time for kayaking, hiking, biking, and day tours. The sun sets, but it's never dark enough to trigger streetlamps. Summer is the most popular time for cruises.
The northern lights return for fall in Anchorage, and the changing season offers visitors some of the best deals on airfares and lodging. It's still the perfect time for hiking and biking. Visitors can see wildlife against a backdrop of increasingly colorful leaves.
Snowsport enthusiasts will enjoy Anchorage's winter temperatures and heavy snowfalls, perfect for snowmobiling, skiing, snowshoeing, and dog sledding. Winter is the season for the Iditarod and Anchorage Fur Rendezvous, while winter biking and Nordic skiing dominate the city's many trails during this time. More than 42 feet of snow typically falls in prime ski areas.
Plan Your Anchorage Vacation or Staycation Today
As Alaska's most populous city, Anchorage serves as a business, arts, retail, and entertainment hub. It is also a popular vacation destination, and tourism plays a critical role in Anchorage's economy.
The city's natural beauty, mountain view homes, and proximity to national parks are draws for residents and visitors alike. Winter brings opportunities for a whole host of snow sports, while summer is a popular time for hiking, kayaking, biking, and water recreation.
If, at the end of your vacation, you decide you'd like to stay, contact Unity Home Group with AK Home Show at (907) 885-3300 and we'll help you find the Anchorage home that's right for you.