Best Beaches Near Anchorage: Anchorage Beach Guide
Posted by Ryan Tollefsen on Wednesday, February 3, 2021 at 10:01 AM
By Ryan Tollefsen / February 3, 2021
Comment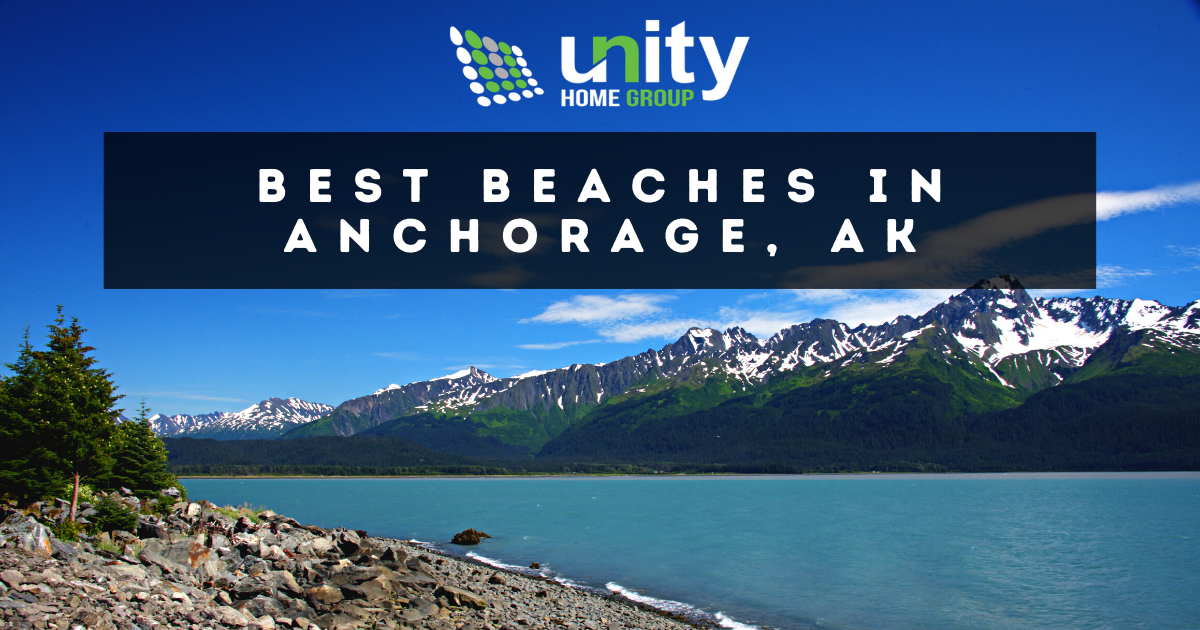 While beaches may not be the first thing that comes to mind when Anchorage, Alaska, is mentioned in conversation, the area does have a few hidden shores for the locals to enjoy. Anchorage is the most populous city in Alaska and has welcomed people from all climates to its subarctic lands. It is not uncommon to find locals enjoying the beaches along the coast or at one of Anchorage's popular lakes even in the winter. Fishing is incredibly popular here and can be found at many of the best beaches in Anchorage, some of which are listed below.
Kincaid Beach
Kincaid Beach Activities
Kayaking
Northern lights viewing
Hiking
Picnicking
Believe it or not, Anchorage is home to a large, sandy beach. That's right; sand can be found year-round in Anchorage. Kincaid Beach offers fine sand and crystal-clear views, where locals feel like they are in Southern California. However, the water temperatures are incredibly cold. Only the brave of heart will enter the near-freezing water.
It is common to see picnics, mud fights, and a number of beach games at any point in the year. Those who want a gentle stroll can walk for a mile or two south, even in high tide! The vast ocean and steep dunes paint a different picture of Alaska that amaze long-time locals and first-time visitors alike.
To access Kincaid Beach, visitors must first drive from downtown to Kincaid Park. From there, a moderate two-mile hike is required. In order to protect the delicate ecosystem, visitors should only stay on the marked trail.
Goose Lake Beach
Goose Lake Beach Activities
Birdwatching
Paddleboating
Hiking
Swimming
Goose Lake Beach is considered one of the most popular beaches in Anchorage. It offers a spectacular swimming spot during the few hot summer days. From mid-May to mid-September, Pacific loons can be seen nesting at the far end of the lake. This type of bird is well known for establishing nests in the area and is a large contributor to how many people visit in the early and late season.
Stepping foot on Goose Lake Beach makes visitors forget they're in bustling downtown Anchorage. In fact, they often feel like they have stepped into the heart of the Alaskan wilderness.
Paddle boats are welcome on the lake and are available for rent most days of the week at the Paddle Boat Café. Other non-motorized water vessels are permitted on the lake, and launching from the shore is simple. However, warm summer days can attract many visitors to the lake, so those who want to avoid waiting should arrive early and leave early.
Those who wish to enjoy lake views while exercising can go on a three-mile walk on the paved trail around the lake. There are also marked wooded trails for visitors to enjoy throughout the year.
Jewel Lake Beach
Jewel Lake Activities
Swimming
Fishing
Hiking
Picnicking
When summer arrives in Anchorage, over 30,000 visitors can be found at Jewel Lake. This 40-acre community lake park offers swimming, fishing, picnics, and a playground.
Parking is readily available at Jewel Lake Park. Those who visit the beach in the summer will find lifeguard stations, which provides peace of mind. In addition to swimming and fishing, soft-surface trails have been added around the lake to allow access to other areas of the park.
Little Campbell Lake Beach
Little Campbell Lake Activities
Hiking
Swimming
Biking
Boating
Fishing
Those who want to enjoy a quiet day at the beach will find exactly what they are looking for at Little Campbell Lake. Easy to get to and slightly further north than other lakes and shores in Anchorage, it is not visited by as many locals and tourists.
A number of things to do can be found at this beach. An easy trail is established around the lake that will take visitors around 30 minutes to complete. Established trails just off the lake are great for bikes. Those who do not have their own bike can rent one from Downtown Bike Rentals.
Swimming is permitted at the lake, which features a 50-foot dock perfect for cannonballs. Water temperatures can range from the low 50s to mid 60s, so many visitors wear wetsuits and a neoprene cap.
Mirror Lake Beach
Mirror Lake Activities
Hiking
Fishing
Cross country skiing
Boating
While Mirror Lake is one of the smallest beaches mentioned on this list, visitors will quickly find it as their favorite fishing spot. The Alaska Department of Fish and Game regularly stocks the lake with various fish for those with valid licenses to catch.
First stocked in 1992 with rainbow trout, Mirror Lake has continuously offered fishermen hours of countless fun. Fishing from the beach or on a small, non-motorized vessel is permitted. These days, fishermen will find Arctic char, Chinook salmon, coho salmon, and rainbow trout on the end of their hook.
Point Woronzof Beach
Point Woronzof Activities
Photography
Picnicking
Hiking
Cross country skiing
Biking
Those looking for an iconic day in Anchorage should visit Point Woronzof Park. The coastline is perfect for spending the day from the waterfront viewing everything Alaska has to offer, from the inlet to the mountain ranges. On a crystal-clear day, it will almost feel like one could touch the peaks.
The Ted Stevens International Airport is nearby and allows visitors to watch jets land and take off. Those who have a knack for photography will be able to obtain impressive shots of sunrises and sunsets. However, even more impressive than jets and the surrounding mountain ranges are the whales. Visitors have the opportunity to see beluga whales traveling through the area. The site of these large creatures never gets old!
In addition to sitting and viewing, visitors can also enjoy the Tony Knowles Coastal Trail. Cross country skiing, running, and bicycling are all permitted on this established area.
Discover Anchorage's Best Beaches
While the scene of a beach is often portrayed in the Caribbean or some other tropical oasis, other forms of beaches exist in the world as well. The best beaches in Anchorage allow visitors to enjoy watching the water and escape from the hustle and bustle of everyday life.
Unlike other beaches, Anchorage beaches are filled with numerous activities and fishing. Everyone can find something to do at the beach. From swimming and fishing to hiking, bicycling, and whale watching, there is something for everyone at a beach in Anchorage.
When living in Anchorage, one is always in for some sort of adventure when they head outdoors. The area's beaches are certainly no exception. If a beach in Anchorage is calling your name, contact Unity Home Group with AK Home Show at (907) 885-3300 and we'll help you find a home where the water is never far away.