Best Golf Courses in Anchorage: Where are the Best Golf Courses Near Anchorage?
Posted by Ryan Tollefsen on Friday, January 29, 2021 at 9:33 AM
By Ryan Tollefsen / January 29, 2021
Comment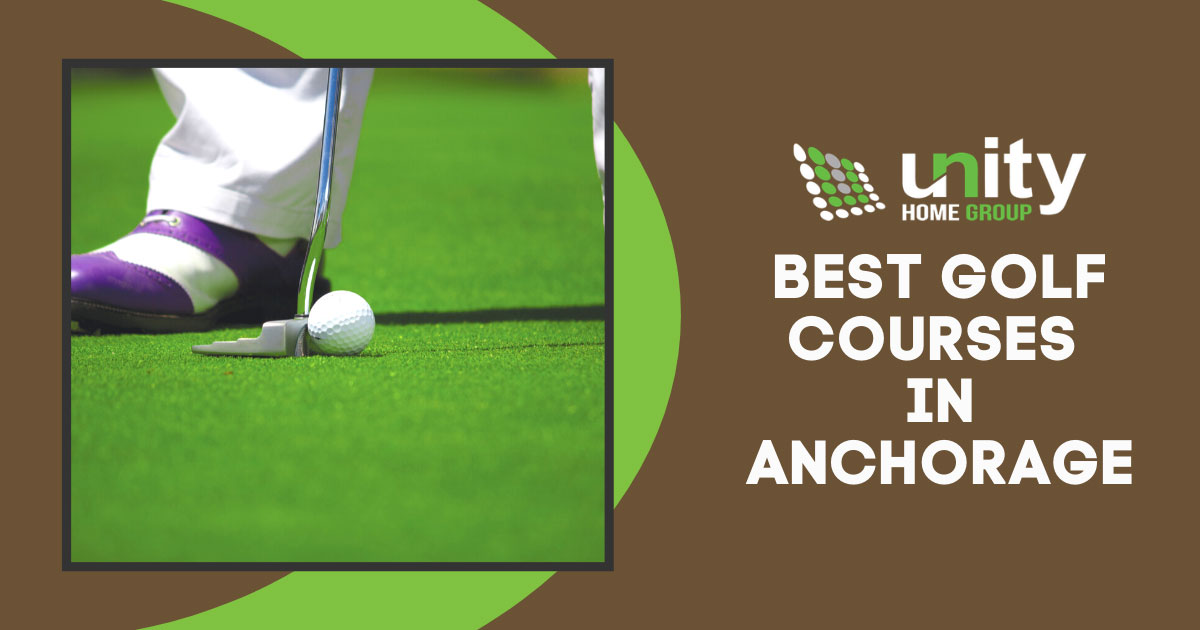 While Alaska is celebrated for its glaciers and wildlife, Anchorage offers both a love of the outdoors and an appreciation for culture. What better place to experience the best of both worlds than on one of Anchorage's premier golf courses? Those looking for things to do can spend their days improving their game or even competing on the links, enjoying splendid views of Alaska's natural glory, before heading into the clubhouse for a meal or drink. Each one of Anchorage's main golf courses listed below has something special to offer its visitors.
Moose Run Golf Course
Address: Moose Run Country Club, 27000 Arctic Valley Rd, Anchorage, AK 99505
This 36-hole golf course is open to the public, allowing anyone who is interested in golf a chance to dig in. Moose Run Golf Course is actually comprised of two courses—Creek Course and Hill Course—each offering unique challenges.
The 18-hole Creek Course was opened for use in 2000 and is known for being the most challenging course in Alaska. It features the Longest Single Hole, which is par-5 number 11. This course has received extensive accolades for its design, having been built by celebrated course architect Robin Nelson, who is well-known in expert circles for being able to design courses that highlight the natural features of the course's terrain.
The 18 holes behind Hill Course bring the element of history to the player's experience. The original course here was made of nine holes and was designed by combat engineers. Although the greens are small, the fairways are wide and the course ranges in slope. There are even water hazards present on two of the holes, as an added bonus feature.
Moose Run Golf Course Information
Tee times may be booked online in advance
Open to the public year-round
Facilities and amenities offered are the clubhouse and Grizzly Grill, GolfBoard rental, two chipping and pitching ranges, two practice ranges, and a 36-stall driving range (including 16 covered stalls)
Anchorage Golf Course
Address: Anchorage Golf Course, 3651 O'Malley Rd, Anchorage, AK 99507
While Moose Run is very centered on golf as its exclusive focus, the 18-hole Anchorage Golf Course excels at golf while establishing a distinctly luxurious experience for its visitors. Aside from the golf course, league play, and lessons, this course has the capacity to host private events and fine dining.
Anchorage Golf Course is known for its incredible views: the nearby mountain ranges, Denali mountain, the Anchorage skyline, and Cook Inlet. It hosts golf outings, golf leagues, the Anchorage Open, and even the upcoming 2022 U.S. Senior Women's Amateur Competition. Various options exist for private and group lessons at every skill level.
Anchorage Golf Course Information
Tee times may be reserved up to five days in advance, either online or over the phone
The golf course is open to the public year-round
Available facilities and amenities are the golf course, golf school and clinics, three special event rooms for private rental, and O'Malley's Restaurant, which includes frequent live music events
Settlers Bay Golf Course
Address: Settlers Bay Golf Course, 7307 S Frontier Dr, Wasilla, AK 99623
The 18-hole Settlers Bay Golf Course in Wasilla lauds itself as "Alaska's Best Putting Green." The first nine holes were built in 1977, with nine more added in 1996. Every hole is named after a stop on the famous Iditarod Trail Race, nodding to Alaska's rich history of outdoor sport. Within those original nine holes, golfers may find Alaska's most challenging hole: number 18, which is also known as "Nome." That said, multiple tee boxes can be found on the course so that every golfer may find a set that works for them.
Settlers Bay Golf Course Information
Call for tee times
Available through seasonal passes or daily rates, with options for different types of carts or GolfBoard rentals
The golf course is open as long as snow doesn't stick and the ground isn't frozen
Also includes the Albatross Restaurant, the ability to host events, and a surrounding residential community
Fox Hollow
Address: Fox Hollow, 11801 Brayton Drive, Anchorage, AK 99516
People who love to play golf are welcome at Fox Hollow's 18-hole par-3 golf course, although its focus extends beyond the links to encompass less conventional golf-related sports and related entertainment. On a more traditional note, it does contain a chalet that may be rented out for private events, with a large deck and bar areas as well as an outside grill.
The gem in Fox Hollow's crown is likely its esteemed Sports Dome, where golfers and enthusiasts alike can find various ways to level up their game. This dome is the second-largest indoor sports field—and only golf dome—found in the state of Alaska, and is an intriguing structure held up entirely by pumped air. One standout feature is the High Definition Golf Simulators that are available; there are actually even competitive leagues that are built around golf simulator play. Additionally, 40 golf hitting stalls may be rented. A large 90 x 70 indoor field can hold everything from sporting through corporate events.
One other unique aspect to Fox Hollow is the presence of foot golf, a hybrid sport blending soccer with golf, where a regulation-sized soccer ball is used throughout a golf course, just with larger diameter holes that can hold the soccer ball.
Fox Hollow Golf Course Information
The golf course should be contacted directly for any tee time inquiries, although simulators take tee times one week in advance
Rentals are by the number of holes, with separate rates for adults and those 15 and under
Training areas and golf car rentals are available
Play a Round of Golf on One of Anchorage's Best Courses
Known for its incredible natural beauty, it comes as no surprise that Alaska is home to some breathtakingly beautiful golf courses built around scenic waterfront and mountain views and compelling terrains. Given the enthusiasm for outdoor activities that its residents and visitors alike esteem so highly, it should come as no surprise that its golf courses offer a wider range of golf experiences than can be found in other places. It's not just the range of sports and settings that can be experienced; there are also lessons and competitions available for every skill level and background, so that every individual can find somewhere to belong and enjoy golfing.
If you'd like to play golf in Anchorage on more than just a visiting basis, contact Unity Home Group with AK Home Show at (907) 885-3300 to get in contact with a real estate agent who can help you find a home near your favorite course.