Best Master-Planned Neighborhoods in Anchorage, AK
Posted by Ryan Tollefsen on Tuesday, January 19, 2021 at 9:47 AM
By Ryan Tollefsen / January 19, 2021
Comment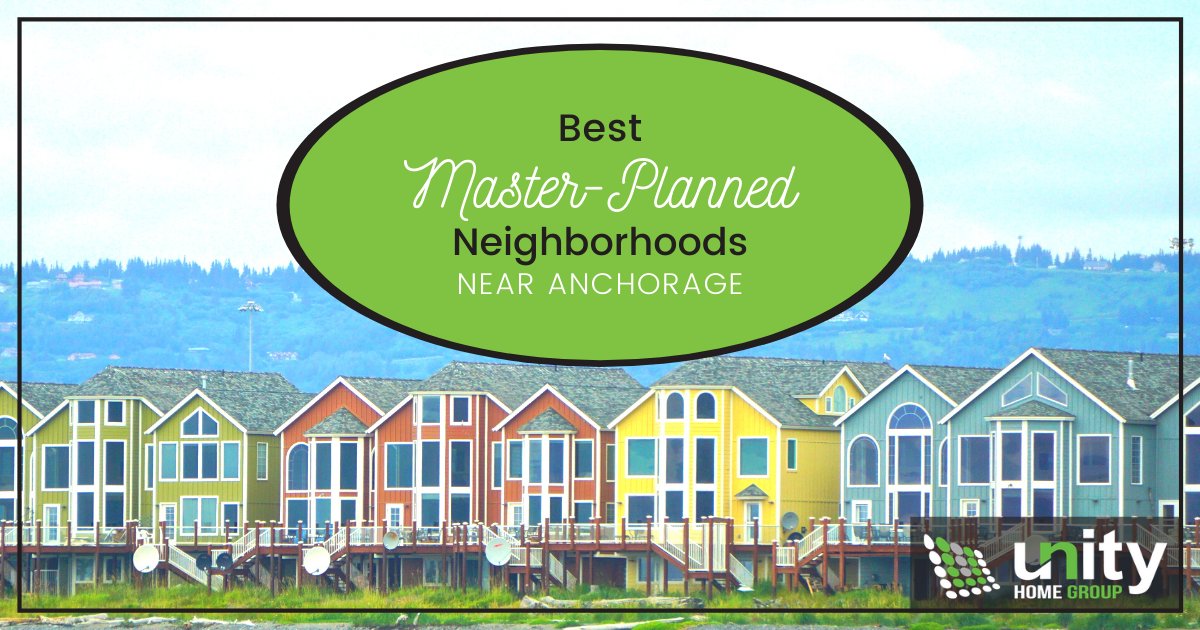 Alaska's largest city, Anchorage, is located on the Cook Inlet in the south-central part of the state. Anchorage is Alaska's most populous city, containing 40 percent of the state's population with an estimated 288,000 residents as of 2019.
While Anchorage is also a popular tourist destination for its natural beauty, parks, and more, people move to the city every year. Here's a list of some of the best master-planned communities near Anchorage to help new residents narrow down their possible future home locations.
Potter Creek
Potter Creek Amenities
Chugach State Park
Potter Creek Ravine Park
Moen Park
The O'Malley Sports Complex
Potter Creek is located, as people may guess, near a creek by the same name in the South Anchorage neighborhood of Rabbit Creek. The Potter Creek Homeowners Association describes their neighborhood as "a community of quiet beauty and fabulous views."
Streets that are included in the Potter Creek community include Potter Valley Road, Potter View Circle, Mountain Plover Circle, Potter Bluff Circle, Potter Glen Circle, Snowy Plover Circle, and Potter Crest Circle.
Hatcher Pass Village
Haster Pass Village Amenities
One to 11 acre lots
Walking, biking & skiing trails
Lazy Mountain recreation area
Underground utilities
Schools within 10 miles
Palmer Municipal Airport
Palmer Public Library
Self-described as "Alaska's Premiere Lifestyle Community," Hatcher Pass Village adjoins the 8,060-acre, non-motorized Government Peak Recreation Area (GPRA) on North Mountain Trails Drive in Palmer, Alaska. Lot sizes in this community range from one to 11 acres, with prices starting around $100,000. The neighborhood offers residential, light commercial, and horse properties.
There are miles of trails for residents to enjoy for walking, mountain biking, and even skiing. In fact, Hatcher Pass Village is the closest development to Alaska's only ski area in Mat-Su Valley, Skeetawk. This area is less than an hour commute to downtown Anchorage, and it is a great choice for those looking to live closer to nature.
This phased community development plans to have everything from residential homes and small farms to cafés, bed and breakfasts, small lodges, small light commercial businesses, and maybe even a Microbrewery in its future.
Haster Pass Village Hotspots
Southport
Southport Amenities
14 neighborhoods
Close to schools, shopping, and more
Community garage sales
Community BBQ
Located along the shores of Cook Inlet in South Anchorage, the planned community of Southport has almost 800 homes in 14 neighborhoods. This unique, premier community features well-maintained pedestrian and bike trails, as well as easy access to parks. Southport is also close to schools, shops, and only a few minutes away from downtown Anchorage for those who wish to live closer to the city.
Southport's communities include Discovery Heights, Discovery Park, Hidden Cove, Lookout Landing, Mariner Point, Seclusion Bay, Seclusion Cove, and Spinnaker Bay
Housing in these neighborhoods include apartments, condos, single-family homes, and more.
Powder Ridge
Powder Ridge Amenities
Near Glenn Highway
Urgent Care
Planet Fitness
Car wash
Commons Park
Powder Ridge is located in Eagle River, a suburb of Anchorage. Some streets included in the area are Powder Ridge Drive, Baird Circle, Alex Way, Alex Circle, Konrad Circle, Konrad Drive, and Mills Park Circle. The HOA for this neighborhood is managed by Property Management Services, Inc.
This area has many single-family homes and is located in a quiet neighborhood. There are over seven phases to this community, as well as subdivisions and tract homes.
The Ranch Alaska
The Ranch Alaska Amenities
Municipal water service
Natural gas
High speed internet
Wasilla Creek
Swan Lake
The Ranch Alaska offers country living equipped with city amenities. Located between Palmer and Wasilla, the community provides easy access to Anchorage and JBER. There are still new homes being built in The Ranch Alaska, and people can create their own personalized home with builders in this community.
The Machetanz Elementary school is located in this subdivision, and the Mat-Su Regional Medical Center is only a short drive away.
The Ranch Alaska Hotspots
Grizzly Hills
Grizzly Hills Amenities
Paved roads
Underground power
Community park
Meier Lake
This newer development is still in phase one of its building process, with residences built by Robert Yundt Homes. This home building company has been building homes in the Matanuska-Susitna Valley of Alaska for over 16 years, and is here to build everyone's dream home in Grizzly Hills.
All the homes in this community feature granite or quartz countertops, stainless steel appliances, paint grade trim, and the home buyer's choice of contemporary wood and stone siding mix or premium vinyl siding. Grizzly Hills offers single-family homes, condos, and townhomes.
Grizzly Hills Hotspots
Grizzly Hills Nightlife
Grizzly Hills Cafés
Deja Brew
Lazy Mountain Espresso
Locha Mocha Espresso
Grizzly Hills Restaurants
Discover Anchorage's Best Master-Planned Communities
Moving to Anchorage, Alaska, can be a big change for anyone. Whether someone wants to be right in the city limits, or perhaps more with nature a bit further away but in a still driveable location to commute, there are many diverse master-planned communities in Anchorage for them to choose from. If you'd like to know more about Anchorage's master-planned communities, contact Unity Home Group with AK Home Show at (907) 885-3300 and we'll help you find out which community might be the perfect fit for you.