6 Best Neighborhoods in Anchorage, AK
Posted by Ryan Tollefsen on Wednesday, September 23, 2020 at 8:37 AM
By Ryan Tollefsen / September 23, 2020
Comment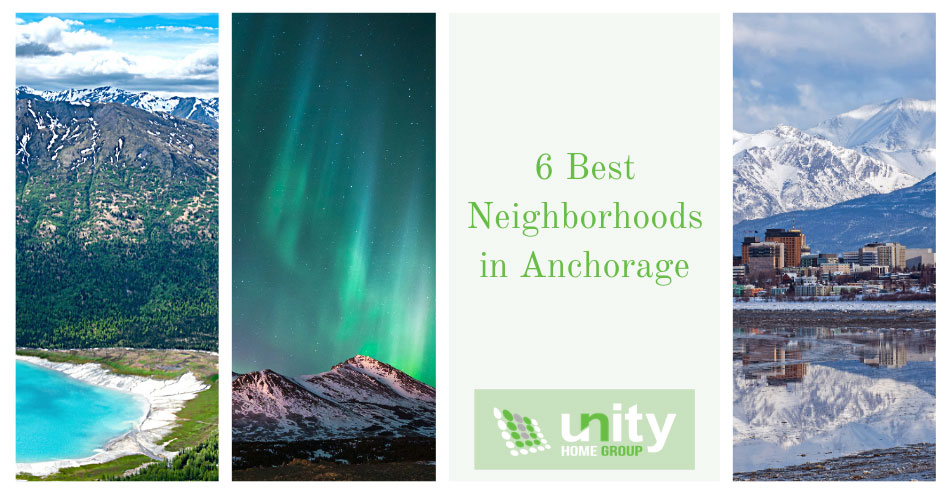 Anchorage, Alaska, is a city with almost 300,000 residents and a thriving economy. With proximity to the Bering Sea and the Gulf of Alaska, the climate remains temperate year-round. Most visitors are surprised by the emerging metropolis, which provides an interesting culture and many amenities. If you're thinking about moving to Anchorage, the following neighborhoods are some of the best that Anchorage has to offer.
South Addition
South Addition Amenities
Multiple neighborhood parks
Waterfront access
Good walkability
Close proximity to downtown Anchorage
Includes many restaurants and coffee shops
Nearly ninety years old, the South Addition neighborhood was formed by soldiers preparing for war. The military intentionally created many of the lots large enough for people who wanted to grow small farms. However, the remoteness of the location led to the abandonment of the neighborhood due to fears of invasion.
Today, there are nearly 5,000 residents living in the South Addition area. The neighborhood includes many eateries, coffee shops, and public parks. The neighborhood is located between Knik Arm, Westchester Lagoon, and the downtown area.
The area is a good mix of homeowners and renters, with about 53% owning their homes. The median home value in the South Addition neighborhood is approximately $428,000.
Rogers Park
Rogers Park Amenities
Multiple neighborhood parks
Multiple lakes
Close proximity to several schools
Close proximity to downtown Anchorage
Plenty of shopping
Slightly smaller in population than South Addition, Rogers Park is an excellent neighborhood for home buyers to consider. Nearly 85% of residents in Rogers Park are homeowners, and the median home value is about $358,000.
The community is bordered by Seward Highway, 36th Avenue, Chester Creek Greenbelt, and Tikishla Park. With a number of restaurant choices to consider and a neighborhood grocery store, shopping in the area is somewhat limited. Exercise enthusiasts can enjoy the Alaska Club gym or nearby Carlson Park. Best of all, many of these amenities are within walking distance with plenty of sidewalks and easy parking.
Rogers Park Hotspots
Rogers Park Shopping
Rogers Park Cafés
Rogers Park Restaurants
Rabbit Creek
Rabbit Creek Amenities
Multiple neighborhood parks & green areas
Oceanfront access
HOAs for several neighborhood locations
With over 6,000 residents, Rabbit Creek is considered a larger neighborhood in Anchorage. Nearly every household in the area is occupied by a homeowner and has a median home value of $550,000. Although real estate prices are higher than the Anchorage average, rental prices are a bit lower. Rabbit Creek can be found at the southern edge of the city, resting against Turnagain Arm.
Rabbit Creek Hotspots
Rabbit Creek Shopping
Rabbit Creek Restaurants
Huffman-O'Malley
Huffman-O'Malley Amenities
Near the Alaska Zoo
Close to Seward Hwy
Park with nature trails
Largest neighborhood in Anchorage
One of the largest neighborhoods in the city, Huffman-O'Malley is home to more than 10,000 residents. The median home value in the area is $428,000, which is higher than the national average. The community is bordered by Seward Highway and Birch, De Armoun, and O'Malley roads.
There are two restaurants and a few shopping outlets in the Huffman-O'Malley area. Bob and Arlene Cross Park provides an excellent opportunity for walking and horseback riding along the wildlife trail. Additionally, the Alaskan Zoo is located within the northern edge of the community.
Huffman-O'Malley Hotspots
Turnagain
Turnagain Amenities
Close to Ted Stevens Airport
Several parks within boundaries
Close proximity to Fort Elmendorf
Access to Lake Hood and the oceanfront
Within ten minutes of downtown Anchorage
Another large neighborhood in Anchorage, the Turnagain community has a population of almost 11,000 residents, and nearly 75% are homeowners. The median home value is $362,000, placing it among one of the more affordable communities in Anchorage. The cost of living in this part of Anchorage makes it more accessible to buy a home here.
The neighborhood is located in West Anchorage, situated between Cook Inlet, Lake Hood, Fish Creek, and Minnesota Drive. It is a beautiful area with several state parks and walking trails, offering a wide variety of fresh air activities.
Downtown Anchorage
Downtown Anchorage Amenities
Immediate access to the heart of the city
Several parks within boundaries
Plenty of shopping and things to do
Access to the oceanfront
Downtown Anchorage is nearly 90% renter occupied, with only about 1,600 people living in the area. While the median home value is more than the national average, the median rental cost is only slightly above the national average. The community is bordered by W 9th Ave, L Street, and Knik River and boasts an abundance of condos & luxury homes.
The area boasts the largest assortment of restaurants, shops, employers, and nightlife in the city. Those interested in fitness can find a variety of gyms, including Tai Chi and yoga facilities. Downtown is also the place for nightlife, with museums, performance halls, and cinemas, plus many bars and nightclubs.
Downtown Anchorage Hotspots
Anchorage: A Place for Everyone
No matter what kind of living experience is desired, Anchorage has a community for everyone. This is a growing, thriving city that is ready to welcome new arrivals. Contact Unity Home Group with AK Home Show at (907) 885-3300 to learn more about neighborhoods in the area.