Best Places to Live Near Anchorage, AK
Posted by Ryan Tollefsen on Thursday, January 21, 2021 at 7:11 AM
By Ryan Tollefsen / January 21, 2021
Comment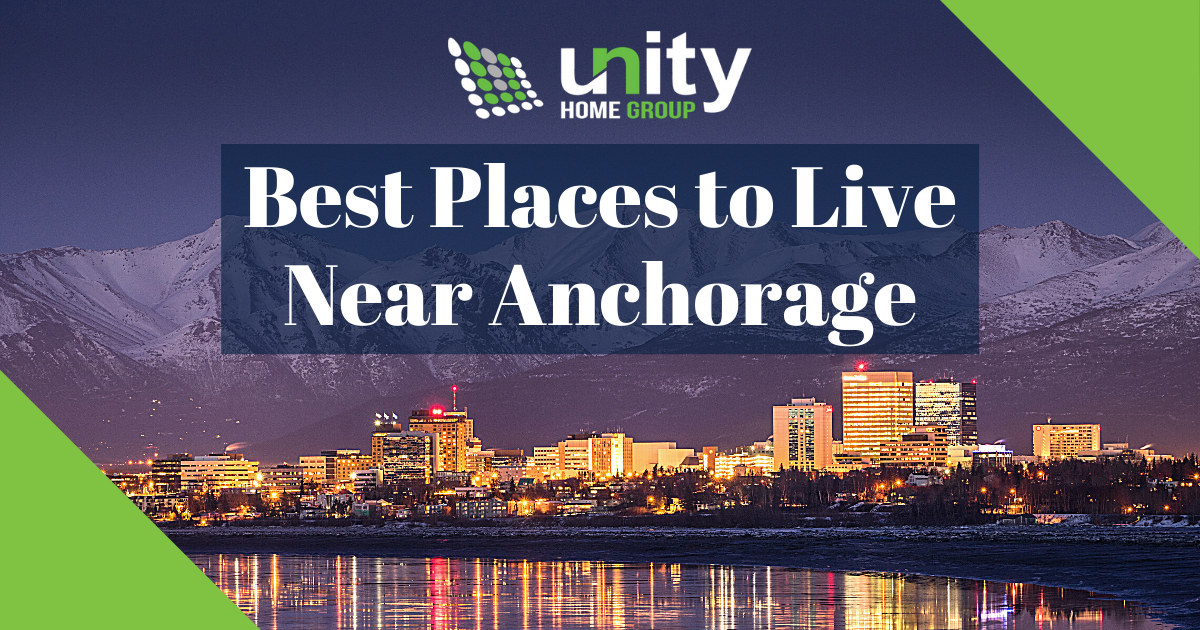 Located in the south-central part of Alaska on the Cook Inlet is the state's largest city, Anchorage. Containing 40 percent of the state's population with an estimated 288,000 people as of 2019, Anchorage is also Alaska's most populous city. With its city limits spanning almost 2,000 square miles, Anchorage is known for its diverse wildlife and beautiful natural surroundings for outdoor lovers to enjoy. If any of these are reasons for someone to want to visit or move to Anchorage, then they are most likely interested in learning about these best places to live in and near the city.
South Addition
South Addition Amenities
Delaney Park
Valley of the Moon Park
Margaret Eagan Sullivan Park
West Anchorage High School
Inlet Tower Hotel & Suites
Created in the late 1930s and early 1940s, South Addition was a response to a need for more housing after a wartime buildup to support military families stationed in Anchorage. This high-end community is also home to Anchorage's first airstrip, which is now known as the Delaney Park Strip, where the inaugural flight from pioneer aviator Russel Merrill flew in "Anchorage No. 1." With a population of around 5,000 and located in Anchorage Borough, South Addition offers many things to do.
Rogers Park
Rogers Park Amenities
Woodside Park
Chester Creek Greenbelt Park
Charter College
Rogers Park Elementary School
Village Inn
Lake Otis
Jacobson Park
Rogers Park is an area in Anchorage with a population of under 4,000 residents. The area is close to many bars, restaurants, and other entertainment. Most residents who live here own their home. The median home value in Rogers Park is approximately $358,000, while the median rent is just under $1,500.
Bayshore
Bayshore Amenities
Campbell Creek Estuary Park
Johns Park
Mears Middle School
Campbell Lake
With a population of over 12,000, Bayshore has many parks and coffee shops for its residents to enjoy. The median home value is about $319,000, and the average rent is about $1,800. About 80 percent of residents own their homes.
The area is residential and has low-traffic neighborhoods. With easy access to the Anchorage shoreline, residents of Bayshore can take part in many fishing and other outdoor activities with ease. Cook Inlet is located west of Bayshore, while New Seward Highway is east, Campbell Lake is north, and Johns Park is south.
Turnagain
Turnagain Amenities
Ted Stevens Anchorage International Airport
Earthquake Park
Coastal access
Point Campbell Park
Lynn Ary Park
West Anchorage High School
With a population of just under 11,000 people, Turnagain has public schools in addition to parks, cafés, restaurants, and bars. There is also access to the Tony Knowles Coastal Trail. Flying enthusiasts may like this neighborhood because it has a lot of various-sized aircraft throughout the area, as it is located near Lake Hood and Ted Stevens International Airports. Turnagain is a residential area that is close to great amenities. The median home value in this neighborhood is $362,731, and the median rent is approximately $1,965.
Mid-Hillside
Mid-Hillside Amenities
Alaska Zoo
Hilltop Ski Area
Jupiter Garden
Nelva J. Wilmoth Park
Hills Park
O'Malley Elementary School
Mid-Hillside, which is located in South Anchorage, has Abbott Road to the north, DeArmoun Road to the south, Birch and Elmore roads to the west, and Hillside Drive to the east. There is a limited amount of commercial space and retail stores available in this neighborhood, although it is close to some great amenities. Similar to the other places on this list, many residents in Mid-Hillside own their home. The population is just over 4,000, the median home value is about $467,000, and the median rent is $2,266.
Find the Best Place to Live in Anchorage
Because it may be a big move to Anchorage, Alaska, it is wise for new residents to learn a bit more about the area and what they have to look forward to if they wish to live in or visit this populous city. Whether you want to live in an Anchorage townhome or a new construction home, any of these places can provide a great home for those who wish to make a change or see what Alaska—and more specifically, Anchorage—has to offer. If you're looking to make your home near Anchorage, contact Unity Home Group with AK Home Show at (907) 885-3300 to get in touch with a local real estate agent and discover your Anchorage dream home today.