Iconic Restaurants in Anchorage
Posted by Ryan Tollefsen on Tuesday, May 11, 2021 at 10:35 AM
By Ryan Tollefsen / May 11, 2021
Comment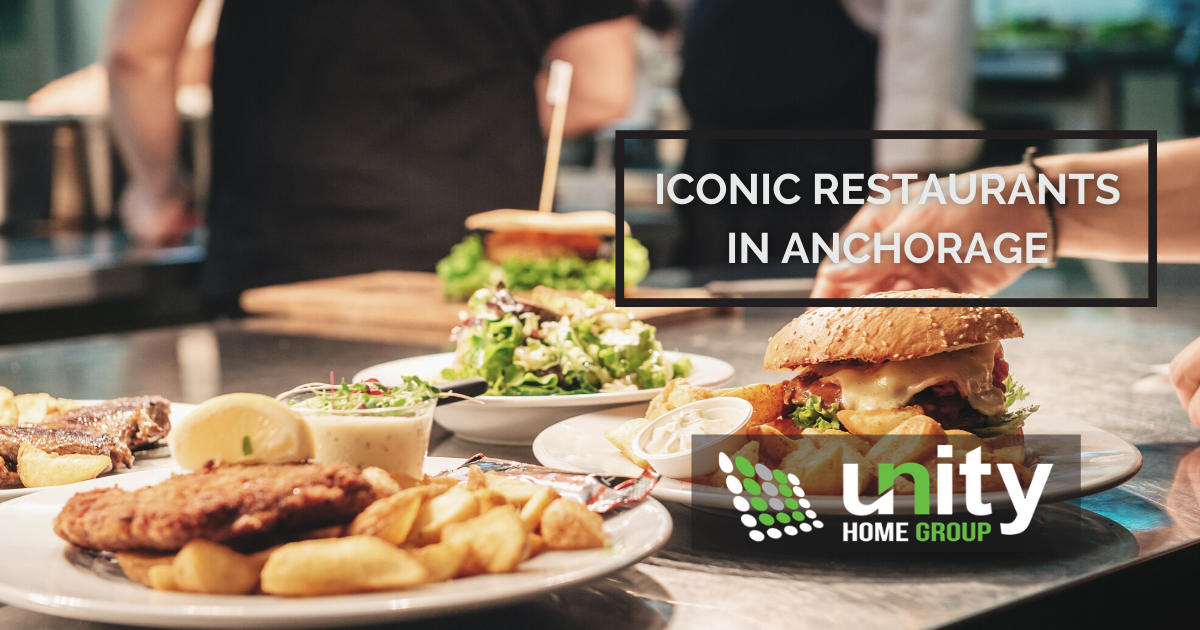 Anchorage, Alaska's biggest city, is world-renowned for many things. To begin, there's the city's rugged wilderness, spectacular natural beauty, and large resident moose population.
Aside from those things, though, Anchorage is also well-known for having a vibrant restaurant scene. Anchorage residents are serious about their food and drink, which is reflected in the fact that there are very few chain restaurants in the city. Whether you head downtown, to the waterfront, or Spenard, you'll notice that most of Anchorage's restaurants are small, locally and independently owned, and well-established. Here's a look at eight of the most well-loved and iconic restaurants in Anchorage.
Moose's Tooth Pub & Pizzeria
Popular Dishes at Moose's Tooth Pub & Pizzeria
Call of the Wild Pizza
Santa's Little Helper Pizza
Avalanche Pizza
Pipeline Stout Chocolate Cake
Moose's Tooth is generally one of the first few search results when you start looking into where to eat in Anchorage. The wildly popular pizzeria has been featured on Food Network's "Where to Eat in Anchorage" and frequently tops "best of" lists such as TripAdvisor's "America's 10 Best Pizzerias."
So what's all the hype about? Moose's Tooth dishes up unique, incredibly memorable pizzas. For example, the Amazing Apricot features blackened chicken, cream cheese, carrots, and yes, apricot sauce. The Call of the Wild has reindeer sausage, steak, bacon, and mushrooms. If the classics are more your thing, Moose's Tooth has good old-fashioned pepperoni pizza, too.
Finally, Moose's Tooth is the parent company of locals'-favorite Broken Tooth Brewing. Luckily, you can create your own flights of four, so you don't have to decide on a single beer to try.
Snow City Café
Popular Dishes at Snow City Café
B.O.B. (Best of Both Benedicts)
Deadliest Catch Benedict
Breakfast Burrito
Open-Face Tuna Melt
Breaky Burger
They say that breakfast is the most important meal of the day, and it seems that Anchorage takes that to heart. On any given day, locals and visitors alike line up bright and early outside Snow City Café downtown. It's no surprise that the Anchorage Press has crowned Snow City winner of the best breakfast and brunch in Anchorage for several years running.
Many people swear Snow City's benedicts are the best anywhere, but the entire menu is impressive. There are vegan options, a large lunch selection, and even wine and beer—and don't overlook the extensive hot sauce bar. In addition to its full-service offerings, Snow City Café also has a walk-up coffee stand serving a wide selection of coffees, smoothies, and freshly baked pastries. Call ahead to add your name to the waitlist, particularly on weekends.
Simon and Seafort's Saloon & Grill
Popular Dishes at Simon and Seafort's Saloon & Grill
Herb Crusted Roasted Prime Rib
Almond Crusted Sea Scallops
Chophouse Burger
Hot Crab & Artichoke Dip
New England Clam Chowder
Simon and Seafort's Saloon & Grill, locally known as "Simon's," has been a staple of the Anchorage restaurant scene since 1978. The sweeping water views of Cook Inlet and Turnagain Arm and the Alaska Range and Mount Susitna lend a special feel to the restaurant. It's no wonder that Simon's is widely considered a go-to spot for romantic date nights and other special occasions; there have been countless proposals at the restaurant.
The menu is classic steakhouse with an Alaska twist. It's a carnivore's dream, with several steaks, ribs, and burgers, plus numerous fresh seafood selections, including the seasonal fresh catch of the day. There are extensive beer and wine lists, brunch on weekends, and a daily happy hour. Simon's also offers its full menu to-go, plus meal kits to feed a crowd. Order items like the Steelhead Box or Breakfast Box by phone ahead of time, then pick them up at the restaurant and bring them back to your Anchorage condo or townhome.
The Rustic Goat
Popular Dishes at The Rustic Goat
Rustic Goat Gyro
Fried Cauliflower Bites
Baked Mac & Cheese
Mediterranean Brunch Platter
Maple Bourbon Pumpkin Pie
Anchorage's The Rustic Goat is a local favorite for quick and casual—but unmistakably elevated—meals. The restaurant serves up "modern American" comfort food, offering baked mac and cheese with bacon and red onions, pizzas, and bison sliders. While the drink menu is limited, it does pack a big punch, and the offerings pair perfectly with the restaurant's dishes. Try the daily house-made craft soda special. There's an extensive brunch menu and several vegan offerings.
What really makes The Rustic Goat stand out is its ambiance. The building is distinctly industrial and modern, yet it's also cozy. There are two levels with floor-to-ceiling windows, a large, roaring fireplace, warm lighting, and great mountain views all around. The open-air kitchen design allows you to watch the food being prepared easily.
Spenard Roadhouse
Popular Dishes at Spenard Roadhouse
Bacon Jam Burger
AK Salmon
Cubano Sandwich
S'mores
Tucked into Anchorage's much-loved Spenard neighborhood known for its restaurants, Spenard Roadhouse offers classic and innovative dishes in a comfortable setting. The restaurant itself explains it as "contemporary comfort food—just like Mama used to make—with a twist!" Alongside classic dishes like a grilled cheese sandwich, you'll find Korean tofu tacos and AK Jambalaya. Even pizza gets the Spenard Roadhouse treatment, with toppings like reindeer sausage and fig. There are also several vegetarian and vegan options, plus many alternative swaps offered to customize dishes.
Spenard Roadhouse, established in 2009, also specializes in small-batch bourbons and creatively infused vodkas. Try a flight or stick with one of the rotating local craft beers. There's brunch on weekends, daily specials, and Bacon of the Month.
Lucky Wishbone
Popular Dishes at Lucky Wishbone
"Mom" 3-piece or "Pop" 5-piece Chicken Dinner
Hamburger Steak
Milkshakes
Onion Rings
A self-proclaimed "chicken joint," Lucky Wishbone is the Anchorage go-to for casual chicken meals. This is not just any old chicken joint, however. Lucky Wishbone has been in continuous operation since 1955 and is widely considered the best fried chicken in the area. The secret—or secrets, rather—to Lucky Wishbone's success is that they use fresh, never-frozen chicken and pan-fry it instead of using an air fryer or deep fryer. The result is chicken that's moist, light, and perfectly crisp.
Besides chicken, Lucky Wishbone also has excellent hand-formed burgers, sandwiches, salads, and over 40 flavors of milkshakes. Everything is done or made by hand, including the salad dressing. Insider tip: don't let the line scare you away; it moves surprisingly quickly.
Glacier Brewhouse
Popular Dishes at Glacier Brewhouse
Brewhouse Appetizer Tower
Herb Crusted Alaska Halibut
Alder Wood-Grilled Ribeye
Chili-Prawn Mac & Cheese
French Dip Sandwich
Tucked in the heart of downtown Anchorage, Glacier Brewhouse truly has something for everyone. Centered around local seafood and wood-grilled meats, the extensive brunch, lunch, and dinner menus feature everything from classics (Caesar salad) to unique, contemporary dishes (Alaska Seafood Breakfast Scramble). Glacier Brewhouse brews its own beers and generally always has about a dozen on rotating taps. The wine and cocktail menus are also impressive, and the restaurant has a legendary seven-day-a-week "social hour" with great specials.
The brewhouse itself is a lovely building with a warm, inviting ambiance. It's always buzzing with conversation, a large stone fireplace sits at the center of the dining room, and guests can watch their dishes cook in the open kitchen. Reservations are strongly recommended, even during lunch and the off-season.
Club Paris
Popular Dishes at Club Paris
Filet Mignon
Alaskan Red King Crab Legs
Any Steak with Bleu Cheese Stuffing
Chocolate Sweet Potato Pie
Club Paris is highly regarded as the go-to restaurant for a great steak in Anchorage. That's fitting, considering it's the oldest steakhouse in the city. It was established in the late 1950s and still sits in its original building downtown. The restaurant has a well-earned reputation for cooking steaks perfectly and dishing up enormous portions. Come hungry, but don't forget to save room for one of the made-from-scratch desserts.
Aside from classic steakhouse fare like prime rib and filet mignon, Club Paris also offers an extensive selection of seafood and is said to have one of the best burgers in town (offered at lunchtime only). They're made with filet mignon, so that claim is not at all far-fetched. The restaurant is open for lunch during the week, but dinner only on Saturdays and Sundays. Call ahead to make reservations.
Turkish Delight
Popular Dishes at Turkish Delight
Shepard's Stew
Adana Shish Kebab
Turkish Coffee
Milk Pudding
Steakhouses and seafood restaurants are common sights in Anchorage, but Mediterranean food? Not so much. This one doesn't merely fill a void in the local culinary scene; Turkish Delight is a highly celebrated restaurant known for its over-the-top flavorful dishes.
The menu is on the small side, but it's well-curated in that every single dish on it is incredibly well-executed. Whether by chance or by design, all the appetizers except for one (calamari) are vegetarian — and vice-versa, all the entrees except for one (the falafel sandwich) include meat. Speaking of calamari, Turkish Delight's phenomenal version is the calamari steaks, or strips, instead of the squid rings. Almost everything is served on a bed of warm pita points and with a rustic side salad.
Turkish Delight is nestled into midtown, away from popular tourist areas. Its location perfectly aligns with its cozy interior, making it perfect for a date night or intimate lunch.
Dine Out in Anchorage
It's clear that Anchorage is a foodie's paradise, but that's just one of many things that makes it a wonderful city. From its amazing outdoor activities to its plethora of things to do in the city, Anchorage is a wonderful place to call home.
If you're looking for your Anchorage dream house, contact Unity Home Group of eXp Realty with AK Home Show at (907) 885-3300 to learn more about this incredible and vibrant community and which areas might be the best fit for you.