Best Walking and Jogging Trails in Anchorage: Anchorage, AK Hiking Guide
Posted by Ryan Tollefsen on Monday, March 29, 2021 at 7:24 AM
By Ryan Tollefsen / March 29, 2021
Comment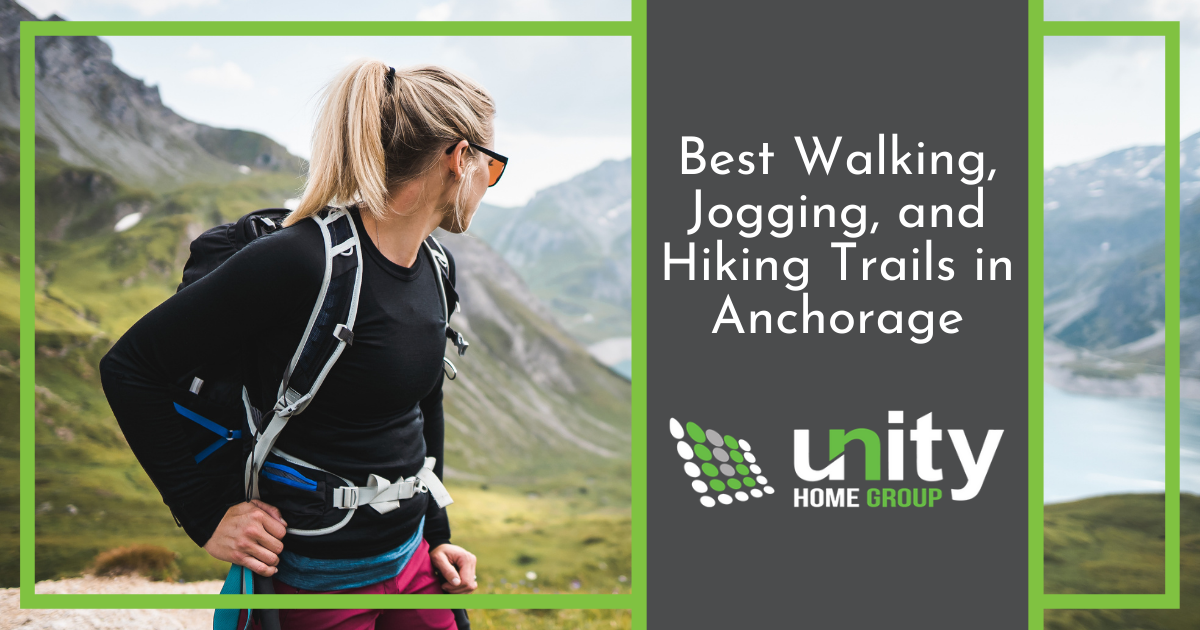 In Anchorage, Alaska, there is nothing that beats the hiking and biking trails available year-round. Yes, there are the city's lakes, picnic areas, mountain view homes, parks, restaurants, pubs, and scenic waterfront properties. However, one cannot beat the views at the end of a short or long hike.
Those who live in or visit Anchorage have the ability to visit some of the most beautiful and remote areas of the world that few others will ever have the pleasure of seeing. This realization makes the trails near Anchorage even sweeter to enjoy. Each of the best trails in the area has a unique aspect that makes it memorable and exciting to visit. Even those who have seen these trails more than once are excited to get back and enjoy them all over again.
Hikers should gather the best waterproof hiking boots, winter weather personal gear, snack bars, water, and all other necessary hiking/biking gear. It's time to lace up and begin a hike into the most remote, beautiful areas of the northern hemisphere on one of these Anchorage trails.
Flattop Mountain Trail
Address: Flattop Mountain Trail, Anchorage, AK 99516
Flattop Mountain Trail is one of the most heavily trafficked trails in the entire Anchorage area. The reason for its popularity is due to its stunning views and short mileage. At only 3.3 miles round-trip, this is the shortest hike on this list. The hike itself is moderate and can be completed in just a few hours. However, the total time it takes to complete this hike depends on weather conditions and the number of stops one wishes to take.
This trail is best hiked between June and August for beginners. Those with extensive hiking experience can easily complete this trail within a few hours, regardless of winter conditions.
Flattop Mountain Trail features many wildflowers during their blooming season. Those who wish to have postcard-worthy photos should hike during summer weather. At 1,300 feet above sea level, the highest point of the trail, hikers can take in views of the city like none other. There is plenty of wildlife in the area, and leashed dogs are allowed on the trail.
Elderberry Park Coastal Trail
Address: Elderberry Park Coastal Trail, Anchorage, AK 99501
Elderberry Park is over 1.5 acres with plenty of parkland for all to enjoy. The Elderberberry Park Coastal Trail allows those running or hiking to take in numerous wildflowers and scenic views along a 2.3-mile out-and-back hike. This trail is highly trafficked and well-marked, so it is easy to follow and hard to get lost. At the end of the day, visitors can stick around to capture some of the world's most sought-after sunsets.
At the end of the hike, visitors can enjoy a beautiful walk on the beach. Regardless of the season, the beach itself does not change. While the hike is incredibly popular, it is easy for visitors to find their own little slice of paradise. Those who like bird watching can spot their favorite species at different times of the year. This is one of the most popular hikes for locals at one of Anchorage's best parks.
Campbell Creek Trail
Address: Campbell Creek Trail
Campbell Creek Trail is the longest trail on this list. At 7.4 miles, this point-to-point trail offers visitors numerous noteworthy sites. For example, the lake in the center of the trail is absolutely stunning. Additionally, visitors can expect to see moose and red squirrels along the way. This trail is best hiked from April to October. Outside of these months, only experienced winter hikers should attempt the Campbell Creek Trail.
Falls Creek Trail
Address: Falls Creek Trail, Ninilchik, AK 99639
Falls Creek Trail is only five miles round-trip. It is also the only trail on this list that features a waterfall. Those who enjoy scenic views and/or photo opportunities will appreciate taking a hike along this trail, which offers beautiful flowers, blooming trees, and wildlife. Birds and elk are often found along the route, regardless of the season.
However, this trail is not for the faint of heart, as it is one of Alaska's hardest and steepest trails often used for camping. Waterproof shoes with high grip are recommended.
Eagle and Symphony Lake Trailhead
Address: Eagle and Symphony Lake Trailhead, W River Dr, Eagle River, AK 99577
This is the only trail in Anchorage that offers two lakes on the same hike — that's right, two lakes in one 4.8-mile trek. The Eagle and Symphony Lake Trail features open country views and breathtaking scenery. Eagle Lake is filled with emerald green waters, while Symphony Lake features crystal blue waters. Hikes can cross the narrow isthmus between the two and be surrounded by stunning sights few others can enjoy.
Winner Creek Gorge Trailhead
Address: Winner Creek Gorge Trailhead, 601 Crow Creek Rd, Girdwood, AK 99587
Winner Creek Gorge Trail can be completed on foot or bike. Both methods of transportation take visitors through a different path. However, both are incredibly rewarding and allow people to take in amazing sights and views that cannot be seen in other areas of Anchorage.
Starting behind the Alyeska Tram building, hikers will go on an easy-to-moderate, three-mile hike. The wide and developed trail will take hikers through Crow Creek Road, just below the Crow Creek Mine.
Those who ride their bikes will embark on a physically taxing adventure. Winner Creek Gorge Trail's biking version travels through a dirt road of single-way track three miles long. To get back to the hike's start, visitors will need to operate the hand tram over Glacier Creek. Bikers must pull themselves across, as there is no safe way to go backward on the trail.
Explore Anchorage Through Its Best Trails
With so many exciting trails to discover in Anchorage, there are not enough weekends to complete them all during summer alone. However, that does not mean one cannot plan multiple trips or vacations to reach this goal. Anchorage is such an incredibly diverse area that allows residents and visitors to create outdoor memories that last a lifetime.
Of the trails in this list, one cannot compete with the other. Each offers its own unique views, challenges, and physical requirements to experience the trail's best aspects. Some are only accessible via foot, while others offer visitors the ability to ride their bikes. Certain trails offer water views, while others are focused solely on wildflowers and wildlife. Whichever trail someone decides to embark on in Anchorage, it will be one that was well worth starting. If your dream home includes access to Anchorage's hiking trails, contact Unity Home Group with AK Home Show at (907) 885-3300 to get in contact with a local agent and start discovering the perfect Anchorage home for you.