Best Water Activities in Anchorage, AK: Water Recreation Guide
Posted by Ryan Tollefsen on Wednesday, April 21, 2021 at 8:53 AM
By Ryan Tollefsen / April 21, 2021
Comment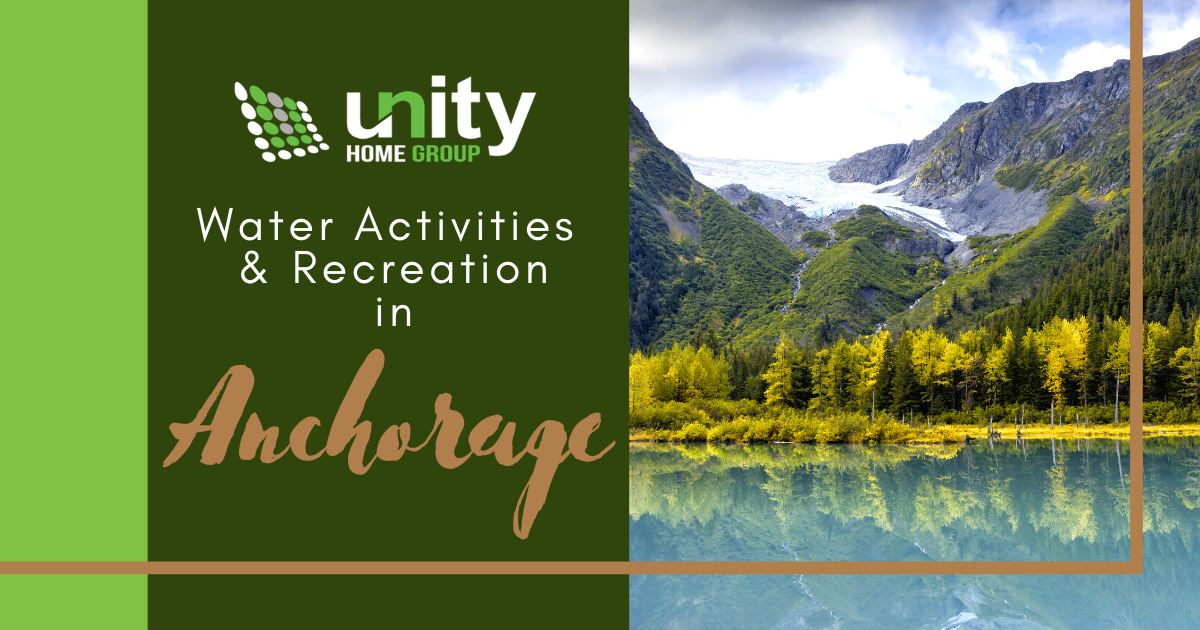 Anchorage is loved and celebrated as a city that unites culture with wildlife, and as a result, it tends to attract people who love to keep active. From outdoor adventures through indoor sports, Anchorage is a fantastic place to pick up or even try a new sport or hobby.
While Alaska might seem cold, visitors and residents can enjoy the water in Anchorage year-round with the proper preparation and equipment. Take a look at some of the best water recreation options in and around Anchorage.
Whitewater Rafting and Rafting Tours
Whitewater Rafting and Rafting Tours Amenities
Floating
Calm rafting
Whitewater rafting
Class I, II, IV, and V rapids available
Glacial lakes and rivers abound in Anchorage, along with mountain streams and creeks. These waterways bring a range of rafting possibilities to Anchorage; floating, calm rafting, and whitewater rafting are available to all ages and skill levels. Rafting overall is a great way to connect with nature without being too disruptive or expensive.
There are two main types of rafting tours available. For anyone interested in observing the wildlife, a quiet float through the wild is the calmest way to engage with the scenery and observe everyday animal behaviors. A whitewater trek through tumultuous waters can provide an adrenaline rush and a workout for the more adventurous. Class IV and V rapids are readily available on trips that last between two and three hours.
Near Anchorage, the Matanuska River flows and has several offshoots that provide whitewater rapids, including its South Fork and Caribou Creek. There are class I and II rapids off the Placer River or the Twentymile River that flows from the Twentymile Glacier for a calmer rafting experience. Ending on the winding Matanuska offers gorgeous views and smooth gliding.
The rafting cost depends on what rental equipment is needed, whether a guide is desired, and how long the rafting trip is expected to last. Some people only go rafting for a few hours, while others opt for an adventure that spans several days.
H2Oasis Indoor Waterpark
H2Oasis Indoor Waterpark Amenities
Slides
Pools
Water aerobics
River Walk (walk with or without current)
Picnic tables
H2Oasis Indoor Waterpark is Anchorage's indoor water park, open to the public on Fridays (3–7 p.m.), Saturdays (10 a.m.–7 p.m.), and Sundays (Noon–7 p.m.) but with activities scheduled throughout the week. From Toddler Time through water aerobics, there are activities for all ages. Children ages 3–12 pay $19.99 for admission, while children 13 and up pay $24.99. Children under two years of age are free with a paid adult.
There are all sorts of attractions inside the water park, from slides to pools. H2Oasis also hosts activities centered around physical fitness, including water aerobics and the River Walk (Tuesday through Friday from 7 a.m. to 10 a.m.), where visitors may walk with or against a current.
Additionally, RV parking is free for all visitors to the H2Oasis Waterpark, offering picnic tables, showers, trash disposal, and even a dumpsite nearby.
Fishing in Anchorage's Best Local Fishing Spots
Local Fishing Locations
Ship Creek
Anchorage lakes
Campbell Creek
Bird Creek
It's easy to fish in Anchorage, although the sky is the limit for gear, boats, and guides that can boost any fishing experience. One rule uniting all anglers: a license is needed, which costs $20 and may be purchased online at Mountain View Sports, or else at most local supermarkets. Gear can be bought at Mountain View Sports or rented at Alaska Tackle Rental.
Four key fishing spots feature most prominently on the local fishing scene.
Ship Creek, available in the heart of downtown Anchorage, is the best place to get king salmon and includes the world's only urban fishery specializing in king salmon. Special rentals for Ship Creek offer a rod and reel for approximately $5 per day, while waders and boots are also available to rent for stepping out onto the banks.
Over 20 different lakes in Anchorage are stocked with trout, char, salmon, pike, and other varieties of fish. Visitors should prepare to drive a few miles out of Anchorage, particularly if they want the top pick of Anchorage lakes to visit.
Campbell Creek, which extends out of the Far North Bicentennial Park, carries rainbow trout and silver and pink salmon. This is another fishing spot where waders can help anglers secure the best location.
Bird Creek, found 20 minutes south of downtown Anchorage, comes with pink and silver salmon. "Combat fishing" is associated with this creek, referring to when hundreds of anglers are at the same fishing spots.
Cold Water Scuba Diving
Cold Water Scuba Diving Amenities
Resurrection Bay
Prince William Sound
Guided dives
Practice diving at Last Frontier Diving
Scuba diving in Anchorage focuses primarily on Resurrection Bay and Prince William Sound and centers on cold water diving—diving in waters between 45 and 60 degrees Fahrenheit. Divers relish the experience in Anchorage waters, spotting everything from sea lions and shipwrecks to wolf eels and anemones.
Guided dives are available, providing transportation from Seward to Resurrection Bay. Bookings, dive planes, and a divemaster are available as well. If a barge excursion is desired, prices per person range from $350–$650 depending on the party's size. For a charter dive boat, this price range goes up to $450–$985. There are several other diving trips available from Dive Alaska, should an interested diver wish to take a "deeper dive" into their options. Dive Alaska is a PADI, SSI, and GUE training center.
Last Frontier Diving is a PADI 5 Star Dive Center that offers a full range of diving courses. Some people might want to try diving in a pool first before committing to a full dive; Discover Scuba Diving sessions cover this scenario, lasting only a couple of hours but shedding light on the diving experience. LFDA also offers an Open Water Course and an Advanced Open Water Course. Day, weekend, and weekly rentals of equipment are available, as well as equipment servicing.
Kayaking Around Anchorage
Top Kayaking Locations
Cook Inlet
Prince William Sound
Nenana River
Lake Clark
Many adventurers flock to Anchorage as a starting point for kayaking treks to take them to very remote and highly pristine locations. There are even waterfront homes designed to maximize access to natural scenery and its gorgeous views; venturing forth into these landscapes is the next step.
It's easy to rent gear and find a guide in Anchorage. Even the most seasoned travelers may benefit from a guide who can help navigate some of the more remote locations.
Four spots consistently rank as offering the best kayaking in Anchorage.
Cook Inlet, which extends over 150 miles in length and goes far beyond Anchorage. Kinkaid Park is a good kayak launch, with Fire Island only three miles away. The Knik River runs just north of the city and features calm waters that allow for a smooth kayak ride.
Prince William Sound offers no waves, but it has great views of glaciers. This is another outdoor adventure best handled with a guide, as ice fields may be hard to reach.
Kayakers can see Denali on the Nenana River, which runs 14 miles and routinely offers views of bears, moose, and other wildlife. While Class III rapids occur in the middle of the trip, overall, this experience fluctuates between currents and smooth eddies.
Lake Clark is a trek savored by people seeking a remote experience. A quick bush plane ride carries people over to Lake Clark National Park, but visitors tend to stay and camp for about a week because of this ride. Lake Clark runs about 100 miles in circumference, bringing incredible wildlife views unperturbed by human touch.
Discover Anchorage
By no means is Anchorage a place to stay put and sit still. Some might choose to keep it simple in an indoor waterpark, but that can quickly evolve into an outdoor adventure fishing, rafting, kayaking, or even diving in one of the waterways in or near Anchorage. No matter what time of year it is, there is always some form of endless water recreation in which to partake. If splashing around in Anchorage is your idea of a good time, contact Unity Home Group with AK Home Show at (907) 885-3300 to find an Anchorage home where the water is right outside your door.