Create A Guest Room For Guests To Your Southcentral Alaska Home
Posted by Ryan Tollefsen on Friday, February 15, 2019 at 7:01 AM
By Ryan Tollefsen / February 15, 2019
Comment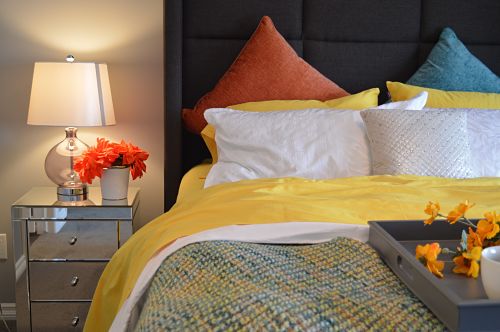 When you live in Alaska, you can bet you'll have a stream of house guests from the Lower 48. Our state is just so intriguing to everyone. And, you understand why, don't you? Whether you have guests in and out of your home almost constantly – or you're expecting your first overnight visitors, these few tips will make your Alaskan guest room as comfortable as it can be.
Spend Time in Your Guest's Rooms
You don't need to go as far as packing an overnight bag and camping in the guest room for a weekend, but doing so will probably transform the space entirely. But, spend enough time to determine whether you need new lights, warmer blankets, or if that mattress is really as bad as you imagine.
Toiletries and Towels
There's a reason hotels provide soap and have a supply of toiletries to offer – people forget these items all the time. Not sure what you need to provide? Trial-size anything makes guests feel comfortable about accepting – and you should try to facilitate as much as a hotel can. Don't forget the fluffy body, face, and hand towels.
Make It Easy to Know Your Home
Almost everyone is going to want to know the WiFi password. If you have an alarm or any Smart home devices, you'll need to share that informational as well. It's easiest to plan for it and create a guide that covers everything a guest needs to know.
A Little Local Goes a Long Way
While you're busy making your home inviting, don't forget to show off the local area too. There's plenty to do all over Alaska and a few brochures, maps, guides, and maybe even a local history book will entice your guests to make the most of their visit.
How To Make A Guest Room More Inviting
Making a guest room more inviting is usually a matter of stashing a few comforting items around the room. A few chocolates on the dresser, a stuffed animal on the bed and a warm, squishy robe in the closet can all help your guest feel more welcome and at home. If you do provide these pleasing amenities, leave a note indicating they are meant to be used by your guest.
Keep the temperature in the room at a comfortable 72-74 degrees. Install room darkening blinds on the window, just in case your guest wants to sleep in late. Remove any clutter to ensure that your guest has space to unpack their own belongings.
Finally, put a vase of flowers on the dresser (or a hypoallergenic plant, if your guest has allergies). Avoid placing any flowers in the room that might have an overwhelming scent.
And remember, guest rooms are meant to be an oasis; keep these spaces as neutral and clutter-free as possible. Unless, of course, you're tired of welcoming friends and family to our incredible home.