Anchorage Driving & Commute Times
Posted by Ryan Tollefsen on Wednesday, November 11, 2020 at 10:58 AM
By Ryan Tollefsen / November 11, 2020
Comment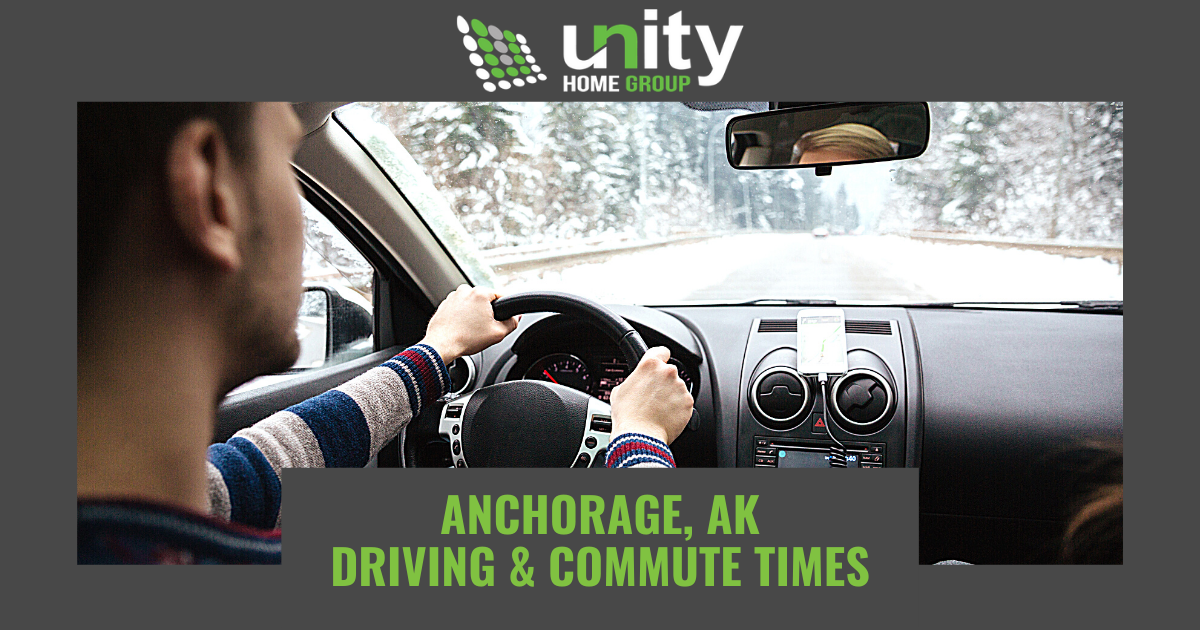 The lifestyle in Alaska is far different from any other area in the United States, and this includes driving. Alaska's climate produces snowfall in autumn, winter, and spring, so it is important to feel comfortable driving in the snow before you start finding your way around Anchorage. Summers are much easier to drive in, but it is also construction season due to the lack of snow.
It is also important to note that driving in Anchorage means you must be aware of your gas tank at all times. Some gas stations only operate seasonally. Longer road trips may require a full tank, such as the drive from Anchorage to Fairbanks. There are no gas stations for at least 92 miles! However, once you learn about driving in Alaska, you will move to Anchorage confidently and be able to begin enjoying your new life in one of the country's most scenic states. Let's dive into the most important information you need to know about driving in and around Anchorage.
Get to Know the Major Roads in Anchorage
One of the best parts of living in Alaska is the simplest of the road systems. With only a few highways throughout the entire state, Glenn Highway is the only major road in Anchorage. Glenn Highway actually follows a path that was carved by ancient glaciers. Spanning nearly 140 miles, the Glenn Highway offers a scenic drive dotted with waterfront homes along the Matanuska River. In fact, you can actually see the Matanuska Glacier, which is over 18,000 years old.
It is important to keep the speed limit in mind. Driving in Anchorage and surrounding areas in Alaska can be incredibly dangerous, so make sure to be vigilant and ensure your car insurance is up to date. While an open stretch of road may make you want to put the pedal to the metal, speed limits should always be followed to prevent accidents, skidding on black ice, or hitting any of the area's numerous large animals. The speed limit on the Glenn Highway is 55 to 65 miles per hour. The section of the Matanuska Glacier is only 45 miles per hour.
Fortunately, driving within the city limits of Anchorage is incredibly simple. Roads were engineered on a grid system. This means roads run north and south or east and west. If a road is backed up or closed for summer construction, you can easily take a parallel road and easily reach your destination.
What to Expect During Rush Hour in Anchorage
Just like every city in the country, Anchorage has traffic during the morning and evening rush hours. As the most populated city in all of Alaska, thousands of residents travel the roads every day to get to work. A typical 10-minute drive during rush will easily exceed half an hour because of traffic. If heading to Eagle River, Palmer, Wasilla, or other surrounding communities, a drive at rush hour during a winter storm can take well over an hour.
Whenever possible, it is best to avoid driving at rush hour. This is especially true if you are not comfortable driving in the snow.
Parking in Anchorage
Parking is available 24/7/365 in downtown Anchorage. Managed by EasyPark, all street parking in the downtown area is strictly enforced. Monday through Friday from 9 AM to 6 PM requires payment at the meter or through the app to park. Saturday has strict two-hour parking time limits. However, street parking is free all day on Sunday and after 6 PM on weekdays without any time constraints.
EasyPark also offers garages and lots for parking when street parking fills up. These two options always require payment. Additionally, Diamond Parking offers private lots throughout the year. These lots are monitored and require payments at all times. Violators of either entity risk towing at the owner's expense.
Other Helpful Things to Know
The danger that comes with driving in snow and icy conditions cannot be stressed enough. Aside from the snow and ice, a number of potential obstacles can be on the road. Whether going five miles per hour or 75 miles per hour, these obstacles present many dangers. Black ice is by far the most common danger drivers face. This type of ice cannot be easily seen and can cause drivers to spin out of control. Additionally, blizzards and avalanches can at a moment's notice when taking road trips on major roadways throughout the state.
Alaska is home to a wide variety of animal species, and many of these animals are almost the size of your vehicle. The last thing you want to do is hit a moose, bear, or other large animal with your vehicle. Car accidents involving moose are 13 times more likely to result in human death than car crashes that involve deer. The easiest way to avoid hitting these animals is to be completely aware of the road and drive slower when snow or ice is present.
It is vital to have an emergency kit in your vehicle at all times. Should you be stuck in your vehicle near or far from home, an emergency kit can help you survive until the Alaska State Troopers arrive. You should check your emergency kit every six months to ensure the supplies you have are work and aren't beyond their expiration date.
In addition to making note of the weather, speed limits, animal encounters, and survival basics you need while driving in Anchorage, you should keep local laws in mind. Studded tires are not permitted during the summer. These tires may only be used from September 16th to April 30th in Anchorage, per state law. If you are traveling south of Latitude 60, studded tires may only be used from October 1st to April 14th. Additionally, when driving, it is state law to move over and let others pass if you have more than five vehicles behind you. While not a requirement, driving with your headlights on at all times is common and increases safety on the roadways for everyone.
Getting Around Anchorage
While it may seem like driving in Anchorage creates some challenges, the scenic views of Alaska, the unique log homes, and the fun outdoor activities cannot be beaten. In order to be a safe driver, you need to take more care and attention driving than you would normally take. You can never be too careful on Glenn Highway or any of Anchorage's local roads. After a full year in the area, you will feel much more comfortable about driving in Alaska's weather.
If you have the skills to drive in Alaska and are looking to move to Anchorage, contact Unity Home Group with AK Home Show at (907) 885-3300 and we'll help you find the perfect Anchorage home.