How to Make Your Child's Playroom Parent-Friendly
Posted by Ryan Tollefsen on Monday, April 1, 2019 at 1:25 PM
By Ryan Tollefsen / April 1, 2019
Comment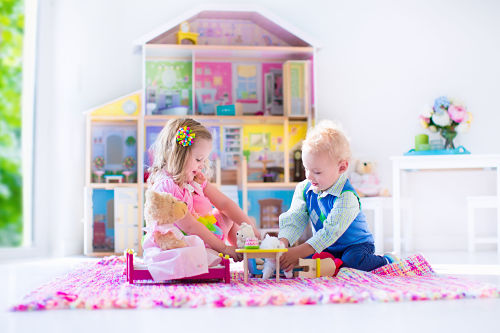 Playrooms may be the star attraction for your kids, but they're usually not terribly enticing for their parents. Even when they're not messy, they can feel overwhelming cute. And it can be difficult for grownups to enjoy watching their children at play when everything feels too small.
Here are a few ways you can get around those challenges and decorate your playroom so everyone can enjoy being there.
Everyone Needs A Place To Sit
If the playroom only has tiny wooden chairs, you're not going to want to spend time reading while your child makes you a plate of plastic food. Make sure there's enough room for everyone in the family to take a seat and make it a comfortable one.
Bring Storage Down Way Down
You can hide seasonal décor on the higher shelves in the back of the closet if you like, but make sure day-to-day storage stays at kid level. This will make it much easier for everyone to contribute to a clean playroom. And, yes, more storage than you think you need is a bonus.
Themes Don't Need To Be Literal
You can have a room fit for a princess without pouring pink in every corner of the room. And, there's more to cars than flashy red car pieces. Look at the story behind every theme and buy décor that suits the story, not just the latest branding.
Work The Corners So The Middle Is Clear For Play
Don't try to fill your playroom, or place activity tables in the middle of the space. Kids need plenty of room to play. They'll drag things to any corner that's clear in order to create. If it's too far from the storage spaces, you can expect the room to feel cluttered and untidy (and not very fun for the little ones either).
Playroom Essentials For Your Child's Playroom
Now that you've established a cozy chair and some storage bins, it's time to make sure the rest of the playroom is well-stocked for fun.
Floor covering and pillows. Parents sometimes need a little encouragement to literally get down to the kids' level—whether it's playing with blocks or having a tea party. Look for a short-pile rug in a natural material, like wool or cotton. Put a cushioned rug pad underneath to make it extra comfortable for sitting with your kids. Not only are these carpets more durable than fluffier rugs, but matchbox cars and Barbie shoes won't get lost in the pile! Scatter some large pillows nearby to supply a little back support for Mom and Dad.
Building materials. You can't have too many types of simple building kits in a playroom. Wooden blocks, LEGO sets, Lincoln Logs—all these have stood the test of time for a reason. They fire the imaginations of children of all ages while being easy to handle.
Crafting supplies. Crafts keep kids occupied for hours. Set up an activity table with storage for age-appropriate craft supplies. Depending on your child's age, stock plenty of paper, crayons, colored pencils, yarn, colored popsicle sticks, glue, glitter, clay, and so forth.
Bookcase. Start the love of reading early with your kids by storing their picture books in a colorful bookcase. Later, it can be filled with chapter books and souvenirs. And don't forget to sneak an occasional new book onto the shelves, so that your kids can look forward to new reading adventures as much as they do new toys!
Getting your kids involved with the design and décor of their playroom will give you some ideas as to what they need and enjoy. But, remember, if you create a space that works for everyone, it will get more use.