Most Affordable Neighborhoods in Anchorage: Anchorage, AK Affordable Living Guide
Posted by Ryan Tollefsen on Thursday, January 28, 2021 at 7:39 AM
By Ryan Tollefsen / January 28, 2021
Comment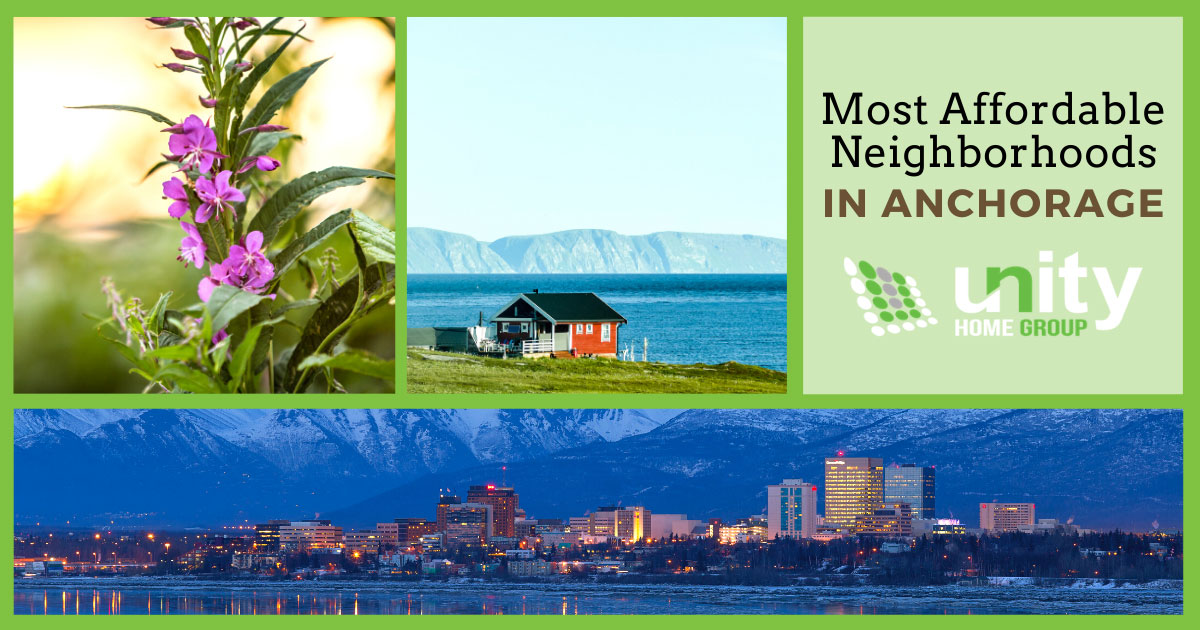 The cost of housing in Anchorage tends to be more expensive than in other areas of the United States for several reasons, including a shortened construction season and the added cost of having to ship in many of the supplies necessary to build homes. However, prospective buyers should not fret or worry that owning a home in Anchorage is out of their grasp. There are a number of neighborhoods in Anchorage, such as those listed below, where a buyer can still find affordable homes.
Government Hill
Government Hill Amenities
Government Hill Federal Housing Historic District
Suzan Nightingale McKay Memorial Park
Harvard Park
Government Hill Elementary School
Ship Creek Overlook Park
Brown's Point Park
Sunset Park
Government Hill is considered to be Anchorage's oldest neighborhood. The first houses in this area were built between 1915 and 1950 by the U.S. government to house its federal workers and railroad employees. Government Hill is located in the northwest part of the city and is bordered by Ship Creek, the port of Anchorage, and Joint Base Elmendorf Richardson.
Government Hill may have gotten its name one of two ways. First, the original 13 cottages built by the government — which are now on the National Register of Historic Places — sit on a bluff. So, some people believe that it is named for this government housing sitting on a "hill." The other theory is that it was named by laborers who had worked on the Panama Canal on a similar site named Government Hill.
Today, this charming neighborhood overlooks Knik Arm and boasts stunning mountain views. Government Hill is located within walking distance to downtown Anchorage, so it is popular with those who work in the city and also at nearby Joint Base Elmendorf Richardson.
Government Hill Hotspots
Government Hill Nightlife
Government Hill Cafés
Government Hill Restaurants
Birchwood
Birchwood Amenities
Birchwood Airport
Eagle River Nature Center
Eklutna Village Historic Park
Mount Baldy Recreational Area
Beach Lake Park
Birchwood ABC Elementary School
Chugiak High School
Birchwood is an unincorporated area located 20 miles north of downtown Anchorage and seven miles south of the Eagle River community. It is a good choice for anyone who prefers a rural lifestyle, but who works in Anchorage or just wants to be close to all the amenities of a big city.
Birchwood is also an excellent location for those who enjoy outdoor activities. Many of the waterfront homes in this area enjoy excellent views of Knik Arm to Birchwood's west, along with the Chugach Mountains to the east. The Birchwood Airport, a state-owned public-use airport, is located about two nautical miles northwest of Birchwood. It is one of the busiest small airports in the state, and is also home to Airframes Alaska.
Birchwood Hotspots
Birchwood Shopping
Birchwood Nightlife
North Star
North Star Amenities
North Star Elementary School
Chester Creek Trail
This small neighborhood, which is located between downtown and midtown Anchorage, is home to several thousand residents. North Star is bounded by Spenard Thruway to the west, Minnesota Drive Expressway to the east, the Chester Creek Greenbelt to the north, and Fireweed Lane to the south.
Because North Star is located close to the Chester Creek Trail, this is an excellent area for lovers of the great outdoors. This four-mile-long wooded path runs from Westchester Lagoon to Goose Lake and takes bikers, joggers, and walkers through a few parks, including Woodside.
North Star has a very active community council that works on behalf of its interests, both big and small. For example, its members led an effort to have a mural painted on a retaining wall to help beautify the neighborhood.
North Star offers its residents numerous amenities and is the home to Chilkoot Charlie's, which has hosted bands from across the United States. Some of the musical acts that have appeared at this bar include The Doobie Brothers, Lynyrd Skynyrd, and Journey.
Prospective buyers will find affordable single-family houses, townhomes, and condos in North Star.
Northeast
Northeast Amenities
Centennial Park
Ira Walker Park
Regal Tikahtnu IMAX and RPX
Nunaka Valley Elementary School
Nunaka Valley Park
Northeast's borders are the New Seward Highway to the north, Northern Lights Boulevard to the south, and Boniface Parkway to the west. To this neighborhood's east lies Chugach State Park, which covers more than 490,000 acres and is one of the largest state parks in the nation.
Northeast is also home to several other parks, including Centennial Park. Its newest park is Chanshtnu Muldoon Park, which is still a work in progress. In 2018, the first phase of the park was opened to the public and featured an inclusive playground and an ice skating loop. When completed, the hope is that this 26.74-acre park will provide residents with a year-round recreation and community event space.
Russian Jack Park
Russian Jack Park Amenities
Williwaw Elementary School
Wonder Park Elementary School
East Anchorage High School
Russian Jack Springs Park North
Williwaw Park
The Gardens at Bragaw
This neighborhood and the park of the same name within its borders were named after a notorious Russian bootlegger who once lived in the area. Russian Jack Park is bordered by Glenn Highway on the north and Northern Lights Boulevard to the south. To the east is Boniface Parkway, and on the west is Bragaw Street.
The Russian Jack Park neighborhood is located not far from Joint Base Elmendorf Richardson. This community loves its parks, including but not limited to James Vernon Nash Park and Williwaw. But the biggest park in the neighborhood is Russian Jack Park, which is spread out over 300 acres and contains a golf course, trails, a hill that is popular for sledding, a greenhouse, and a cross-country skiing course.
Recently, the Russian Jack Springs neighborhood partnered with a teacher from Nunaka Valley Elementary School to create learning labs in the park for children so that they can learn more about local flora and fauna. The homes in this neighborhood range from single-family homes to four-plexes.
Russian Jack Park Hotspots
Russian Jack Park Shopping
Russian Jack Park Cafés
Russian Jack Park Restaurants
Turnagain Arm
Turnagain Arm Amenities
McHugh Creek Day Use Area
Chugach State Park
National Scenic Forest Byway
Hiking trails
Alyeska Resort
Turnagain Arm is a sparsely populated neighborhood that lies southeast of Anchorage. It is bordered by the Seward Highway and Turnagain Arm to its south. This stretch of the Seward Highway is considered to be one of the most beautiful drives in the world, with dramatic views of both the mountains and the inlet. It is also a National Forest Scenic Byway.
The Turnagain Arm neighborhood also includes part of the 495,000-acre Chugach State Park, which is one of the largest state parks in the United States. To the east of this rural community lies the Alyeska Resort, which is the largest ski area in the state.
The neighborhood and waterway are named Turnagain because the British explorer James Cook had sailed up this arm in search of the fabled Northwest Passage. Unfortunately for Cook, this was not the passage, and as a result, the explorer was forced to "turn again." This neighborhood should not be confused with the similarly named Turnagain community, which is located across Cook Inlet and is considered a separate neighborhood.
Consider One of Anchorage's Most Affordable Neighborhoods
Although the cost of living can be expensive in Anchorage, prospective buyers on a budget can still find their dream home, especially if they search in these neighborhoods. If you're looking for an affordable home in Anchorage, whether in one of these neighborhoods or not, contact Unity Home Group with AK Home Show at (907) 885-3300 and one of our agents can help you find an Anchorage home that fits both your desires and your spending plan.