Most Expensive Neighborhoods in Anchorage: Anchorage, AK Expensive Living Guide
Posted by Ryan Tollefsen on Thursday, January 21, 2021 at 6:43 AM
By Ryan Tollefsen / January 21, 2021
Comment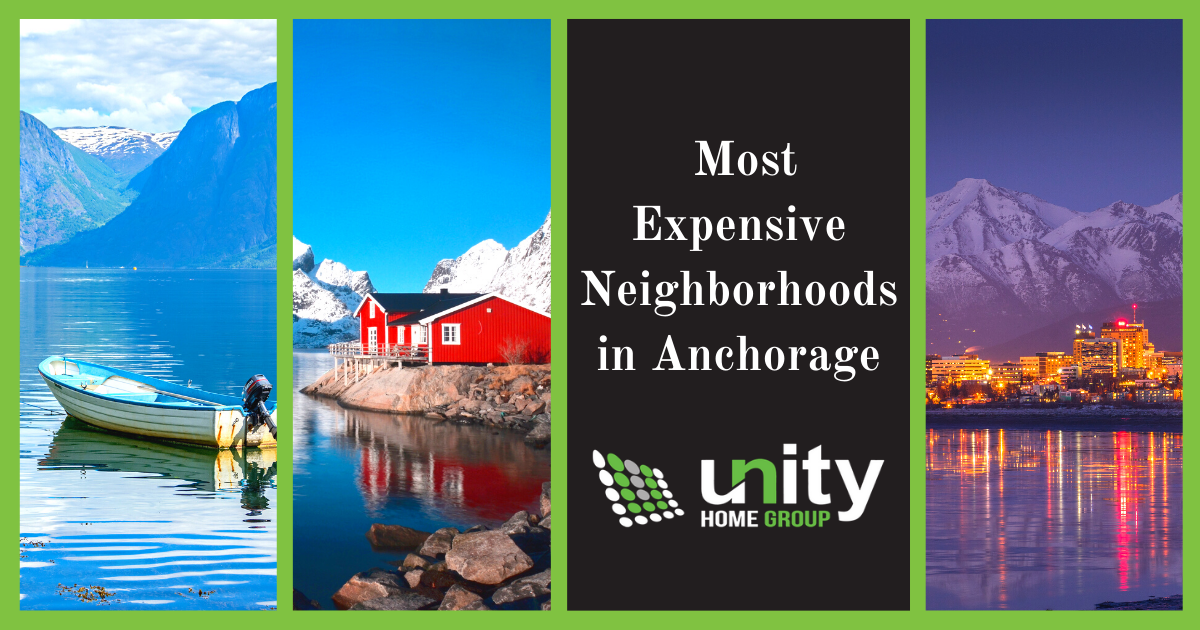 As Alaska's largest city, Anchorage is home to about 288,000 residents—nearly 40 percent of the state's population. Anchorage is located in the southcentral area of the state, along Cook Inlet. Downtown Anchorage is the city's primary business district but is also known for its performing and visual arts venues, and a portion of its retail.
The city is home to several parks and wildlife centers and also serves as an entry point to nearby areas of wilderness, as well as surrounding mountains. Because of everything this bustling city has to offer, it's no wonder so many people hope to make their homes in Anchorage.
Those planning a move to Anchorage may be interested in the area's most expensive neighborhoods, along with the amenities and things to do that each one offers. If you're interested in buying an Anchorage luxury home, learn more about the city's most high-end neighborhoods by reading on.
South Addition
South Addition Amenities
Trails
Parks
Shopping nearby
Restaurants nearby
The South Addition neighborhood was established in the late 1930s and early 1940s to meet a growing demand for additional housing. Its large lots were originally developed to encourage farming. The neighborhood is south and west of downtown Anchorage, extending as far west as the Knik Arm and south to just beyond the Westchester Lagoon.
In addition to the beauty of the Knik Arm shoreline, residents can enjoy wildlife viewing, kayaking, and paddleboarding at the Westchester Lagoon. Nearby Margaret Eagan Sullivan Park, Chester Creek Trail, and Westchester Lagoon Nature Trail all provide outdoor activities within the neighborhood.
South Addition is also home to Valley of the Moon Park, as well as a portion of adjacent Delaney Park. Residents enjoy ready access to restaurants and nightlife in the commercial area just north of Delaney Park. Additionally, the Anchorage 5th Avenue Mall is only a 5-minute drive.
Campbell Lake Heights
Campbell Lake Heights Amenities
Campbell Lake Heights is known for its natural scenic beauty. The neighborhood features breathtakingly beautiful lakes and mountains and stately trees. About 957 residents live in the Campbell Lake Heights neighborhood.
At the center—and dominating the neighborhood—is Campbell Lake. The lake is Anchorage's largest, at approximately 123 acres. Although stocked, to support upstream sport fishing, anglers are prohibited from fishing on the lake itself. Boating is allowed, as is floatplane use. In winter, ice skating is a favorite on Campbell Lake.
The neighborhood got its start with the formation of Campbell Lake in the late 1950s, with construction of an earthen dam to block the outflow of Campbell Creek, creating the artificial lake. The area around the lake was then developed and remains home to a number of notable Anchorage residents.
Campbell Lake Heights Hotspots
Atwood Estates
Atwood Estates Amenities
Trails
Waterfront nearby
Parks nearby
Gated community
Golf
Atwood Estates is a gated community of luxury homes located within the neighborhood of Turnagain, southwest of downtown Anchorage. It includes homes on Bob Atwood Circle and Evangeline Court. The community features landscaped common areas and security cameras.
Atwood Estates offers convenient access to the coastal trail, shopping, and downtown. Residents of Atwood Estates can also enjoy a private pitch and putt golf course.
Residents in Atwood Estates enjoy close access to Westchester Lagoon, a popular spot for kayaking, paddleboarding, and wildlife watching. The lagoon is adjacent to Margaret Eagan Sullivan Park, which offers walking, running, biking, skate-skiing, and a playground. Wintertime means ice skating and hockey on the lagoon. Skate nights, which are scheduled every Saturday from January through mid-March, typically draw 100 people or more.
Atwood Estates Hotspots
Atwood Estates Shopping
Atwood Estates Nightlife
Atwood Estates Restaurants
Rabbit Creek
Rabbit Creek Amenities
Parks
Restaurants
Recreation Center
Rabbit Creek is a neighborhood located south of downtown Anchorage. It is set on the lower side of Bear Mountain, just east of the Seward Highway on the Turnagain Arm. The community features single-family homes, as well as multi-family homes and commercial properties.
The neighborhood features several parks, including Snowshoe Park, Davidson Park, Rabbit Creek Greenbelt Park, Elmore Park, Griffin Park, Rabbit Creek Greenbelt, Old Rabbit Creek Park, and more. Rabbit Creek Park trail is a favorite with hikers and those wanting to view wildlife.
About 6,240 people reside in the Rabbit Creek neighborhood, with the majority of residents owning their home. In addition to its residential areas, the neighborhood features a number of coffee shops and restaurants.
Residents enjoy living far enough out of downtown to avoid the hustle and bustle of the city, yet close enough for convenient access. At the same time, residents can easily reach ski areas and resorts, as well.
Hillside East
Hillside East Amenities
Park
Trails
Wildlife viewing
Nordic skiing
Hillside East is a neighborhood located south of downtown Anchorage. About 2,252 people reside in the neighborhood.
Hillside East is situated between Far North Bicentennial Park and Hillside Park to the north, Holman Avenue and East Klatt Road to the south, Hillside Drive to the west, and Stroganof Drive and the Chugach State Park to the east.
Set apart from retail and commercial zones, Hillside East offers its residents quick access to the Far North Bicentennial Park. The 4,000-acre park offers several multi-use trails. Trail difficulty ranges from flat, easy paths to more rugged terrain, including Nordic ski trails that are used for biking and hiking during warm weather.
Hillside East Hotspots
Hillside East Shopping
Hillside East Cafés
Hillside East Restaurants
Rogers Park
Rogers Park Amenities
Lake
Fishing
Parks
Restaurants nearby
Rogers Park is located southeast of downtown Anchorage. The neighborhood is bordered by Woodside Park to the north, Chester Creek Greenbelt Park to the north and east, Lake Otis Parkway to the east, East 36th Avenue to the south, and Seward Highway to the west.
The neighborhood is home to about 3,488 residents. Rogers Park includes not just residences, but several restaurants, bars, coffee shops, and parks located either within the neighborhood or adjacent to it.
Lake Otis and nearby Jacobson and Carlson Park provide recreational opportunities for Rogers Park homeowners. Most of the lake's shoreline is privately owned, but public access is available through Carlson Park. Stocked with rainbow trout, Lake Otis is open for fishing, canoeing, and the use of inflatables.
Explore Anchorage's Most Expensive Neighborhoods
Geographically, Anchorage lies on a strip of coastal lowland that reaches to the lower alpine slopes of the Chugach Mountains. The city's western-most point juts out into Cook Inlet, forming two arms: Turnagain Arm to the south and Knik Arm to the west and north. While the Chugach Mountains to the east form a barricade to further development, they do not form the boundary of the city limits, which extend well beyond them to the east of Inner Lake George.
Many of Anchorage's most affluent neighborhoods and expensive residential properties lie to the south of downtown Anchorage, some of them along the arms of the inlet. Waterfront homes with scenic lakes, stately pines, and mountain views are some coveted features these communities have to offer. Additionally, proximity to main thoroughfares enables these residents to easily access downtown Anchorage or pursue a route to enjoy many of the outdoor opportunities within the city and surrounding area, including skiing, hiking, kayaking, biking, and more.
If you're looking for your Anchorage dream home in one of these luxury neighborhoods, contact Unity Home Group with AK Home Show at (907) 885-3300 and we'll help you find the perfect fit.