See Alaska the Authentic (Rail) Way
Posted by Ryan Tollefsen on Monday, March 18, 2019 at 1:38 PM
By Ryan Tollefsen / March 18, 2019
Comment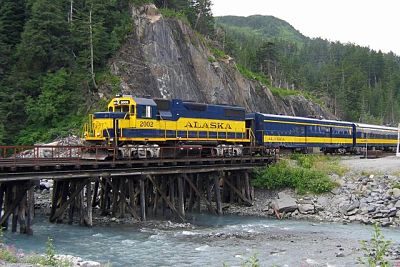 You can take a train to and from most American states in the lower 48, but most of these trips just don't provide the same experience as Alaskan Railroad. Tickets can be booked for traveling between one station and another, but with these trains… it's all about journey.
History of the Alaska Railroad
In the early 1900s, prospectors needed to transport the abundant natural resources of Alaska such as coal and gold to the coast for shipping. By 1909, a humble 70 miles of tracks were built by privately held companies to connect Seward to Girdwood.
Another 470 miles of tracks were authorized by the U.S. Congress in 1914 to connect the cities of Seward and Fairbanks, and Anchorage was established as a construction camp and headquarters for the new Alaska Railroad Corporation. The line was declared complete upon installation of the final golden spike in Nenana in 1923.
The railway was an important transport route for supplies during World War II, and received $100 million in renovations following the war. The Alaska Good Friday earthquake required another $30 million in repairs, and in 1984, the first official tours began departing.
The State of Alaska purchased the railroad from the federal government in 1985, and although expansions and repairs are continually happening, there is yet to be a railway connection made with the Lower 48.
Go Where You Want to Go
It's easy to explore Alaska by train. Alaskan Railroad features stops and stations throughout the state. And, they have featured destinations that make vacation planning easy.
Anchorage is home to this railways operator, and they have their main station there, but you'll find regular service to see the wildlife in Denali National Park, ski in the resorts of Girdwood, or watch whales in Seward. Other featured destinations include:
Fairbanks
Hurricane Flagstop Area
Portage
Spencer Glacier Whistle Stop
Talkeetna
Whittier
Do What You Want to Do
And there's plenty more to do than just get off the train. Alaskan Railroad offers special journeys linked to events themselves. These special trains depart throughout the year with Easter Trains, Holiday Trains, and Halloween Trains. Of course, you may also enjoy the Great Alaskan Beer Train or the Hoodoo Choo Choo.
As you can imagine, these event trains are popular with groups and fill up quickly. If it's something you would like to experience, make sure to book early to reserve your seats.
Planning Your Train Travels
Booking a ticket on an Alaskan Railroad train is much like buying an airline ticket. You'll find similar stipulations regarding baggage and transference of tickets. You'll also want to arrive at the station with time to spare – and there are items you are forbidden to take on board.
And, of course, you'll find there are different classes of service on most lines – and the GoldStar Service definitely lives up to its name. Whatever class you choose and wherever you go, it's definitely the way to experience Alaska and a vacation you won't soon forget.
Image:Av Ron Reiring - Whittier, AK, CC BY 2.0