Best Shopping in Anchorage: Anchorage, AK Shopping Guide
Posted by Ryan Tollefsen on Wednesday, December 9, 2020 at 7:44 AM
By Ryan Tollefsen / December 9, 2020
Comment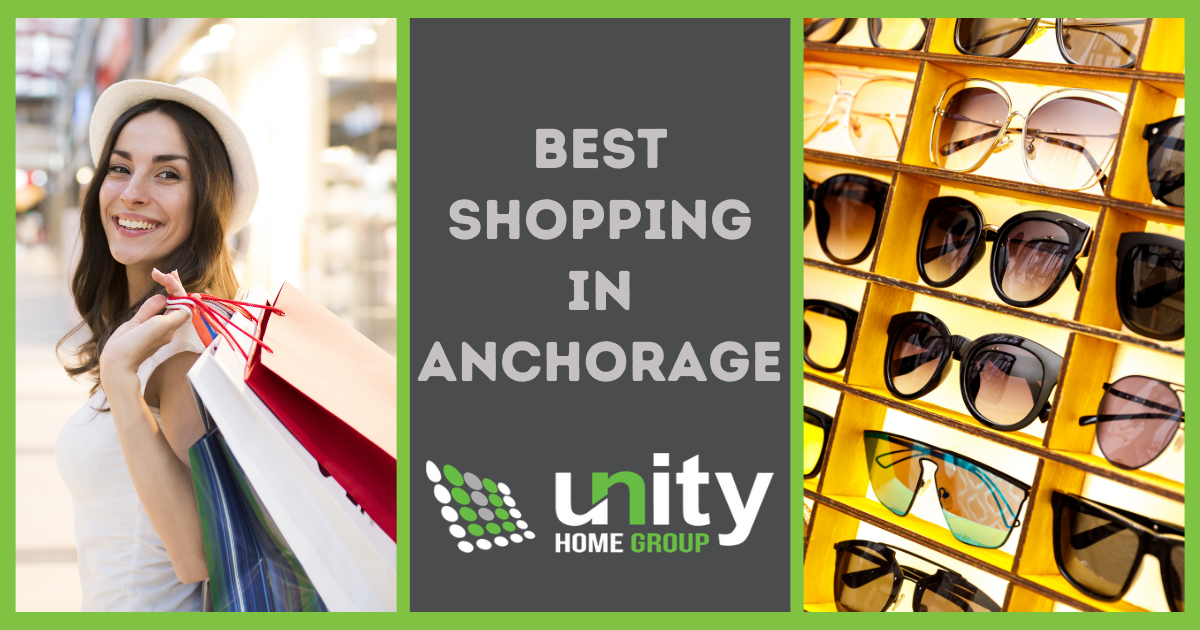 Anchorage is Alaska's most populous city, home to nearly 40 percent of the state's population with about 288,000 residents. Despite not serving as the state's capital, Anchorage is considered the hub of government activity.
Anchorage's economy has been built on transportation, government, tourism, resource extraction, and the ability to attract corporate headquarters. The Port of Anchorage is the receiving point for nearly all goods distributed in Alaska. Downtown Anchorage is the city's primary business district and includes office buildings, arts venues, and retail. There is no sale tax in Anchorage, which is welcome news to shoppers.
As the state's most populous metro area, Anchorage offers a number of shopping centers. Here are a few of the best shopping locations in Anchorage.
Anchorage 5th Avenue Mall
Anchorage 5th Avenue Mall Stores
The Apple Store
Eddie Bauer
GameStop
Lululemon
Zack's Famous Frozen Yogurt
Address: Anchorage 5th Avenue Mall, 320 W 5th Ave, Anchorage, AK 99501
Anchorage 5th Avenue Mall is located in the heart of downtown Anchorage. The colossal shopping center consists of five levels with 110 stores, ranging from apparel and accessories to electronics and cosmetics, offering arguably the largest retail selection in all of Alaska.
Anchorage 5th Avenue Mall is the only shopping center in Alaska offering shoppers the opportunity to experience retailers Michael Kors, Coach, JCPenney, Apple, bareMinerals, Banana Republic, Sephora, and Victoria's Secret. In addition to retail stores, the mall offers shoppers a dozen options for getting a bite to eat or sitting down for a full meal after a long day. Anchoring the restaurants is Sullivan's Steakhouse, a sit-down dining experience on the first level. The steakhouse features steak and seafood, as well as hand-shaken martinis and live music.
Anchorage 5th Avenue Mall is open from 11 a.m. to 7 p.m., Monday through Saturday, and 12 p.m. to 6 p.m. on Sundays. Hours can vary, however, but are available on the mall's website. The mall is managed by Simon Property Group, which manages retail properties in 37 states and Puerto Rico.
Northway Mall
Northway Mall Stores
JoAnn Fabrics and Crafts
Planet Fitness
Wood Shop
Burlington Coat Factory
Ian's Game Paradise
Address: Northway Mall, 3101 Penland Pkwy, Anchorage, AK 99508
Northway Mall first opened its doors in 1980 and was one of the first enclosed malls in Anchorage. The mall has five apparel retailers, including anchor store Burlington Coat Factory, as well as five coffee shops and restaurants. Northway Mall makes it convenient to pick up groceries after shopping, with an adjacent Carrs-Safeway grocery store.
Those seeking things to do besides a retail experience can stop by Lynn's Pulltabs, which has been operating as a pull-tab casino at the mall since 2000. The mall is also home to Shockwave Trampoline Park, which includes five rock-climbing walls, a trampoline volleyball court, a dodgeball court, a 3D laser maze, and more.
In addition to retail, there are several service-oriented businesses at Northway Mall. These include A.K. Phone Repair, H&R Block, Northern Lights District screen printing and graphic design, InStyle Salon and Spa, and Xpress Lube.
The mall is open Monday through Friday from 10 a.m. to 9 p.m., Saturday from 10 a.m. to 6 p.m., and Sunday from 12 p.m. till 6 p.m. Customers are advised to contact individual retailers, however, as hours may vary. Surface parking is available onsite. The mall is managed by Northway Mall Management.
Dimond Center
Dimond Center Stores
Bosco's Comics, Cards & Games
Boxlunch
Foot Locker
Gamestop
Icing
Indian Arts emporium
Address: Dimond Center, 800 E Dimond Blvd, Anchorage, AK 99515
Founded in 1977, Dimond Center is a second-generation, family-owned shopping center on the south side of Anchorage. At about 728,000 square feet, covering 8.5 blocks, Dimond Center is the largest enclosed shopping center in Alaska. It is home to retail stores, restaurants, an athletic club, ice chalet, bowling alley, movie theaters, and professional office space.
This unique family-owned mall has grown substantially through the years. Ownership has now been passed on to the next generation. Tenants that have been at the Dimond Center since it opened its doors are The Perfect Cup and Zales.
The mall features 16 apparel stores, six stores selling costume or fine jewelry, and 20 specialty stores and services. In addition to retailers, the mall houses 11 restaurants, ranging from fast food and snacks to sit-down dining experiences. There are also several hair and nail salons, as well as health and beauty retailers. Those seeking entertainment will find a variety of things to do, with multiple casinos, bowling, ice skating, movie theaters, and an adult arcade available.
Dimond Center hours are 11 a.m. to 8 p.m. Monday through Thursday, 11 a.m. to 7 p.m. Friday and Saturday, and 12 p.m. to 7 p.m. on Sunday.
Midtown Mall
Midtown Mall Stores
Alaska Watch Specialists
Hallmark
LensCrafters
REI
Stallone's
Steam Dot
Address: Midtown Mall, 600 E Northern Lights Blvd, Anchorage, AK 99503
Midtown Mall is located just south and slightly east of Downtown. The mall claims to be Anchorage's first shopping center and maintains that it remains its busiest. The shopping center offers a mix of national brands and locally owned retail and service providers. It is anchored by three stores: REI Co-op, Nordstrom Rack, and Carrs-Safeway.
There are 23 shops and businesses at the Midtown Mall, including three apparel stores: Nordstrom Rack, REI Co-op, and Stallone's. There are about a half-dozen specialty or gift shops.
Midtown Mall is also home to several businesses or shops focused on health and beauty products and services, including GNC, Brow Chica, Kawaii Nail Bar, and A Cut Above. The mall tenants also include a Planet Fitness, Providence ExpressCare, and BurgerFi restaurant.
The mall is open from 10 a.m. to 8 p.m. Monday through Friday, 10 a.m. to 7 p.m. on Saturday, and 12 p.m. to 6 p.m. on Sunday.
Tikahtnu Commons
Tikahtnu Commons Stores
Fruitland Fresh
GCI
Lowe's
PetSmart
Best Buy
Address: Tikahtnu Commons, 1142 North Muldoon Road, Anchorage, AK 99504
Tikahtnu Commons is a retail and entertainment center located about six miles from downtown Anchorage. It is an 85-acre regional shopping center serving the city, as well as the needs of nearby Eagle River and the Mat-Su Valley.
Tikahtnu Commons opened in 2008 and is anchored by Target, Kohl's, Lowe's, Best Buy, Regal Cinemas, and Sam's Club. It is owned and managed by North Anchorage Real Estate Investors LLC. The center currently consists of 900,000 square feet of retail, restaurant, and entertainment establishments.
The property includes 17 food and beverage entities, from full dine-in menus like that found at Red Robin, to express coffee shops like Starbucks, as well as several fast food options. There are six apparel retailers, including Kohl's Department Store and Old Navy.
Among the remaining retailers are Best Buy, Brown Jug, David's Jewelers, GameStop, PetSmart, Sally Beauty, ULTA Beauty and more. Both AT&T and Verizon Wireless have a presence at Tikahtnu Commons. Regal Cinemas offers moviegoers a 16-theater stadium.
Healthcare services include btyDENTAL, Providence ExpressCare, and True Life Chiropractic.
Tikahtnu Commons hours are 8 a.m. to 11 p.m. daily, although some retailers' hours may differ.
Enjoy Shopping Opportunities in Anchorage
Anchorage offers residents and visitors alike many options for shopping experiences, including open-air and enclosed shopping centers. Several retail malls in or near Anchorage offer a mix of national brands and locally owned businesses.
Anchorage's shopping centers offer more than retail, however, with a mix of shops, services, restaurants, and entertainment options in one convenient location. These shopping centers also offer free and convenient parking. From furnishing a new construction home or Anchorage condo to adding to their wardrobe, residents have plenty of options for shopping in this city. If you'd like to become a resident of Anchorage, contact Unity Home Group with AK Home Show at (907) 885-3300 and we'll help you get started finding your ideal Anchorage home.