Things To Do In Anchorage: Alaska Winter Sports
Posted by Ryan Tollefsen on Tuesday, October 30, 2018 at 10:44 AM
By Ryan Tollefsen / October 30, 2018
Comment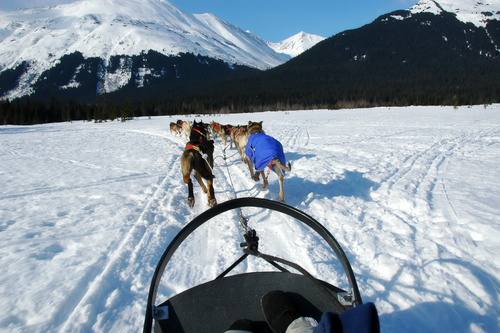 Despite a subarctic climate, Anchorage has strong maritime influences that result in moderate seasonal temperatures and this means one big thing to local residents during the colder months: fun in the snow! There are endless opportunities in our winter wonderland. Outdoor enthusiasts can take in the wondrous Northern Lights shows, zoom through the snowy trails on sleds, or hit the slopes and cut through the powder of our world-class ski resorts.
Or, visitors and citizens can take in the National Geographic style sights of a glacier calving—our state has the greatest concentration of glaciers in the nation, and there are many unforgettable ways to see our majestic natural world in action. Below is a list of things to do in Anchorage, Alaska when the ground in blanketed in white, with favorite local tours and activities that include ice-climbing and backcountry trailblazing. So slip on the Merino wool long-underpants and choose your adventure!
Do you want to stay up to date with all things Alaska? Follow us on
Facebook
, and stay alerted to real estate news, federal programs, our REALTOR® advice, tips, home buyer and seller information, and of course more things to do in Anchorage and surrounding areas!
Watching the Northern Lights
Not every outdoor activity in Anchorage has to be done during the short daylight hours during the winter months. In fact, we think one of the most magnificent outdoor activities happens after dark. The Northern Lights can often be seen on clear nights in Anchorage, sometimes as early as 8 p.m. Watching the aurora borealis in action is a once-in-a-lifetime experience, and one that can't be missed when staying in Anchorage.
Dog Sledding
On the horizon is the Iditarod Trail Sled Dog Race, scheduled for the first weekend of March and starts with sleds and dogs racing through the downtown streets of Anchorage. As our state sport, this is a huge event, with plenty of chances to catch the beginning action of this grueling endurance race of expert mushers and four-legged athletes. The event coincides with the entertaining and family-friendly events of Fur Rendezvous and the Tour of Anchorage. Novice's looking for a fun outing can find plenty of dog sled tours in the city, and many kennel owners offer demos, lessons and more.
Ice Climbing
Looking for somewhere to sink in the ice axe? We have singular spots for ice climbing in Anchorage and around Alaska's glaciers and waterfalls that can be enjoyed year round. In the winter, waterfalls can turn to icy climbs for added challenge and excitement. Our expert guides take groups or individuals out for a variety of ecotours and climbing sessions, with options for all experience levels. See Alaska's unique landscapes as close as you can get, when you traverse frontal ice formations high above blue glacial pools.
Snowmobiling
Sledding is always a popular outdoor choice for fun and adventuring with the family, and when done safely it can be a thrilling way to spend a day in the sun and snow. In Alaska you'll find expansive snowfields that will appease your need for speed, with races here that include the 2000 mile Iron Dog. The 2015 race will begin in downtown Anchorage, for the first time, and will feature banquets, snowmobile aerials, demos and more Feb 20-21. Watch X Games medalists and local sledders show off their skills in this memorable weekend event.
Ice Fishing
Ice fishing is a popular excursion for both Anchorage residents and Alaskan tourists. Here in Anchorage, we have many local lakes that are stocked with fresh fish, such as grayling or landlocked salmon. We recommend that ice fishers head to any of the nearby lakes, such as Goose Lake or Clunie Lake. Those who are interested in ice fishing can bring their own equipment, rent the gear they need or book a guided ice fishing tour. For the most part, ice fishing is safe as long as there is at least 5 inches of ice covering the lake. However, it's always a good idea to monitor conditions prior to embarking on an ice fishing adventure.
Glacier Tours
Five percent of our state is covered in glaciers, with their ice-crusted fjords and lakes, and massive blue-hued frontal faces. The Begich, Boggs Visitor Center at our most popular Portage Glacier, will give you a history of the terrain formations in the area. Walk onto Matanuska Glacier and view the unparallelled vistas of over 27 icy miles, or grab a helicopter ride to Colony Glacier. These frozen natural phenomenons cover almost 30,000 square miles of our great land and will offer you a first-hand look at some of earth's most epic organic formations.
Fat Tire Biking
In Anchorage, we don't let the winter season stop us from getting on our bikes and cycling along the snowy trails. Instead of trading in our favorite sport, we opt to get some new equipment. Fat tire biking, or winter biking, is the latest trend in outdoor recreation in Alaska. Everyone from cycling enthusiasts to commuters get in on the action, and they often head to the local cross country ski trails to ride. Many local businesses in Alaska are now renting fat tire bikes to interested cyclists, which is allowing people of all ages and skill levels to try out the sport.
Skiing & Snowboarding
The powder is always fresh here and if you're looking for things to do in Anchorage, Alaska there's some great spots for soaring through the air off the top of the mountain, or practicing your Nordic skiing stamina on the groomed trails of Kincaid Park. Beginners can find urban skiing and snowboarding facilities just out of downtown, at the Hilltop Ski Area and Arctic Valley, where gentle runs can help those looking to build up their skills. A popular permanent halfpipe can be found here for boarders looking to grab some air.
Moderate-level downhill trails can be enjoyed in the mountains of Chugach State Park, while expert runs and ledges at Alyeska Resort, in Girdwood, can be found amongst peaks that boast 3,923 ft elevations. For the ambitious experts out there, legendary backcountry experiences are waiting to be uncovered, with many guides available to get you up and down safely by snowcat or helicopter.