Best Things to Do With Kids in Anchorage: Best Anchorage Family-Friendly Activities
Posted by Ryan Tollefsen on Tuesday, October 27, 2020 at 8:29 AM
By Ryan Tollefsen / October 27, 2020
Comment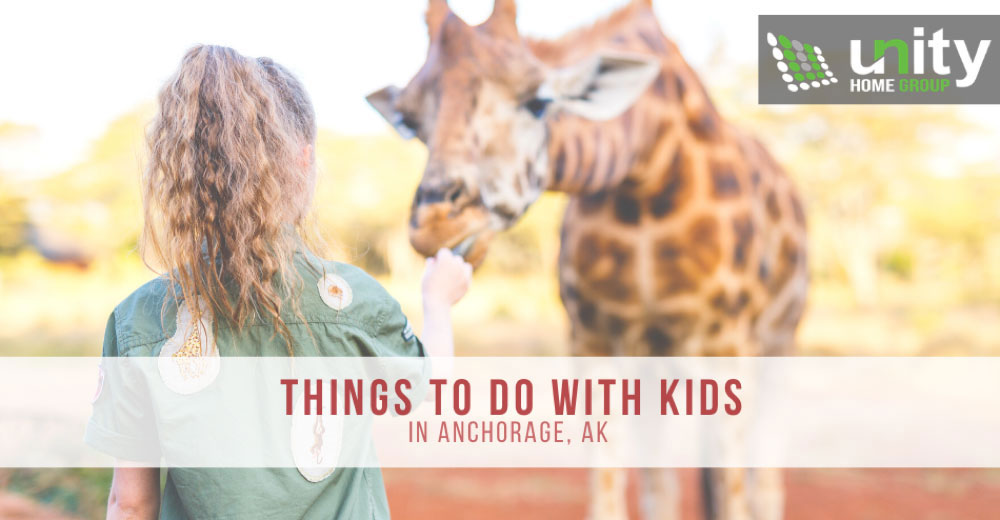 It's a common misconception that Alaska, America's 49th state, is a frozen tundra with little to do. Contrary to popular belief, Alaska is an incredible vacation or staycation destination and a great place to live. While it is cold, you won't find the same stunning wildlife and scenery anywhere else.
Anchorage is Alaska's largest city with a population of nearly 300,000 people. Featuring everything from luxury homes to log homes, this city is the perfect place for people to go when they want to experience the crisp outdoor excursions Alaska has to offer without straying too far from civilization where there are fewer activities for children. Here's our list of top things to do with kids in Anchorage.
Alaska Wildlife Conservation Center
Alaska Wildlife Conservation Center Amenities
Walk on the Wild Side Tour
15 species of animals
Free classes and lessons
Bison Hall
Food trucks
Animal adoption
The Alaska Wildlife Conservation Center is a 501(c)3 non-profit organization that operates as a sanctuary for injured, translocated, or orphaned wildlife. It serves as either a temporary or permanent home for wildlife, depending on the unique needs of each animal.
The center was founded in 1993 by Mike Miller and is located just outside Girdwood to the southeast. It resides on the border of the Chugach Mountains and the Kenai Mountains and Peninsula on roughly 200 acres of lush Alaskan land. Miller, who served as Executive Director until 2018, intended the center to support area conservation research and activism, as well as education about animals and their care.
The center is located on about 200 acres at the head of Turnagain Arm and the entrance to Portage Valley, Milepost 79 of the Seward Highway, about 11 mi southeast of Girdwood. The center is in the Municipality of Anchorage.
Animals that can be found at the Alaska Wildlife Conservation Center include coyotes, black-tailed deer, elk, moose, bears, owls, caribou, eagles, lynxes, foxes, muskoxen, porcupines, wood bison, and more.
Alaska Wildlife Conservation Center Additional Information
Alaska Museum of Science and Nature
Alaska Museum of Science and Nature Amenities
Dinosaur skeletons and replicas
Beluga whale skeleton
Native Alaskan birds
Ice Age exhibit
Rock and mineral hall
Hands-on exhibits
Birthday parties
The Alaska Museum of Science and Nature is a favorite destination for both kids and adults. This Alaska museum is focused on providing robust education about animals and habitats native to Alaska, helping visitors better understand the uniqueness of the surrounding area.
Exhibits include:
Dinosaurs of Darkness: A hands-on exhibit that allows visitors to explore the state's most notable archeological finds, including dinosaur bones, eggs, teeth, and claws
Alaska Marine Life: A full, intact beluga whale skeleton that was found at Cook Inlet, as well as displays of other whale bones and marine life found in Alaska
Birds of a Feather: An exhibit that features Alaskan birds of all types, from majestic bald eagles to common geese
Bare Bones: A hands-on exhibit that compares the skeletons of humans and animals, both modern and ancient, with a large display of early African hominid skulls and other notable skulls
Ice Age Alaska: The story of how the ice age impacted Alaska and its wildlife, including extinct animals like giant beavers, wooly mammoths, saber-toothed tigers, bison, and short-faced bears
Rocks and Minerals: A vast collection of unearthed fossils and exotic stones and minerals that includes prehistoric fossils found at the forests near Sutton
Alaska Museum of Science and Nature Additional Information
Hours: Thursday–Saturday, 10 AM–4 PM
Recommended Ages: 4 and up
H2Oasis Indoor Waterpark
H2Oasis Indoor Waterpark Amenities
Private cabanas
Wave pool
Pirate Ship Kiddie Pool
Lazy river
Toddler Time
Sometimes your family just needs a break from the cold, and when you do, there's no better place to go than the H2Oasis Indoor Waterpark. This huge water park features multiple slides, pools, and other attractions, all housed inside a climate-controlled building with a tropical island theme. From traditional waterpark attractions like a wave pool and a lazy river to uniquely designed slides and a pirate ship kiddie pool, H2Oasis has plenty to do. You'll want to plan for at least a half-day trip to be sure you get to experience everything the water park has to offer.
Stop for a bite to eat when swimming depletes your energy stores at the Feeding Frenzy Food Court. Opt for a light snack like a salad if you plan to get back in the water, or chow down on family favorites like burgers and pizza. If you plan to spend more than a few hours at the water park, consider renting one of the facility's spacious cabanas. Cabana rentals include a refrigerator, six bottles of water, towels, and a locker inside the comfortable seating area. They're great for when the kids need a moment to rest from swimming, or when you need one for yourself.
H2Oasis Indoor Waterpark Additional Information
Hours: Thursday, Friday, Sunday: 12–7 PM; Saturday, 10 AM–7 PM
Recommended Ages: Toddlers and older
Alaska Zoo
Alaska Zoo Amenities
50 species of animals
Animal Encounters
Memberships
Seasonal events
Gift shop
Anchorage is also home to the renowned Alaska Zoo, a 25-acre zoo that houses over 100 animals across more than 50 different species. The zoo is the only one in the state and is a 501(c)3 nonprofit organization that is committed to the conservation of Arctic and Sub-Arctic mammals and birds in Alaska and does so through research, educational initiatives, and enriching the community. Since 1969, the Alaska Zoo has cared for injured and orphaned animals while simultaneously offering quality education about wildlife conservation to the public.
Encounters at the Alaska Zoo vary depending on seasonality and availability but generally include brown bears, polar bears, and rodents like flying squirrels and porcupines. An encounter offers visitors one hour with a zookeeper behind the scenes at the animal's habitat. Participants may be able to help feed the animals and engage in training.
Other animals that can be seen at the Alaska Zoo include mountain goats, Dall sheep, river otters, wolverines, an Amur tiger, a Canadian lynx, a snow leopard, a golden eagle, a bald eagle, alpaca, camels, swans, hawks, caribou, moose, deer, owls, falcons, yaks, muskoxen, seals, wolves, coyotes, and foxes.
Alaska Zoo Additional Information
Hours: 10 AM–5 PM daily
Recommended Ages All ages
Alaska Native Heritage Center
Alaska Native Heritage Center Amenities
Classes and workshops
Heritage Café
Performances and interactive programs
Hall of Cultures
Theatre showing educational films
The Alaska Native Heritage Center is an exciting, interactive cultural center located on the very northeast tip of Anchorage city limits. The mission of the Alaska Native Heritage Center, or the ANHC, is to provide education and meaningful experiences with the culture and traditions of the native indigenous peoples of Alaska.
Classes at ANHC include Cultural Awareness Workshops, which are offered year-round to help Alaska visitors and residents better understand, communicate with, and serve those with diverse cultures. Most often, business leaders will attend Cultural Awareness Workshops in an effort to provide employees and clients with culture-informed education about working in Alaska. The ANHC also offers Mellon Master Artist Workshops that teach the traditional art forms of Alaskan natives.
The facility also has a robust after school program for high schoolers to obtain support for success in both their academic and home lives. The after school program has been operational for over 20 years and is a winner of the National Arts and Humanities Youth Program award.
Alaska Native Heritage Center Additional Information
Hours: Monday–Friday, 10 AM–4 PM
Recommended Ages: 5 and up
Visit Anchorage Today
You don't have to look hard for great things to do with kids in Anchorage, Alaska. Whether you want the traditional excitement of a waterpark or an educational experience that helps your children learn about the indigenous cultures or ecology of the area, you'll find it in Anchorage. Your family will love the breathtaking nature trails, glaciers, and wildlife found in Anchorage, as well as the multiple shopping outlets and dining options found within city limits. With over 800 restaurants to choose from, ranging from casual lunch spots to fine dining, there's something for everyone. We love Anchorage for its rich cultural soul and great activities to keep kids entertained all vacation long. If you think you could love Anchorage too, contact Unity Home Group with AK Home Show at (907) 885-3300 to get in touch with a local real estate agent who can help you find the Anchorage home of your dreams.