What Are the Requirements for VA Loans?
Posted by Ryan Tollefsen on Friday, October 19, 2018 at 1:06 PM
By Ryan Tollefsen / October 19, 2018
Comment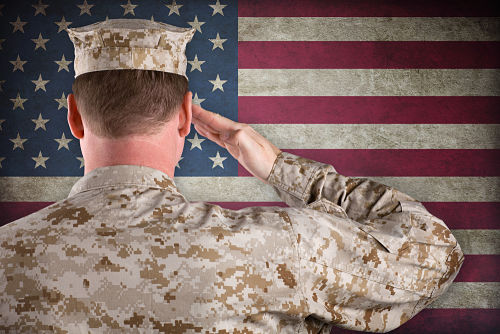 As the only provision of the post-World War II GI Bill that is still in effect, the VA Home Loan Guaranty Program continues to provide veterans and active duty military personnel a way to buy homes with no down payment. The loan program was designed to provide veterans a way to transition to civilian life. Today, the program still offers veterans substantial home-buying advantages, provided the loan is for a personal residence. It cannot be used for rental or investment property.
For informational purposes only. Always consult with a licensed mortgage professional before proceeding with any real estate transaction.
Basic VA Loan Requirements
The loan may be used for a single-family existing home or to build a new home, and a buyer may finance a dwelling with up to four units provided he or she lives in one of them. VA funds may also be used, under specific guidelines, to remodel existing property or to refinance an existing loan. VA loans are only available for property within the United States.
VA loan eligibility is limited, but if you qualify, this loan has a number of advantages. First, of course, is the appeal of qualifying for a mortgage with zero cash down payment, and the benefit of loans that do not require the additional monthly expense of private mortgage insurance. It can sometimes be a great way to get into a home in a popular area like Big Lake. In most other ways, including general qualification, the VA loan is similar to an FHA loan.
VA Loan Qualifications
Eligibility is determined based on military service: Veterans who have served six months of active enlistment (or as little as 90 days during conflict) or six years in the National Guard or Reserves, cadets and midshipmen at the military academies, U.S. Public Health Service officers and National Oceanic & Atmospheric Administration officers. If not on active duty, the veteran must not have received a dishonorable discharge. In some cases, spouses of eligible veterans may also qualify; and eligibility may be reinstated for a second or subsequent VA loan.
Pre-application documentation, a DD214 or certificate of eligibility (COE) from the Veterans Administration, is required, but VA loans are then underwritten and processed by private lenders, with requirements that can vary. There is no minimum set for qualification, but applicants generally have credit scores of around 620.
Advantages of the VA Loan
A VA loan has several distinct advantages, in addition to the ability to finance 100 percent loan to value. They include:
No mortgage insurance
Lower closing costs
Higher debt-to-income limits than other mortgages
Lower interest rates
Relatively easy qualification guidelines
The VA loan, however, is not exempt from certain closing costs and a VA funding fee equal to 2.15 percent of the loan amount is levied from first-time borrowers. If an applicant chooses to put some money down on a property, the fee can be reduced to 1.25 percent, and it is waived for veterans with a disability. The fee is commonly rolled into the loan and paid over the term of the mortgage.
VA loans also carry a stipulation regarding residual income, or the amount of cash the borrower has remaining each month after major obligations are paid, and it is distinct from the "debt to income" ratio. The actual amount varies based on family size and and regional costs, but the requirement is one of the reasons that the default rate on VA loans is extremely low.
Notable VA Loan Differences
While the VA borrower must demonstrate sufficient income and generally is subject to the same verification and underwriting requirements as applicants for other types of mortgage loans, income from a variety of sources is counted as allowable by VA approved lenders. Earned income and tips, commissions, bonuses and overtime pay are all figured into the total, as are child support and alimony, and any income from investments or rental properties.
The maximum lifetime VA entitlement is set at $89,912; however, lenders generally loan up to four times that amount, which translates to an effective mortgage amount of $417,000. In specific high-cost regions, an additional 50 percent increase is allowed, making it possible to obtain a VA loan in the amount of approximately $625,000. A current appraisal must support the valuation.
VA Loans Have Lower Interest Rates
If you're in the military, or a former member or spouse of a deceased veteran, and considering buying a home in Alaska, you owe it to yourself to read on. Active and former military members may be eligible for a home loan that many consider the best on the market – backed by the Department of Veteran's Affairs. If being able to negotiate your interest rate, kicking private mortgage insurance to the curb and reducing or financing your closing costs is attractive to you, you will love this loan.
VA Loans Have No Down Payment Requirements
The number one challenge to potential homeowners is coming up with that big chunk of cash for the down payment. While Fannie Mae, Freddie Mac and the FHA have gone a long way to reduce the size of that chunk, only USDA and VA loans offer a no-down payment, government-backed mortgage loan. Of course there are restrictions; if the home's price is more than the home's value, for instance.
VA Loans Allow for a Lower Credit Score
The VA doesn't require a minimum credit score of its applicants. You'll be getting the loan, however, from a conventional lender and it may have more stringent requirements, and it will pull your credit score. Remember that the VA is providing a guaranty, so lenders are more apt to overlook many factors they wouldn't otherwise be willing to overlook. Your best bet is to get ahead of the curve by checking your credit reports and score and fix any problems that you can.
The VA Loan Has Numerous Benefits
The VA loan isn't a one-off program; you may be able to use your benefit more than once. You'll need to sell the current home and repay the loan but after that you're free to use your VA home loan benefit again.
Feel free to call us with questions about VA loans. We have lending partners who are happy to speak with you about the program.
Qualifying for the VA loan is no less stringent than meeting the requirements for an FHA or conventional loan. While some of the requirements may be relaxed for veterans, it is always wise to take steps to improve a credit rating, save up necessary funds for a down payment, loan origination fees and closing costs, and assure a stable employment record and adequate income prior to planning a home purchase. The VA "zero down" loan is a benefit for first-time buyers or for families entering civilian life after military service, but it is not intended to be a way for buyers to purchase more home than they can reasonably afford.
For informational purposes only. Always consult with a licensed mortgage professional before proceeding with any real estate transaction.